Archived News
2017: Year in review
Wednesday, December 27, 2017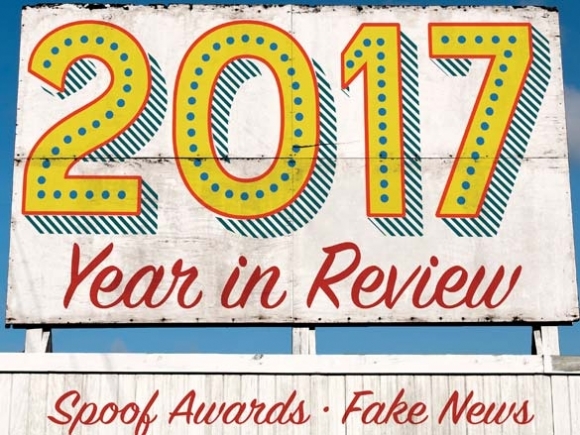 Before we ring in the New Year, The Smoky Mountain News likes to look back and reflect on the last year of news.
The headlines that have graced our pages in 2017 have had an important impact on the people of Western North Carolina, and our staff has taken its job of reporting and analyzing those issues seriously.
However, just before those news stories become part of this region's history and before we head into 2018, we like to look back at the year and find the humor in the issues we've reported on all year.
Our annual "Spoof Awards" pay tribute to the people, places and events that have rounded out 2017. Congratulations to those who made this year's award list and if you didn't make it in 2017, there's plenty of time in 2018 to leave your mark.
Happy New Year!
The Righting the Rails Award
The town of Bryson City deserves this award after a rocky ride in 2017. It's difficult to please everyone, but the Board of Aldermen couldn't seem to please anyone this year as they dealt with a constant push and pull from residents and merchants. Downtown merchants fought for more progressive policies and actions from their town officials but felt like their requests fell on deaf ears while an older generation of voters in town fought to keep their quant mountain town from growing into a tourist hub they don't recognize anymore.
The two biggest hot button issues were the Great Smoky Mountains Railroad's request to close Fry Street for the annual Polar Express excursions and a request from restaurant owners to pass the brunch bill that would allow them to begin serving alcohol at 10 a.m. instead of having to wait until noon.
Every year the railroad comes before the board to ask for the temporary Fry Street closure from November through the beginning of January to accommodate the thousands of pedestrians milling around waiting to get on the train, and every year it's a controversial discussion. Before a packed room of merchants who supported the street closure but didn't get a chance to provide public input before the decision was made, the board voted 3-1 to deny the train's request.
GSMR General Manager Kim Albritton had some harsh words for Alderman Rick Bryson as she left town hall. Backlash quickly ensued following the decision with rumors flying that the railroad was looking to move the train depot back to Dillsboro if Bryson City wouldn't cooperate. The town ended up changing its vote once it got something in return — a right of way the town needed from the railroad to purchase a piece of property.
The 2017 town election also showed a split in voter opinion when incumbent Janine Crisp — who voted against the Fry Street closure and the brunch bill — was re-elected but incumbent Rick Bryson was ousted. He was replaced by Ben King, a young downtown merchant who has expressed his support for passing the brunch bill and the closure of Fry Street.
The board change up could make a big difference in 2018. The board has already agreed to allow public comment at the beginning on its meetings instead of the end, and the brunch bill will be back up for discussion at its Jan. 8 meeting — showing it's never too late to get back on the right track.
The No Room at the Inn Award
Just as the innkeepers in Bethlehem claimed they didn't have room at the inn for Mary and Joseph during their most vulnerable moment, Angel Medical Center told expecting mothers in Franklin they were no longer welcome to deliver their babies at the local hospital.
Mary would have to deliver her sweet baby Jesus in a stable in the middle of the winter and moms in Macon County would have to travel to the next town to deliver their precious angels.
From a desk in Asheville, Angel Medical — a Mission Health affiliate — informed Macon County in late April that the labor and delivery unit would be closed as of mid-July. The closure was a shock to the county and residents protested and rallied to keep it open, but the innkeepers refused. It simply cost too much money to continue delivering babies at AMC.
While expecting moms don't have to deliver their baby alone in a cold manger, they will have to either drive 30 minutes over Cowee Mountain to deliver at Harris Regional Hospital in Sylva or drive over an hour to deliver at Mission Hospital in Asheville.
AMC then bestowed upon Franklin plans of constructing a brand new $45 million hospital within the next few years, but not even the new hospital will include a labor and delivery unit.
The 'I Just Can't Even!' Award
Western North Carolina residents just haven't been able to comprehend some of the decisions being made by Mission Health this year. It got to the point where people just threw their hands up in frustration as nothing Mission did seemed to surprise them anymore.
First it was Mission's decision to close labor and delivery at Angel Medical Center without much notice to the community. Mission CEO Dr. Ron Paulus held the press conference in Asheville — an hour and a half away from those affected — and refused to have a public meeting in Franklin to answer resident's questions and concerns.
At that press conference, Mission leaders were specifically asked if they anticipated any other closures coming down the pike and said they had no other cuts in mind. Not even a month later, Mission announced it would be closing its women and children's practices in Sylva to consolidate those services in Franklin — even though women couldn't deliver their babies in Franklin.
Then in July, Mission Health announced its intentions to let its contract with Blue Cross Blue Shield of North Carolina lapse at the beginning of October because negotiations on reimbursement rates were not in Mission's favor. Mission launched a public relations attack against BCBS through print and social media advertising probably thinking the backlash would force BCBS back to the negotiating table, but that plan backfired.
BCBS cut off all communications with Mission and their contract did in fact lapse Oct. 5, leaving thousands of people with BCBS coverage to pay higher out-of-pocket costs to stay with their Mission provider or find another provider still in network with the largest health insurer in the state.
The two parties did finally reach an agreement in early December, but the terms are confidential so we'll never know if Mission got its way or not — until your medical bills start rolling in.
Lastly, Mission Health is required to obtain a new certificate of need to build a new Angel Medical Center in Franklin. To do that, a public hearing is required through the N.C. Department of Health and Human Services. The hearing was held at 10 a.m. Tuesday, Dec. 19, in Franklin but someone forgot to inform the local media outlets, county and town leaders and residents. Mission claims the DHHS is solely responsible for advertising the meeting, but would it have really been too much to ask for Mission's large public relations team to send an email to the press, buy an ad in the paper, or even post the information on Angel Medical Center's Facebook page? We just can't even with them.
The Foghorn Leghorn Award
The classic Looney Tunes character Foghorn Leghorn was inspired by the popular character of Senator Claghorn, a blustery Southern politician played by Kenny Delmar who was a regular character on a popular radio show of the 1940s.
Leghorn was notorious for using folksy catchphrases and telling jokes no one thought were funny — the same can be said for the newly elected N.C. Rep. Mike Clampitt, R-Bryson City.
After three unsuccessful runs against incumbent Rep. Joe Sam Queen, D-Waynesville, Clampitt was finally able to narrowly defeat him during the 2016 election thanks to the Trump wave he and other Republican candidates rode to victory.
In an effort to be a man of the people, Clampitt held town hall forums once a month throughout his district, but he always seemed to say the wrong thing to his constituents. Clampitt said he was just being misunderstood. "I keep pitchin' 'em and you keep missin' 'em," as Foghorn Leghorn would put it.
During his first meeting in Haywood County, Clampitt was faced with about 60 residents — mostly progressives — asking tough questions about tough issues like health care, education funding, gun control, racism, immigration and discrimination.
But no matter the question, Clampitt only responded with "I'll get back to you," "I'll have to research that some more" or he would tell some lengthy anecdote that left constituents scratching their heads.
Clampitt stepped in it again during another Haywood town hall in September when he was questioned about his support of the Confederate flag and accused of being a racist. To clear his name as a racist, Clampitt once again told a long story about a time when he refused to unfairly discipline a black firefighter during his tenure as a fire captain in Charlotte.
"You're way off, I say you're way off this time son!"
The Squeaky Wheel Award
As much as they've tried through the years, Swain County commissioners probably thought they'd never see the day when they would get the federal government to pony up the money it owes the county.
But that's what happened in early September when Swain County received a $4 million check from the Department of Interior, proving once again that the squeaky wheel does in fact get the grease — eventually.
After spending decades trying to get the federal government to keep its promise of rebuilding the North Shore Road from Bryson City to Tennessee, Swain County settled for the promise of a $52 million payout. The county received a $12.8 million payment in 2010 but didn't see another cent until this year.
Swain County leaders and North Carolina's congressmen deserve this award for never giving up on this money promised to the people displaced when part of the county was flooded in the 1940s to create Fontana Dam. It has taken endless trips to Raleigh and Washington, D.C., legislation and lawsuits just to make the federal agencies understand the settlement agreement put in place and to admit that the government does owe this money to Swain County. Now that another payment has been made, it should be easier for the commissioners to get their hands on the rest of the money. It's a relief to see the light at the end of the tunnel after so many years.
The Breakfast of Champions Award
Hearts broke and bellies rumbled when Brenda O'Keefe announced in June that she would be closing down her beloved breakfast hub, Joey's Pancake House.
O'Keefe and her dedicated staff deserve this award for feeding folks a hearty meal in Maggie Valley for over 50 years. Joey's wasn't just another quick breakfast joint — it was an institution revered by its patrons for its consistency, family-feel and Southern hospitality.
O'Keefe and her late husband Joey put their blood, sweat and tears into the place since it opened in 1966, and even on its last day, Brenda, now 70, could be found in the kitchen at 4 a.m. cooking that famous bacon and hash brown casserole. But all good things must come to an end, and Brenda and her staff were burned out.
Closing up shop was bittersweet as Joey's had a swell of supporters to wish them well. Once the announcement broke, people came from all over the country to have one last breakfast at Joey's Pancake House.
The Out with the Old Award
Change is hard. All too often people like to cling to the things in the past instead of accepting a new way even if the old way just isn't working anymore.
The town of Franklin deserves recognition for recognizing an outdated term wasn't working anymore and for making the change. Like many municipal governments in Western North Carolina, Franklin's board has been referred to as the Franklin Board of Aldermen since its inception.
However, during an annual planning meeting, Mayor Bob Scott brought up the fact that the term alderman literally translates into "old man." Acknowledging that the town board now includes two women as well as two men under the age of 40, Scott asked the board to consider changing the board's title to something more appropriate.
Without much fanfare, and with support from many young women in the community, the board approved changing its name to the Franklin Town Council and board members are now referred to as gender-neutral "councilmembers." It may seem like a logical, small move but it's actually a pretty progressive step for a small Appalachian town like Franklin. Kudos!
The Best Thing Since Sliced Bread Award
Never has there been so much excitement over new grocery stores opening in Waynesville as there was in 2017.
If anyone wanted their social media post to go viral, all they had to do was post a picture of the newly expanded Ingles on Russ Avenue, the newly expanded Hazelwood Ingles on Brown Avenue or the prep work being done at the new Publix site right across from the new Ingles on Russ Avenue.
In a town of 10,000, one has to wonder how many grocery stores Waynesville can support, but they're being welcomed with open arms. On the long-awaited opening day of the new Ingles on Russ Avenue, you would have thought there had been a celebrity sighting inside, but no — people were just lined up to get their milk and bread.
The excitement over food options will continue throughout 2018 with the new Publix scheduled to open in early 2019.
The Mr. Congeniality Award
Jack Ewing, retiring director of Lake Junaluska Conference and Retreat Center, is the recipient of the coveted Mr. Congeniality Award.
Past recipients have included David Belcher, chancellor of Western Carolina University, and Greg Christopher, Haywood County sheriff. It's rare to find someone in a leadership role that doesn't find himself subject to daily doses of criticism, but Ewing is one of those exceptional leaders.
For the last seven years, he has led the conference center through a tough transitional phase to develop a sustainable business model. He will also be remembered as a leader who held true to Lake Junaluska's mission of providing a place of "Christian hospitality where lives are transformed through renewal of soul, mind and body."
The Real Tipping Point Award
This award goes to Waynesville, which had the most breweries west of Asheville. Of those four, only Boojum Brewing and Frog Level Brewing remain at the end of 2017.
After leaving Waynesville for Canton last year, BearWaters Brewing relaunched its company in June, a now-vibrant establishment that has become a social hub and economic beacon for the rebuilding of the downtown Canton corridor.
"It's been a journey that definitely has had its twists and turn, and there were definitely times where we didn't know if we'd make it or not. But, with lots of perseverance and determination, we kept fighting and fighting, and we got our breakthrough," owner/brewmaster Kevin Sandefur said. "I've fallen in love with the building, it's overwhelming and turned out way beyond my expectations. If you focus on what's at the end of the road, it can happen — [BearWaters] is living proof of that. I've had a lot of false starts, but to cross over the goal line, it's like, 'My god, this can be done.'"
In late July, Tipping Point Brewing decided to close its doors on Main Street in Waynesville after celebrating five years in business. When asked just what led to the decision, owner/brewmaster Jon Bowman noted that the choice to shutdown wasn't financial but rather existential.
"I'm an avid [mountain biker] who doesn't get to cycle," Bowman said. "I'm making a lifestyle change, and getting out of the restaurant business. [My] passion is the beer. About three months ago, we found a spot I could not turn down [and] I signed the lease two months ago."
Located in the Lumberyard Arts District of Brevard, within riding distance of DuPont State Forest (the city and forest both mountain biking meccas), Bowman's new brewery, Peaks & Creeks, has been brewing and pouring beer over the last few months.
The Turning The Corner Award
When the Town of Canton relaunched its Labor Day Festival a couple years ago, it was in a crucial move to reinvent the century-old event — and also the downtown itself.
This award goes to Canton, which is something of a template for countless small towns in America looking to find a new footing and identity to navigate an uncertain economic future. For a downtown that was — by most accounts — seemingly written off by the rest of the region as "dead" and "abandoned," things sure have changed for Canton in recent memory.
Just the last couple years, several new businesses have popped up in Canton. Anchoring both ends of downtown are the Southern Porch and BearWaters Brewing. The restaurant and the brewery have each become beacons of commerce, social hubs of energy and enthusiasm, where locals and visitors alike find themselves not just passing through Canton anymore, but actually stopping and enjoying themselves.
And with national bluegrass headliners performing at this year's Labor Day Festival, town officials will be the first to say that though the road is long, it's also bountiful, especially with the right attitudes and folks ready to make something of pride and progress for their community.
"To have Sam Bush and Ricky Skaggs join Balsam Range and others at Labor Day is further proof of the 'Canton Comeback.' The whole celebration is a dedicated effort to show the whole region that a small mill town can fight its way back," said Canton Mayor Zeb Smathers. "With the opening of many new businesses including the success of our first brewery, BearWaters, we are excited to show off our success through great music and food. We hope by doing so that we encourage people to move to Canton, open businesses, and join us as we keep pushing forward."
The Five Going On 10 Award
In the first 10 years together, Balsam Range has gone from an up-and-coming Haywood County band to an internationally-known stage act and perennial favorites at the International Bluegrass Music Association awards, the highest honors in the genre. In that decade, they've won the IBMA for "Album of the Year" (2013, 2017), "Song of the Year" (2011, 2015) and "Entertainer of the Year" (2014).
"It's been an incredible 10 years. I don't think any of us in Balsam Range would have said the first year we played, that all five would still be together after 10 years — because that just doesn't happen in bands, particularly in bluegrass," lead singer/fiddler Buddy Melton said.
And yet, Balsam Range has never taken for granted their talents, and also admiration from musical peers and fans alike.
"It's a great honor to be nominated year-after-year. It says to me that we continue to do something right," guitarist Caleb Smith said. "We strive to find great lyrics to set our music apart in the genre in that when someone hears our music on the air waves there is no doubt that they know it's Balsam Range."
Atop the band's continued success, Balsam Range's second annual "Art of Music Festival" was once again a huge hit in early December when the two-day event took the stage in the Stuart Auditorium at the Lake Junaluska Conference & Retreat Center. Bringing hundreds of thousands of dollars into the local economy, this year's lineup included Flatt Lonesome, Bryan Sutton, Noam Pikelny, Darrell Scott, and more.
"To get that vision, Haywood County has got to come together and have people who see the vision, who want the same vision, and are willing to work together. It's going to take a lot of support," Melton said. "If you want to draw people into your area, you've got to have something to draw them in. Blue Ridge Parkway, hiking, fishing, biking — we have lots to offer. And if you throw on top of that high-quality entertainment, then you're going to draw people from all over."
The Count Your Lucky Stars Award
For the last three decades, James "Jim" Joyce of Waynesville has run his own company, Green Mountain International, which supplies polyurethane and epoxy products for the construction industry. He grew up in Chicago, went to college in Cleveland, and bounced around the country doing all kinds of work. At 75, he's seen a lot of things, met a lot of folks, and found a lot of success. But, the thing he's most proud of is his service as a U.S. Army helicopter pilot in the Vietnam War.
For the better part of three years in the 1960s, Joyce served his country, and also made it home safely from the death and devastation that painted a bloody picture of Vietnam and surrounding countries. For many years after the war, not a day went by that Joyce didn't think about his time in battle, his friends who never came home, the faces of those he fought against.
So, it was no surprise the images and memories that flooded his mind when a film clip of his helicopter crashing made it into the new Ken Burns documentary, "The Vietnam War" — a 10-part, 18-hour odyssey from the legendary filmmaker that was broadcast by PBS.
Smoky Mountain News: So, explain to me how that whole incident went down. It's a pretty jarring clip...
Jim Joyce: Yeah, it is. We dropped off the guys' breakfast and the mail courier and the ammunition. We lifted up to take off. I noticed we were blowing sand on the troops trying to eat their breakfast. And I decided to move over closer to the tree line to give them some room, and I ran into a tree. As soon as we struck the tree, not very far in (makes a one-inch gap between his fingers), it broke every control in the ship, no control of the helicopter. We started spinning.
SMN: The whole thing just collapses, just like a tin can getting stepped on…
JJ: Yeah. The first thing [going through my head] was, "Oh, shit, how'd that happen?" And then it was terror trying to get this damn thing on the ground before it gets too high in the air. There's a thing called a "collective," and that gets you back on the ground. The co-pilot and I were on [the collective] as hard as we could. The documentarian had no idea we were going to crash. This was this guy's lucky day [to capture that clip.] My door gunner broke his thumb — that was it.
The Welcome To The Big Show Award
"For us being so new, this is a huge thing," said Taylor Yates, brewmaster of Currahee Brewing in Franklin. "We're still trying to get established. Something like this on a national level just does wonders for us. When you're new, it really gets you that exposure and notoriety you hope for."
What happened was the announcement that Currahee's "Kawi" won a bronze medal for "Coffee Stout or Porter" at The Great American Beer Festival held in early October in Denver, Colorado. With over 800 breweries and around 4,000 craft beer entries, the GABF is one of the premier competitions anywhere in the world.
"It's validation. It's your life's work, your career, what you hope to achieve since you started home-brewing," Yates said. "You kind of hit the big time, your hard work is paying off in spades. [With Currahee] being open for 18 months is the biggest thing, I think. It shows a lot of character — the key word is consistency."
Two counties over in Haywood, Kevin Sandefur, co-owner/brewer at BearWaters Brewing Company in Canton, also "struck gold" at the GABF with a bronze medal in the "Belgian-Style Strong Specialty Ale" category.
A fun play-on-words in regards to the nearby paper mill in downtown Canton, "Smells Like Money" is an ode to the pride that permeates the blue-collar mountain town, one built on industry and innovation.
"[This is a] bronze medal in a very competitive category. It gives us the foundation to build on, something to strive for, a great segue for developing better beers, a perfect foundation for us to go into the future with," he said. "We feel incredibly fortunate that everything seems to be falling into place. [The] new location has been so incredibly welcomed by folks in the community coming here every day."
The Purrfect Idea Award
In a modern world where the house cat has become a pop culture icon, it was a pretty genius idea when Harold Sims launched The American Museum of The House Cat on U.S. 441 between Dillsboro and Franklin.
"People are very impressed, they're just blown away by what they're seeing," Sims said. "There's Egyptian mythology, wind-up toys, everything — it's a place to learn, it's educational and entertaining at the same time."
Sims' longtime nonprofit shelter, "Catman 2," which is now located in Cullowhee, is a no kill, no cage shelter. In the 4,000-square-foot building, cats can run loose, intermingle with other cats and exercise. Sims estimated over 3,000 cats have come through "Catman 2" in the last 15 years, with 60 housed there currently.
"We also offer a low cost or no cost spay and neuter program," Sims said. "We've gone from hundreds a year in the Jackson County kill shelter to only eight last year to none this year so far."
And throughout his efforts to save local cats, Sims has been collecting cat memorabilia. Over the last three decades, he's amassed around 7,000 items that are cat related, from advertisements to toys, statues to ancient artifacts. With over 5,000 of those items in the museum, Sims is constantly amazed by the folks that come in every day, cat lovers and the curious alike, from across the county and around the globe.
"Cats are very clean, very independent, but still loving, where they come up to you when you're feeling bad, rub against you and make you feel better," Sims said. "They're beautiful animals, very smart. They can do so many things, and a cat will keep on loving you as long as it lives."
The Next Chapter Award
Now settled into their news digs in the Hazelwood district of Waynesville, Blue Ridge Books also celebrated 10 years as one of the premier bookstores in Western North Carolina.
Co-owner Allison Lee has run the store with Jo Gilley for the last seven years. And as Blue Ridge Books celebrated 10 years of operation in July, Lee can't help but be thankful for the countless customers that look to the business as something of importance — economically, academically, and intrinsically.
"Ten years is a long time," Lee said. "Ten years is a long time in this day and age, in this economy, with technology and online purchasing. It's a long time for a Main Street business — and we're proud of that."
Of the many initiatives and partnerships Blue Ridge Books has garnered, none stand taller than the one with the Head Start programs in Haywood and Jackson counties. Atop the register at the bookstore, there's a change jar. And all of that change, along with generous donations from the Smoky Mountain Chess Club (which plays in the store every Thursday afternoon), has provided hundreds of books for young children.
"Each student has been able to take home three books a year, all purchased by our customers and using discounts," Lee said. "And the kids learn about how you care for a book, how you open a book, and how you read a story — it's so important to get children reading early on."
When asked about what, perhaps, her hopes are for the next decade at Blue Ridge Books, Lee was quick to respond.
"We love coming to work, we really do," Lee said. "It's about being led by your love of books, trying to respond the best you can to your customers, and knowing who your customers are — what they want, what they need, and how to be involved in the community.
The Musicians' Musician Award
With the sudden death of legendary Haywood County banjoist Steve Sutton this year, the region — and the world — has lost one of the great pickers and torchbearers of bluegrass and mountain music. A longtime member of the Darren Nicholson Band and Whitewater Bluegrass Company, Sutton was 60 years old when he passed away in his sleep on May 13, one day shy of his 61st birthday.
"I basically owe my musical career to him," said mandolinist Darren Nicholson of IBMA "Entertainer of the Year" bluegrass act Balsam Range, who was Sutton's best friend and longtime collaborator. "He got me my first professional job, which led to all the relationships that are still relevant in my current career. I had a $300 Harmony mandolin, a beginner instrument, then graduated to a hand-built mandolin that Eddie Rose loaned me. Steve believed in me so much that he took me to Strains of Music in Waynesville and paid cash for a Gibson mandolin. We never looked back. We were best friends ever since, and went so many miles all over the United States and around the world. We were always laughing together and loving life. Steve was kind to everyone he met and helped countless people — he just had a good heart."
A Grammy-nominated, multiple IBMA award-winner himself, Sutton graduated from Tuscola High School in Waynesville. Upon graduation, he was simultaneously offered gigs with the "Godfather of Bluegrass" Bill Monroe and bluegrass legend Jimmy Martin.
"But, Jimmy offered me something like $10 more a week, so I took it," Sutton chuckled in a 2015 interview with The Smoky Mountain News.
In 1974, Sutton joined Martin on the road, kicking off a career that took him across the globe, ultimately gracing the Grand Ole Opry stage numerous times. Sutton also had stints with Alecia Nugent and Rhonda Vincent. And through his lifelong pursuit of bluegrass and mountain music, Sutton also remembered where it all began, alongside banjo great and Bluegrass Hall of Famer Raymond Fairchild.
"[Steve's] talent and free-flowing sense of humor constantly fed that professional effort to the highest levels," said Marc Pruett, Grammy-winning banjoist of Balsam Range. "Steve was a valued, respected member of a heritage-schooled, living culture. He was the real deal, and his warm smile and larger-than-life talent leaves a void in our mountains that can't be filled."
"There's a major hole in Western North Carolina music and the bluegrass world," Nicholson added. "Steve said a thousand times, especially when we would be belly laughing about something — 'Darren, as long as you live, I will never die.' There's a major hole in my musical existence, and bigger hole in my heart. Steve was the best friend and mentor that anyone could ask for."
The Watch Your Step Award
In a bizarre discovery, over 50 intentionally placed spikes were identified and removed from the popular trail system at Pinnacle Park in Sylva.
On Feb. 11, a group of local runners were traversing the trail in preparation for the upcoming Assault on Black Rock footrace. Coming down a remote section of the East Fork Trail, one of the runners stepped on a nail, injuring himself. Upon reaching the parking lot at the trailhead, the runner notified officials of the incident, stating he found two spikes where he'd gotten hurt. The runner went to the hospital after to receive a tetanus shot.
Officials then headed up to where the incident happened, only to find eight more spikes within the vicinity. Town of Sylva called an emergency meeting, where local officials and volunteers decided to scour the trail system with leaf blowers and metal detectors following close behind. In that search, 10 more nails were located.
A $1,000 reward has been offered for information about the incident. Call the Sylva Police Department at 828.586.2916. As of now, there are still no leads on suspects, but officials think whoever placed the spikes might be someone local. It was noted that nails were found all the way to a park boundary gate at the end of the Parris Branch Road, a little-known access point into the heart of the mountain, within a short hike to the summit of Black Rock.
The Rebel Rouser Award
Canton Alderman Dr. Ralph Hamlett's response to complaints about Confederate imagery being displayed at this year's Canton Labor Day Parade — the South's oldest — was met with approximately the same effect as kicking a beehive.
In October, Hamlett proposed a parade entry policy that would ban from municipal parades displays of vulgarity, nudity, illegal activity or symbols of hate.
Common sense stuff, to be sure, but as the Anti Defamation League defines the Confederate flag as a symbol of hate, its display would be also prohibited from municipal events.
Hamlett's proposal was greeted at the next town board meeting by a room packed with supposed history buffs and constitutional scholars — both of which Hamlett actually is, seeing as how he's a professor of political communications at Brevard College. All of them decried his proposal.
As the recent election has changed the composition of the board, and the next parade isn't until Labor Day, and the town's Dec. 8 Christmas parade passed without incident — not counting some flyers posted on poles along the parade route by a white supremacist group — the proposal probably won't see action any time soon, but both Hamlett and newly-elected Mayor Zeb Smathers insist it will be dealt with in some manner, soon.
The Golden Flip Flop Award
When Brandon Rogers ran for a seat on the Haywood County Board of Commissioners last year, it was clear that the impressive young Republican businessman from Canton had done his homework.
Rogers was rewarded for his appeal — and hard campaign work — with a substantial victory; he came in first out of four candidates, almost earning more votes than the two Democrats combined, and bested popular incumbent Republican Commissioner and second place finisher Kevin Ensley by more than a thousand votes.
During his campaign, Rogers, like all other candidates, expressed his support for the Haywood County Tourism Development Authority's desire to increase the county's room occupancy tax by 2 percentage points to 6 percent — a rate consistent with neighboring counties that would augment the estimated $200-something dollar tax savings to each Haywood County resident by 50 percent.
When time came for Rogers to vote on a resolution of support for the request, however, he became one of just two local elected officials — out of nearly 20 — to vote against it.
While we're disappointed, we won't hold it against him; after all, George Washington was once an officer in the British Army, and if he hadn't flip-flopped on the whole "Monarchy is awesome!" thing, we'd probably all be speaking British right now.
The You'll Get Nothing and Like It Award
Although advocates admit it's a tax, albeit one not generally paid by locals, detractors maintain that a tax is a tax is a tax, and that increasing the room tax could drive budget-conscious tourists to less-taxed jurisdictions.
Nevertheless, Haywood County collects about $1.2 million a year in room occupancy taxes — 4 percent of every room, every night that room is occupied. The money is spent mostly on marketing the county, and has a tremendous local impact.
In 2013, a proposed increase in that rate of 2 cents looked likely to pass the state legislature, pushing the TDA's gross collections to about $1.8 million a year. Then-Rep. Joe Sam Queen, D-Waynesville, filed the bill in the House, and Sen. Jim Davis, R-Franklin, filed an identical one in the Senate.
But the third member of Haywood County's delegation to the General Assembly – Rep. Michele Presnell, R-Burnsville, shot it down.
There was great hope among some that a victory in the 2016 election by Rhonda Cole Schandevel, D-Canton, would drive Presnell from power and remove the lone legislative holdout on the proposal.
Schandevel did not succeed, but the TDA took their request to every local government unit — where it again saw strong support — anyway, and was again torpedoed by Presnell, the recipient of this year's "You'll Get Nothing And Like It" award for acting as the Judge Smails to Haywood County's Spaulding.
The Pond Would Be Good For You Award
Generations of Haywood County residents hold treasured memories of lazing on a sunny afternoon in the summertime at one of the region's few remaining municipal pools in Canton.
But after a few kinks arose during the process of replacing the leaky depression-era concretion, it looked for a time that locals given the choice between waiting for a new pool or finding other ways to keep cool might be better off in a golf course pond.
In 2016, the town's main recreational goal was to begin construction of a new pool by that fall; that fell through because of the unexpected loss of an all-but-assured USDA loan. Facing a substantial tax hike in a town that hasn't raised them at all for more than a decade, Canton instead sought out a commercial loan, acquired approval from the Local Government Commission and began the $2.2 million project earlier this year.
Although much of this summer's swimming season passed before the pool finally opened in late fall, a tip of the hat goes out to the Canton Board of Aldermen/women, former Town Manager Seth Hendler-Voss, and current Town Manager Jason Burrell for their patience, persistence and insistence in reviving a cherished Western North Carolina tradition.
The If You Can't Join 'Em, Beat 'Em Award
A political insurgency met with a counter-insurgency that ultimately resulted in the creation of a rebellious alliance isn't just the plot of the nine existing Star Wars movies – it's also the recent history of the Haywood County Republican Party.
While we're hesitant to ascribe the roles of Luke, Rey, Vader or Palpatine to anyone on either side, the long-simmering beefs between the HCGOP and the Haywood Republican Alliance resulted this year in a series of petitions, procedures and proceedings that led to five local Republican activists being brought up on formal charges of party disloyalty by the North Carolina Republican Party.
Eddie Cabe, Jeremy Davis, Monroe Miller, Richard West and Paul Yeager — cleverly dubbed the Haywood Five, in the spirit of the Chicago Seven — were so named in a resolution passed by the HCGOP May 23, requesting the NCGOP take the "strongest possible action" against them.
On Nov. 11, Cabe, Miller and West weren't present in Cary when the NCGOP expelled them from the party and handed them five-year bans for, among other things, actions allegedly supporting other candidates. Davis was present at the hearing and got three years for social media posts he said he didn't make.
But then there's Yeager, who shared a Facebook post from the Gary Johnson for President page displaying a bawdy joke about Hillary Clinton being a "left" nut, and Donald Trump being a "right" nut, but Johnson going hard right down the split in the middle.
Yeager beat the charges, meaning he's still eligible to join an organization that tried to kick him out after he'd already willingly left it, should he so desire.
The Wizard Of Saws Award
The first words we hear from L. Frank Baum's wood-chopping Tin Man in his classic "Wizard of Oz" works are "More oil."
If that Tin Man was instead area man Richard Reeves, his first words would have probably been "More wood."
Since 2005, Reeves, who's right around 70 years old, has devoted countless hours to gathering, chopping, splitting, stacking and delivering wood to some of the area's neediest families.
Reeves, a retired educator, began spending his free time clearing brush on some old parcels of family land, until one day, Josh Pearman, the youth minister at his church, Long's Chapel United Methodist, approached him about helping out a family in need.
More than a decade later, Reeves estimates he's delivered at least 2,800 cords of wood, enough to stretch 9 miles end to end, or to make a 6-foot tall stack completely covering a football field.
Reeves doesn't generally accept payment for his work, saying instead that he'd been paid by God "up front," with a rewarding career, personal health and a wonderful family.
He has, however, in those 12 years accepted a haircut, a coffee cup holder, a jar of pickled beets, two jars of walnuts, two tomatoes, six jars of pickles, an assortment of Christmas candies, some fast food coupons and a walking stick.
Oh yeah — he also accepted a custom-made wooden casket, given to him by a woodworker who refused to accept free wood from Reeves unless he could in turn do something special for the man who's warmed the hearts — and toes — of so many, for so long.
The Too Cool For School Award
Even the announcement in February 2016, that a Waynesville school would soon close left some students in tears and some parents shocked — among them, local attorney Mark R. Melrose.
Before it eventually did close that June, Melrose filed suit against the Haywood County Board of Education in May, alleging open meetings oversights, school board policy violations and ulterior motives by the board, who according to Melrose wanted to use the former Central Elementary School as administrative space.
Melrose's suit sought to stop the closing, but after a few legal skirmishes with board attorney Pat Smathers, it was clear that would not happen; in fact, it was probably never likely, although Melrose proceeded with his suit, probably just to prove a few points.
And it looks like that's exactly what it did — the suit was settled this past spring, more than a year after the closing was first announced.
Both parties are subject to a gag order on the matter, but a tersely-articulated 57-word statement attached to the settlement agreement maintains that the board "does not admit it violated the law or its own policies, but agrees it would have been preferable if circumstances had permitted to have provided more advanced public notice of its intention to vote on January 11, 2016, to study the possible closure of Central Elementary School."
The Neither One Of Us Wants To Be the First One To Say Goodbye Award
The Historic Reynolds School in Canton's traditionally-black Gibsontown neighborhood left such an impact on a young Billy McDowell that he hadn't forgotten it even after leaving the area where he grew up, building a successful business and decades later marrying Motown legend Gladys Knight.
But as the segregation-era school fell into disuse, it also fell into disrepair. More than just a dangerous eyesore, the dilapidated structure also represented the loss of a community institution in a community where institutions are far too few.
By 2014, with plaster walls crumbling and floors falling in, many thought it might just be best to say goodbye to the old school. McDowell, however, was able to acquire the building at auction, generously forsaking the birthday gift his wife had wanted to give him — a building near Lake Lure where he could have, as he'd once dreamed, open up a burgers, beer and bikers kind of joint.
That dream deferred, the newly-established Reynolds School Foundation is now tops on McDowell's to-do list, so much so that he — in conjunction with his wife, county superstars Little Big Town, local musical sensation Lyric, and comedy superstar George Wallace — held an Asheville concert this past fall to raise money for the building's new purpose, a proposed $5 million community center that will, if all goes according to plan, open in 2019.
The Heart And Soul Award
Last fall, the N.C. Department of Transportation announced a much needed upgrade to Waynesville's busy Russ Avenue, which is projected to see increasing traffic over the next 20 years as businesses continue to settle along the bustling commercial corridor.
But in direct defiance of requests made by Waynesville officials, the plans presented by DOT would have also eviscerated historic Walnut Street in the process.
Waynesville Mayor Gavin Brown then made an unusual move when he called for a period of public comment prior to a Dec. 13 town board meeting, and then called an additional special meeting Jan. 5 that packed the house and featured universal condemnation of the plans.
DOT then said it would issue plans with less alterations to Walnut Street, and finally, almost a year later, released plans with almost no alterations to Walnut Street. Brown responded by calling the DOT a kinder, gentler DOT than the one he'd worked with in years past, saying this past Novemeber that it appears the DOT "has a heart and soul now."
The Water Over The Dam Award
After five long years of studies, surveys, petitions and public input, the effort to merge Lake Junaluska and Waynesville is, finally, water over the dam.
The almost 800 homes that surround the Lake Junaluska Conference and Retreat Center make it a unique environment — while not quite a municipality, it's more than a homeowner's association.
And while it sometimes has the needs of a municipality, including infrastructure and policing, it doesn't always have the ability to provide or afford those needs.
Over the course of those five years, bills were introduced in the N.C. General Assembly — in 2013, 2014 and 2015 — that would have resulted in merging the two entities were stymied by Rep. Michele Presnell, R-Burnsville.
The Water Over The Dam Award isn't for Presnell, though; it's for the residents and leaders of Lake Junaluska, who have finally decided to focus on the one thing they can control — self-sustainability.
To their credit, Junaluskans have also avoided pointing either of the hand's first two fingers at one very obvious target.
"We did our best. We gave it a shot. It didn't work. It's OK. Let's move on," said Lake Junaluska Executive Director Jack Ewing, who is about as much of a class act as you're likely to find in Haywood County, or anywhere else.
The Davy Crockett Award
Just like his namesake from the rough-and-tumble frontier days of yesteryear, 23-year-old Charlotte resident David Crockett felt the call of the wild when he and his friend Sultan Alraddadi ventured into the Shining Rock Wilderness for a day hike this January.
But Crockett could have used some of the famed frontiersman's savvy when he faced a trail intersection armed only with a smartphone app. A wrong turn led to a two-day campout during what would end up being some of the coldest weather in 2017.
Haywood County 911 first fielded Crockett's call at 8:27 a.m. on Friday, Jan. 6, about 16 hours after he and Alraddadi had set out for their planned 8-mile hike. They didn't know the name of the trailhead, the trail or the road they'd driven to get there. They were cold and hungry, and the cell phone was lacking for both battery and service.
Search and rescue crews analyzed the clues from Crockett's call to guess at where the two might be, searching all day and into the night as temperatures fell and snow began to fall, but with no luck. Then, at 8:11 the following morning, Crockett reached dispatch one more time. The searchers were relieved to hear that Crockett and Alraddadi, though very cold, were still alive.
Just before 5 p.m. that day, crews from a State Highway Patrol helicopter found the hikers using thermal imaging during a flyover. They relayed those coordinates to the N.C. Emergency Helicopter and Aquatic Rescue Team, which retrieved the hikers and flew them for evaluation at Mission Hospital in Asheville.
All's well that ends well, but Crockett might consider coming prepared with a coonskin cap and musket — or at least with a non-electronic map — before venturing into the wilderness again.
The Jack of All Trades Award
From investigating to witnessing to adjudicating, the Cherokee Tribal Council tried its hand at nearly every part of the legal process during this year's impeachment of then-Principal Chief Patrick Lambert.
The impeachment issue dominated public life in Cherokee throughout 2017, with Lambert's opponents claiming that his conduct while in office made him unfit to serve and standing behind a list of 12 charges warranting impeachment — they ranged from illegally entering his hotel into a room contract with Harrah's Cherokee Casino to executing contracts without proper approval. Meanwhile, Lambert and his many supporters maintained that the charges against him were trumped-up or downright fabricated, and that the impeachment was payback for Lambert's calling the FBI to investigate alleged corruption in tribal politics.
Tribal Council members were involved in the impeachment process from start to finish, ordering the investigation whose results formed the basis for impeachment, issuing subpoenas as the investigation progressed, drafting articles of impeachment, presiding over the impeachment hearing and voting on the outcome. Two Tribal Council members — Albert Rose and Bo Crowe — even stepped down from their places around the horseshoe to testify as witnesses before climbing back up to sit as part of the adjudicating body. While Crowe and Rose did not vote on the specific impeachment article they testified about, they did vote on the remaining articles of impeachment.
Time and time again, the vote broke down the same way — with Councilmembers Teresa McCoy, of Big Cove; Richard French, of Big Cove, and Tommye Saunooke, of Painttown, against impeachment and the remaining nine in favor. Some criticized the Tribal Council as having already made up its mind on the outcome before the hearing began. However, councilmembers denied that supposition.
Ultimately, after four days of impeachment hearings — which themselves followed many days of court hearings to answer the litany of legal questions the impeachment brought up — the time came to vote. Tribal Council found Lambert guilty on eight of the 12 articles of impeachment, with all but one of those eight following the 9-3 voting pattern that had pervaded the entire process. Lambert was removed from office effective immediately, with Vice Chief Richard Sneed sworn in as principal chief the same day.
Despite their demonstrated ability to serve as jacks of all trades legal, only three of the seven pro-impeachment councilmembers who ran managed to win re-election this fall.
The For the Love of (Bloody) Mary Award
Western North Carolina residents revealed themselves to have strong opinions about Bloody Marys and mimosas when communities across the region debated adoption of a state law that would allow the drinks to be served a few hours earlier on Sunday mornings than allowed before.
Known as the Brunch Bill, this state law gave counties and municipalities the option of allowing alcohol to be served and sold beginning at 10 a.m. on Sundays, rather than the noon start time previously in effect. The two-hour shift proved a lightning rod in WNC communities, with the tourism industry making its plea for elected leaders to adopt the extension as a way to spur economic activity, even as anti-alcohol community members — many of whom based their opinion on religious convictions — expressed vehement opposition to any expansion of the availability of alcohol.
So far, Waynesville, Sylva, Franklin and Canton have adopted the ordinance, with Bryson City voting it down and Jackson County and Maggie Valley yet to decide. The election of a pro-Brunch Bill alderman in Bryson City could change the equation, with the board scheduled to revisit the issue during a Jan. 8 meeting. The subject has not been brought up in Haywood, Swain or Macon county government.
The Casablanca Award
Tears were as abundant around the Western Carolina University campus this month as at any screening of "Casablanca," with each day bringing the Catamount Nation one step closer to the departure of its beloved chancellor.
Chancellor David Belcher announced in November that he'd be going on medical leave, effective Dec. 31, after treatment stopped working on a brain tumor he's been fighting since April 2016. He doesn't intend to return to his position after his medical leave expires.
Belcher had surgery on the tumor after it was initially discovered, and the procedure and follow-up treatment seemed to be successful. However, the cancer returned in August, prompting Belcher to embark on a new treatment regimen. Doctors later determined that the treatment wasn't working, prompting Belcher's November announcement. WCU Provost Alison Morrison-Shetlar will serve as acting chancellor, with a diverse 21-member board now in place to search for a permanent replacement.
News of Belcher's departure sent waves of emotion throughout the Catamount Nation. During his six-plus years as chancellor, Belcher had managed to gain the respect and appreciation of community leaders, students, WCU employees and many others from across the region. Under his leadership, Western experienced steady gains in retention and enrollment, added 200 new endowed scholarships and underwent multiple major construction projects.
The goodbye has been difficult, but just as Rick Blaine and Ilsa Lazlo will always have Paris, the Belchers will always have Cullowhee.
The 'It's Always Been Done This Way' Award
Named after the popular refrain of its inaugural winner, this award goes to Dennis Edward "Bill" Taylor, erstwhile chairman of the Cherokee Tribal Council.
Taylor chaired the body for a tumultuous two-year term that featured quite a few things that had never been done before, in any sort of way — including the launch of an FBI investigation into the Qualla Housing Authority, of whose board Taylor was a member, and the first removal by impeachment of a Cherokee chief in recent history.
Tribal Council meetings were often contentious under Taylor's leadership, with vocal public opposition to many of the body's decisions. Taylor could often be heard responding to such opposition with a familiar phrase: "It's always been done this way."
That assertion wasn't always true, however. In one notable instance, elders from the Snowbird community entered a protest of the February legislation Tribal Council had passed beginning the impeachment process.
Taylor declined to allow the protest resolution to be read, or to allow any discussion on the matter, before calling for a vote — explaining, once again, that it's always been done this way, with Tribal Council taking an up-and-down vote free of any pesky discussion or fact-finding. Analysis of previous protest resolutions at Tribal Council meetings revealed that was not always the case, with protests on the May 5, 2016, and April 7, 2016, agendas resulting in 13 and six minutes of discussion, respectively, before coming to a vote.
Taylor ran for re-election to a 2017-2019 term but lost his seat when he came in the last of four Wolfetown candidates in the General Election. Democracy has always been done that way.
The Pink Floyd Award
The dark side of the moon was the only side of the moon visible from Western North Carolina the afternoon of Monday, Aug. 21, causing a mass migration of the curious — who, collectively, are the recipients of this award.
Called the Great American Solar Eclipse, the Aug. 21 event was the first time that a solar eclipse had passed from one coast of the U.S. to the other since 1918, and the 70-mile-wide path of totality landed right across WNC. Visitors poured in from north and south to see the moon cover the sun in the Great Smoky Mountains National Park, or downtown Sylva, or Andrews — which lay right on the centerline of totality — or any of countless other places. The N.C. Department of Transportation logged vehicle counts that vastly exceeded expectations, estimating 126,000 people leaving the mountains the night of the eclipse and many more sleeping in lodging accommodations booked to capacity.
With traffic crawling along at approximately a snail's pace, the drive home may have been frustrating for some eclipse-viewers. But many of those who attended that great gig in the sky found a little traffic to be a worthy price to pay for the memory of a day with two sunrises, and an afternoon lulled into premature evening by a moon covering a sun, corona shimmering about the edges.
The Old Ball and Chain Award
This cynical interpretation of the marriage bond could turn literal for 12 people facing charges in an alleged marriage fraud conspiracy based in Cherokee.
The defendants include Ruth Marie Sequoyah McCoy, deputy superintendant of the Cherokee Bureau of Indian Affairs Office, who would allegedly work with Golan Perez, of Cherokee, and Ofir Marsiano, of Pigeon Forge, to connect U.S. citizens with non-citizens who hoped that marriage to a U.S. citizen would improve their immigration status. McCoy's husband Timothy Taylor would allegedly help sometimes as well.
If convicted, McCoy and Perez could face a maximum sentence of 20 years and Marsiano a maximum of 25 years. However, it's possible that McCoy, at least, could be facing time beyond that resulting from the outcome of the marriage fraud case. A court document filed Oct. 30 stated that the government "is investigating the Defendant (McCoy) in connection with charges that go beyond what the Grand Jury alleges in the present (marriage fraud) indictment."
The four U.S. citizens who entered into the fraudulent marriages have pled guilty to one charge of marriage fraud, a crime that carries a maximum penalty of five years in prison and a $250,000 fine — the original charges would have carried a maximum penalty of 10 years. While specifics of the plea agreements are not public, an Oct. 30 court document shows that at least some of the agreements required the defendants to serve as witnesses in the case. The four non-citizens accused in the case were never arrested.
McCoy, Taylor, Perez and Marsiano are scheduled for a trial before U.S. District Judge Martin Reidinger at 9 a.m. Monday, March 5, in Courtroom 1 of the U.S. District Court in Asheville.