Archived News
Jackson delays pool referendum decision
Wednesday, December 20, 2017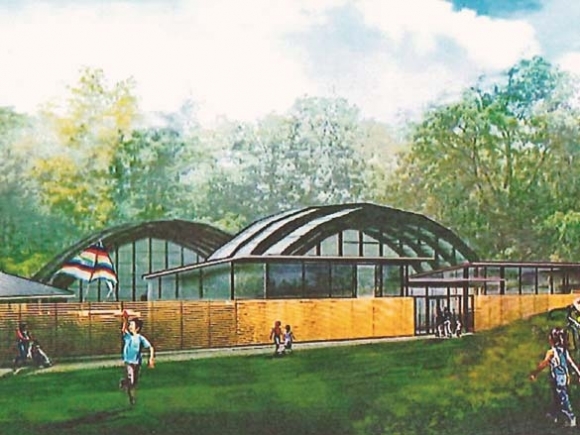 An already-tight timeline to get a referendum question about funding an indoor pool on Jackson County's November 2018 ballot just got tighter when county commissioners opted during a Monday, Dec. 18, meeting to table a vote on the next step in the process.
Building a pool would require taking out a bond, which would require approval from voters. And asking voters to decide whether such a bond is a good idea would require having a solid estimate of how much the pool would cost to build and maintain — which would require a firm decision on where the pool would be built. Monday's vote would have approved a contract for Asheville-based Clark Nexsen to complete the pre-design work necessary to estimate how much it would cost to build a pool adjacent to the existing Cullowhee Recreation Center, and to produce renderings showing the public what such a pool might look like.
"The dates can change by a few days, but literally if we start on the first of January, it will be just enough to get it completed by the end of March. We need this information by April," County Manager Don Adams told commissioners during a Dec. 12 work session.
Directions in October
During an October work session, commissioners had directed Adams to begin looking for an architectural and engineering firm to complete programming and pre-design work for the pool, a task that Adams told them would mean deciding on Cullowhee as the location of the proposed pool.
"Unless I have the property in hand, I'm less likely to give the public accurate information," Adams told commissioners Oct. 10.
The Cullowhee location made sense, Parks and Recreation Director Rusty Ellis told commissioners on that occasion, because it's at the geographic center of the county and would save money by tying into infrastructure already in place at the existing recreation center.
Seeing the logic in that argument and the short timeline to achieve a November 2018 referendum vote — a recently passed county resolution states that such a referendum question could be placed on an even-year fall election ballot only — commissioners then gave Adams the go-ahead to begin vetting companies. However, even then some members of the board had reservations.
"We've really put ourselves in a position that we don't have another choice but to choose Cullowhee," Chairman Brian McMahan said in October, also commenting that he'd like to see more county recreation facilities in the northern end of the county.
Second thoughts on location
By the Dec. 12 meeting, Adams and a review committee including Ellis, County Attorney Heather Baker and Assistant Parks and Recreation Director Michael Hopkins had finished the selection process. The process included two committee meetings, interviews with two firms, independent research into the firms' qualifications and a final decision to recommend Clark Nexsen, which would be working with pool consultant Counsilman-Hunsaker.
The firm would charge $37,900 as its base architectural cost, with additional costs such as surveys, legal costs and marketing add-ons likely putting the county's total cost for this pre-referendum stage somewhere around $58,000.
That's when the topic of location came up again.
"It's cut and dry this is going to be in Cullowhee, right? Isn't it?" asked Commissioner Boyce Deitz.
"That's what is proposed," Ellis replied.
"Have you considered any other locations?" asked Elders.
"I thought we talked at the last work session that it just made sense to have it at Cullowhee, because the infrastructure's there, the support staff is already there," Ellis replied.
That prompted McMahan to ask whether any plan produced could just as easily be applied to a different location. The answer, Adams said, is no.
"I think it would be a waste of money under this contract to go through this process with the idea that we're going to move the facility," Adams said.
Commissioners had diverging opinions about location. Elders said he didn't object to the location but felt that northern Jackson County should at least be considered, while Deitz and McMahan both said they've talked to plenty of people who are in favor of a pool but don't see why it has to be in Cullowhee, which already has plenty of recreation facilities.
Commissioners Mickey Luker and Ron Mau — Cullowhee is in Mau's district — expressed support for the Cullowhee location.
"It's not my district, Cullowhee's not, but I will say that based on the recreation management plan, central location and operational costs I would have to lean on our staff's recommendation," Luker said.
The discussion went round and round with no firm consensus forming, but McMahan directed Adams to put the vote to approve Clark Nexsen's contract on the agenda for the Dec. 18 meeting.
Decision to delay
However, the vote was never taken. As the Dec. 18 meeting opened, Elders moved to table the vote so the board could have "a little more time and discussion" on the issue. He, Deitz and McMahan voted in favor of tabling, with Mau and Luker opposed.
In a press conference at the end of the meeting, Elders said that cost and location were both issues for him.
"I'm not sure that we can afford this, but I want some more figures on it, and I think that we need to have another place on another work session and gather some more information on this," he said.
McMahan was also concerned about cost and location, with Deitz pointing out the limitations of the short timeline.
"The route we were taking, we had to have this done at this date, at this date, at this date, so we were on a tight schedule and it just cut out any options that we have," he said, citing the possibility of entering into a partnership with Harris Regional Hospital as an example. The current timeline would not allow for such a discussion to happen.
Mau, who had voted to keep the pool issue on the agenda, said the county's ability to pay for a pool isn't the issue being decided. During the referendum vote, should there be one, voters will decide if they want a pool badly enough to agree to pay the higher tax rate needed to build and maintain it, he said.
The main issue, therefore, is location, and for Mau, who holds a Ph.D. in finance, the choice is simple. County staff estimate that it would cost another $115,000 annually to maintain the pool at a standalone location, and by factoring in that perpetual cost with interest and inflation rates, Mau estimates the Cullowhee location as having a $9.5 million cost advantage over any other site.
"What I'm for is putting it on the ballot and letting people decide whether they're going to pay for it," Mau said.
When asked, McMahan said that the decision to table the Dec. 18 vote was not a decision to forego pursuit of a November 2018 referendum.
However, delaying the vote until the commissioners' next meeting — Jan. 8 — would put the screws to an already-tight timeline. During the Dec. 12 work session, Adams had told commissioners that beginning the pre-design work Jan. 1 would just barely allow it to finish in time to start the referendum process.
"This whole process was predicated upon understanding the location, and if we don't know where the location is, quite honestly I think there really has to be a process to go through to determine the location," Adams told commissioners Dec. 12. "I can't say that can be done in time for a referendum discussion."