Archived News
Canton Confederate Christmas controversy quashed
Wednesday, December 13, 2017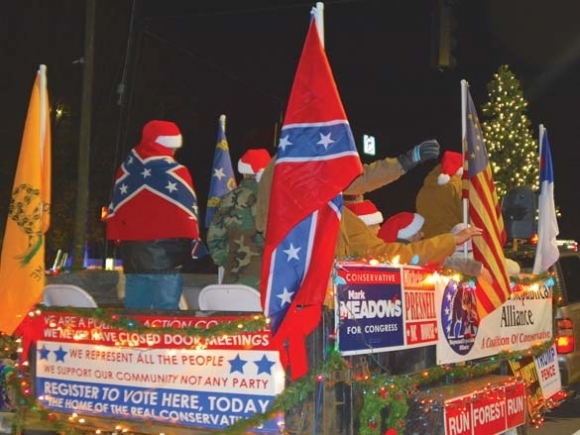 When Canton Alderman Dr. Ralph Hamlett recently proposed a parade entry policy that would limit inappropriate speech during the town's two annual parades — and in effect limit the display of the Confederate Flag — it understandably generated a substantial amount of negative comments.
Some on social media had even vowed to line the streets of Canton's Dec. 7 Christmas parade in a show of support for the recently beleaguered banner.
But, after more than 120 parade entrants drove, walked, skated, or, in the case of one group trotted on horseback through Canton's quaint commercial district that night, just two floats were seen to include the flag in their displays.
"I didn't know what to expect, but I think the vast majority of people that came to watch the parade and to participate in the parade were there to celebrate the Christmas holiday," said Canton Mayor Zeb Smathers. "They weren't there for politics."
Chalk it up to apathy, ignorance or possibly even acquiescence, but among the thousands of spectators, there was but one example of anything even remotely resembling a Confederate flag — a starred and barred ski cap atop the head of a young boy. There were no blankets, no tee shirts, no flags, no protests, and certainly no confrontations.
Even after four flyers espousing a white supremacist group were surreptitiously and illegally posted to telephone poles along the route sometime prior to the parade, spectators seemed more concerned with candy being tossed into the crowd by dignitaries like Smathers than with a complex cultural and Constitutional question over symbolic speech.
Once of those spectators was 15-year-old Hendersonville High School student Keelie Jones. With a Ghanaian father and a mom from the states, Jones identifies quite literally as an African American. She's also the reigning Miss Western Carolina's Outstanding Teen and regularly attends events throughout her 27-county dominion.
"That would not personally offend me," she said when she learned of the Canton's Confederate controversy. "If they want to fly their flag, then I feel like they should be allowed to."
Jones and other spectators likely saw a float sponsored by the Haywood Republican Alliance — a splinter group not affiliated with the Haywood County Republican Party — that displayed the Confederate flag, as well as a big black pickup truck so adorned.
Both displayed the flag accompanied by other historical flags, including the Christian flag, the Betsy Ross flag, the Gadsden flag and the current U.S. flag.
Neither appeared to promote slavery, racism or white supremacy, and neither appeared to garner any more cheers or jeers than any other float, which begs the question — with such an outright lack of public support or opposition, where does Hamlett's proposed policy go from here?
Always or sometimes
Hamlett's proposed policy was tabled without discussion Oct. 26 to give Town Attorney William Morgan the chance to review it in detail. In theory, it's sound, as the U. S. Supreme Court has upheld the right of municipalities to limit inappropriate speech based upon the time, place and manner of its expression.
At the board's next meeting Nov. 9, six people spoke against the proposal, some citing history, some citing heritage and some citing the slippery slope of speech regulation. The issue wasn't on the agenda then, and wasn't on the agenda for the Dec. 14 meeting, so no action has yet been taken.
The town's next parade, in September 2018, is still months off, but Hamlett remains adamant that the proposal, in some form or another, be presented to the board before then.
But, even before that, it's clear there are many questions that still need to be answered.
Despite Hamlett's consultations with the Anti Defamation League and the Southern Poverty Law Center, the threat of an expensive and prolonged lawsuit still looms over any enacted policy of the sort, should someone with the legal standing to challenge it decide to do so.
On the municipal level, there's still a bit of uncertainty as to what, exactly, might make one might run afoul of Hamlett's proposal, which also proposes to limit symbols of vulgarity, profanity and illegal activity.
"When you get past what this policy may or may not be, the next question is who's going to enforce it and how?" Smathers said.
The plan names unnamed parade officials as those charged with interpreting what is and isn't allowed; Smathers said that would likely be town staff and police.
However, the otherwise mostly-tasteful context in which the two flags appeared in the Christmas parade raises even more questions: is the flag always a hate symbol, or only sometimes, within some sort of hateful context that wasn't present that night?
If it's not always, then those two displays would have likely passed muster, even if it still offends some — meaning that the proposed policy would be toothless in its attempt to ameliorate the same type of complaints that birthed it.
Rising again
Around this time of year, there's usually a great lull in municipal government; meetings are cancelled, elected officials are out of town and inclement weather can strike at any moment. Most municipalities then jump right into budget season, which can run from February through June.
It's clear the proposal needs work — an anti-drug organization with a marijuana leaf on its banner wouldn't be able to march, for example — so until the proposed policy is again presented before the board next year, it's still rather nebulous and therefore hard to pin down the positions of some board members.
Hamlett was joined by Alderwoman Gail Mull in drafting the proposal, putting them both squarely in the pro- camp, depending on what comes back from the town attorney.
Since the proposal was first heard, the town saw a Nov. 7 election that elevated Smathers from alderman to mayor also saw the addition of two new, young board members who, like Smathers, will face an early test in how they address this issue but unlike Smathers are neither Canton nor North Carolina natives.
"We are still working through all possible outcomes of any rules or regulations that we put in place," said Alderwoman Kristina Smith, who finished first in a field of four candidates in November and added that she was "open" to the idea of Hamlett's proposal. "We want to make sure anything we do ensures that town events will always be open and welcoming events for all citizens and visitors to Canton, while also ensuring safety for participants, town staff and law enforcement."
Alderman James Markey, Smith's fellow newcomer to the board, offered a similar openness tempered with acknowledgement of the larger issue at hand.
"I would support a policy that prevents people from using speech that is generally seen as an affront to decency, and I will say that with the caveat that I will not support any policy contrary to what we consider the tenets of free speech now."
The town doesn't currently have any policy for parade entrants.
"I do think there should be a policy that the town has regarding parades and public ceremonies," Markey said. "How that ends up looking, I'm not the first person to determine that because I'm not a lawyer. That's why we as a board consult with our legal representation on matters such as this before making any new policy, not just this one."
Regardless, Markey seemed to sympathize with the sentiments of Smathers in that the issue would neither define the town nor its people.
"There was a lot of talk on social media about making an example of this," Markey said. "But this town is better than that."