Archived News
Freshman retention dips at WCU
Wednesday, December 13, 2017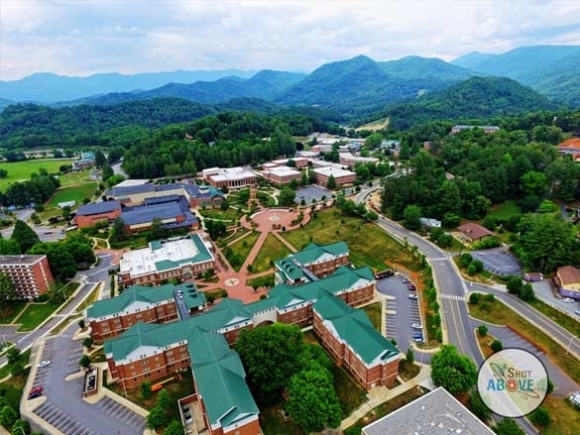 After years of steady upward progress, the freshman-to-sophomore retention rate at Western Carolina University dipped slightly for students who enrolled as first-time, full-time freshmen in fall 2016.
"We really have looked at everything upside down and sideways, honestly saying if we could just find that one thing that made us drop 1.3 percent and fix that one thing — and I'm not sure that we did," Glenda Hensley, director of first-year experiences, told the WCU Board of Trustees during a November 30 committee meeting.
In 2015, WCU celebrated achieving an 80 percent freshman-to-sophomore retention rate five years ahead of the 2020 target deadline set in 2012. University leadership considered it a significant accomplishment, as retention at Western had previously been quite low compared to other schools in the University of North Carolina System — in 2007, a full third of freshman students didn't come back the next fall, with the percentage of returning freshmen hovering in the 70s over the next several years.
The university recognized that something should be done to address the issue and in 2013 hired Lowell Davis as the first assistant vice chancellor for student success. That office has since launched numerous efforts to assist students who may be in danger of dropping out, and retention numbers have climbed accordingly, reaching 80.1 percent for students who entered as freshmen in 2014 and returned as sophomores in 2015. It held level at 80.2 percent for the 2015 freshman cohort but dipped slightly for the 2016 cohort, 78.9 percent of whom returned as sophomores this fall.
Davis said that, while the university realizes the importance of retention, he doesn't believe that the 1.3 percent drop is especially significant.
"It is something we take extremely seriously, as it is our goal and the chancellor's goal to make sure we maintain our 80 percent retention goal, but a drop of 1 percent in one year is not something that raises an alarm," he said.
Sam Miller, the university's vice chancellor for student affairs, echoed Davis' stance.
"Numbers have some variation from year to year, and how much of that is statistically valid, it's hard to say," he said. "We slipped below 80 percent with last year's freshman class, but is that a statistically significant change? I don't even know."
SEE ALSO: Admissions interest rises at Western
While the overall percentage difference was small, a breakdown of data showed that some types of students saw significant gains in retention while others saw significant drops.
Retention among student athletes, for example, shot up from 80.7 percent in the 2015 cohort to 85.4 percent for the 2016 cohort. While the change was certainly an increase from 2015, it was right in line with retention rates over the past several years — 86.4 percent for the 2012 cohort, 86.2 percent for 2013 and 88 percent for 2014.
Randy Eaton, director of athletics at WCU, attributed the high rate to the substantial amount of pre-emptive academic intervention student athletes receive. All freshman athletes have mandatory study halls and anyone considered to be at any sort of academic risk has a tutor set up before they even arrive on campus. Plus, many athletes receive student aid.
"There's a financial incentive as well for my student athletes to succeed and return," Eaton told the trustees.
Other groups of students didn't do so well this time around. While retention dipped for all ethnic groups included in the university's retention report, it decreased the most for Hispanic students. Among Hispanic students entering as freshmen in 2016, 76.9 percent returned as sophomores this fall, down from 86.8 percent for the 2015 cohort — a 10.1 percent drop. That's the lowest rate since the 2012 cohort, when 71.9 percent of Hispanic freshmen returned as sophomores.
Retention rates also decreased for students enrolled in the university's Academic Success Program. The program enrolls students who want to attend Western but don't quite have the academic credentials to gain admission — students who are invited to attend through ASP must first complete a five-week intensive summer program in which they take up to seven credit hours and participate in a variety of events, workshops and seminars designed to support a successful career at Western.
Among the 2015 cohort, ASP students who enrolled as first-time, full-time freshen in the fall had a 78.3 percent retention rate, a figure slightly above the 78.2 percent retention rate for the 2013 cohort and the 77 percent retention rate for the 2014 cohort. However, retention for the 2016 cohort dropped 12.6 points to 65.7 percent.
Davis said he had no theories as to why retention dropped so dramatically for these groups but reiterated the university's commitment to reaching students of all backgrounds and ethnicities. WCU hired a chief diversity officer in 2016, he pointed out, and the university works hard to retain students who are in need of the support services the ASP offers.
"We are continuing to put programming in place to assist those students who come to our institution and to make sure they are not only successful at the end of our first semester but also return to our institution for a second year," he said.
Davis added that the university is continuing to think of new ways to improve retention and will soon roll out a university-wide strategic retention plan. A draft of the plan has been completed and sent to the chancellor and provost for approval. It will then go to the faculty and staff senates before becoming final during the upcoming spring semester.
"We are on a road to success when it comes to retaining our students," Davis said.