Archived News
Admissions interest rises at Western
Wednesday, December 13, 2017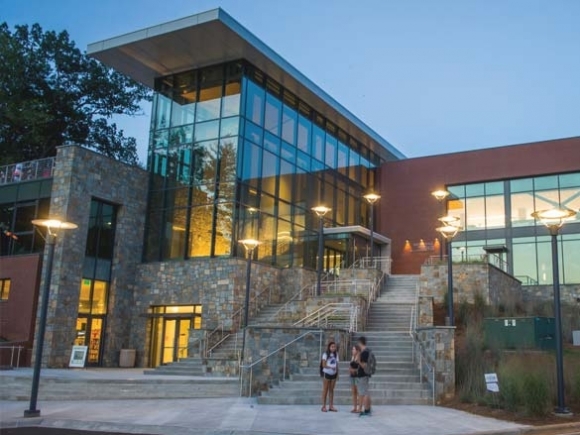 When Chancellor David Belcher asked Sam Miller, Western Carolina University's vice chancellor for students success, to tell the Board of Trustees about Western's "terrifyingly good enrollment activity," he was only half kidding about the word "terrifying" — but he was completely serious about the word "good."
Interest in attending Western is growing by leaps and bounds, but university leaders view that as a change that's all good.
"We're seeing increases in applications for both our first-time, full-time freshmen in January and we're seeing increases in applications for the transfer population in January," Miller said. "Both of those are unusual. We don't usually see a lot of activity in January."
Many of the freshmen applicants, Miller continued, are likely holdovers from the summer, when WCU created its first-ever waiting list for admission.
"Western has been on a roll for several years now," Miller said. "Five of the last six years we've had all-time record enrollments, and that momentum I think predates the passage of N.C. Promise. So a lot of things have been going well, and I think growing awareness of Western has been happening, and folks are taking a look at Western that maybe didn't know about WCU before."
The university has received about 11 percent more applications this year than at the same point in 2016, though the number of students admitted is about 5 percent lower. However, as Miller told the trustees Dec. 1, "we've changed so much about the upcoming admission cycle I can't say anything without offering a footnote to it."
Western has changed the application deadlines for early action and added some additional deadlines leading up to the final application deadline, with the goal of avoiding a last-minute rush of applications and encouraging students who are serious about attending WCU to take action sooner rather than later.
"The later you apply, the tougher it might be to get an offer of admission from WCU," Miller said. "Before we had early action and we had some deadlines like this, but it wasn't as competitive and it didn't have as much impact as it's going to have this year. I actually think this coming spring semester — January, February, March — we'll have a waiting list for admission offers."
That's not how things have historically gone at WCU, but admission and interest in admission have been on a steady rise over the last several years. In fall 2015, Western enrolled 1,624 first-time, full-time freshmen. That number rose to 1,913 in fall 2016 and again to 1,980 in fall 2017.
In fall 2018, the school aims to enroll between 2,000 and 2,050 first-time, full-time freshmen.
Miller attributes increased awareness of Western, and of the quality programs and the mountain lifestyle that it offers, to the rise in enrollment. But another big change is on the horizon. N.C. Promise, the state program that will cause the cost of tuition to drop to $500 per semester for in-state undergraduate students, will kick in come fall 2018. Western is one of only three universities in the state to be part of the program, and the institution's leaders expect that the reduced cost of attendance will cause interest to spike even further.
"We really are very cautious and want to protect the quality of the experience for students," Miller said. "We don't want to just be too aggressive and throw the doors open to admission. But by the same token we have an amazing opportunity thanks to N.C. Promise."