Archived Opinion
Holiday traditions are worth their weight in gold
Wednesday, December 06, 2017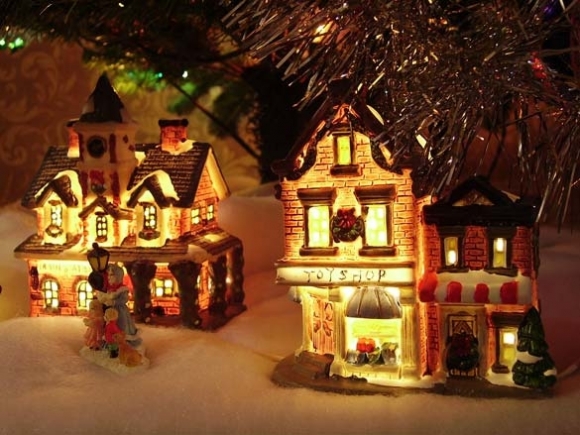 Growing up in Weaverville and living in Waynesville, I'm very comfortable with small town Christmases. I wouldn't know how to do Christmas in a big city, although I love the thought of trying. Traditions are a big part of anyone's holiday, but in small-town America where visions of Norman Rockwell permeate the psyche, traditions seem paramount.
Over Thanksgiving break, we drove by numerous vehicles with trees tied on top. This got my little boys talking and asking, "When are we gonna get our tree?" I'm already a little anxious about this being the first Christmas with their dad and me separated, so I'm trying extra hard to make it feel special and normal.
In the past, we've often waited until the first or second week in December to get our tree, but this year, we got it the Sunday after Thanksgiving. We didn't have time to trek up a mountain like we've done before, but the boys didn't seem to care about that part. We stopped at Boyd's satellite lot on Soco Road in Maggie Valley, grabbed a tree and spent the next couple evenings adorning it with lights and ornaments.
Decorating the tree this year got me thinking about the origin of "trimming the tree." My grandpa once told me his family would go find a tree in the woods and drag it in on Christmas Eve, spend Christmas Eve together trimming the tree and enjoy its glory for one night only. The wondrous brevity and simplicity of that makes me smile.
When I was a little girl in the 1980s, we had an artificial tree that my sister and I would tacky-up with big colored lights, tons of tinsel and handmade ornaments. We even strung popcorn around it several times.
As we got older, we wanted the smell of a live tree in our home. We never went to a tree farm. Our tradition was purchasing a tree from the Optimist Club who set up a tree lot in the parking lot of Roses. After choosing a tree, we'd head back to the house, put on a Christmas movie, drink hot chocolate, untangle lights and dig through boxes and crates of ornaments.
Parades are another small-town tradition. My sister and I were baton twirlers and dancers growing up. We were at some sort of practice every night of the week, so whether we were leaping down the street with our dance group or twirling our batons, we were always in the Weaverville and Asheville Christmas parades. I don't ever remember sitting on side as a kid watching a parade.
Things are different with my boys. We've made it a tradition to attend the Waynesville Christmas Parade with the same two families every year. This year will be the fifth year we've attended as a group. We sit in the same spot and all seven kids sit beside one another on the curb under a blanket to watch lighted floats and firetrucks and listen to the high school bands play Christmas carols.
My older son has only recently mentioned he would love to be in the parade. Those opportunities will come but right now, it's fun to watch their bright eyes as the parade goes down Main Street. Soon enough, he'll be on a float with his swim team or marching in the band.
Last Saturday, the boys' dad and I took them to see Santa Claus at Biltmore. This is the third year we've visited Santa on the Estate. It's a beautiful setting to see the big man himself. My five-year old practiced his list over and over until the minute he walked up to Santa, ensuring he had everything correct before he started talking.
On Christmas Eve we attend the candlelight service at Long's Chapel. This is another ritual the boys remember and ask about each year. At the end of the service, the lights dim and everyone holds a candle and sings Silent Night. It's very powerful. I feel it's important to embrace the quiet and expectancy of the evening before baking cookies for Santa and putting out reindeer food.
Traditions are integral, primarily for children. They offer comfort and experiences they'll remember for a lifetime. I especially feel like traditions are important during times of change. They provide an anchor, a sense of security when life is feeling uncertain or different.
As I sit here and think about my family traditions growing up, I'm overwhelmed with a sense of nostalgia. My own happy memories propel me to continue holiday traditions for my boys.
Whatever your traditions are with your family and friends, hold onto those. As they say, it's hard to comprehend the impact of a moment when you're in the middle of it. But later, when those moments become memories, we'll be grateful we took the time to honor and nurture them.
(Susanna Barbee is a digital media specialist for Mountain South Media and writes for The Smoky Mountain News and Smoky Mountain Living. This email address is being protected from spambots. You need JavaScript enabled to view it..)