Archived News
Jackson Brunch Bill decision will wait until spring
Friday, November 17, 2017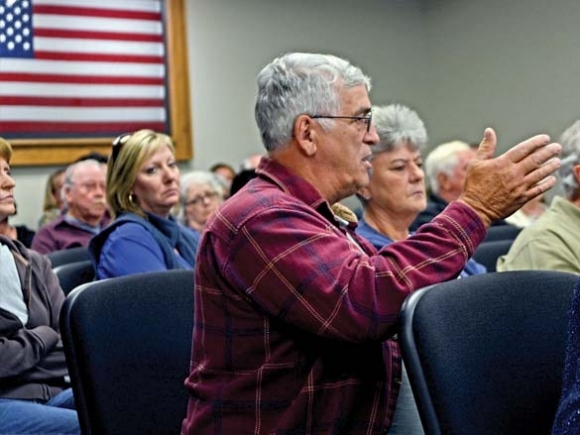 A final decision on whether to allow Sunday morning alcohol sales in Jackson County won't come for several months following a request from Cashiers Area Chamber of Commerce Director Stephanie Edwards that the public hearing wait until springtime.
"I think it just gives all of the folks that have made it through the slam of the high season the opportunity to take their own vacations and kind of recoup," Edwards said. "Spring just seems kind of a natural time when folks are back and preparing for the visitor season again."
Commissioners had originally aimed to decide the issue during an Oct. 16 meeting that drew a full house of county residents who were overwhelmingly opposed to alcohol. Seeing the crowd, Commissioner Ron Mau had asked that the board take the issue off the agenda for a vote that day and delay the decision until a formal public hearing could be held.
Sunday morning alcohol sales are now an option for counties and municipalities to approve following a decision of the state legislature dubbed the Brunch Bill. Local governments can decide on an individual basis whether to allow alcohol sales beginning at 10 a.m. on Sundays as opposed to the noon start time now in effect. Sylva, Highlands, Canton, Waynesville and Franklin have all approved the measure, with Bryson City voting no and Maggie Valley still undecided. No public hearing is required prior to voting, but many municipalities have opted to hold one anyway.
"I have seen what alcohol does to families. My father was an alcoholic for 50 years," said Robert Matthews, one of 15 people to voice their opposition to the Brunch Bill before commissioners Oct. 16. "I seen a family split apart, devastated because of the alcoholism. My wife's father was an alcoholic. I seen the devastation it done to a mother and seven children. I have lived it. I have seen it. I have seen how it destroys families, and in my mind I can't see how two hours can make a real economic impact for the businesses."
Those opposed to the Brunch Bill pointed to alcoholism's destructive effects and widespread impact in the county as reasons to vote no, with religious conviction that alcohol consumption of any sort is a sin to be discouraged — not an economic opportunity to be encouraged — another key point.
Edwards was the only one to voice support for the Brunch Bill Oct. 16, but she made it clear to commissioners that she wasn't alone in her stance. A quick two-day survey of chamber members had yielded 168 responses, with 96.4 percent in favor of passage.
The Cashiers area is where commissioners' decision on the Brunch Bill will have the biggest impact. Sylva has already approved Sunday morning alcohol sales within its city limits, but Cashiers is an unincorporated community where tourism-focused businesses like restaurants and hotels figure large into the local economy. Commissioners' decision will impact businesses located outside the limits of any Jackson County municipality, and Cashiers is where the largest concentration of those businesses exists.
Edwards told commissioners that those two morning hours have a very real impact on businesses' ability to keep tourists coming for a full weekend stay. Many people looking for a weekend getaway want to have a leisurely brunch with a mimosa or bloody Mary, and with the communities surrounding Cashiers having already approved Sunday morning sales, she said, it will be easy for potential visitors to decide to spend their time in Highlands or Sylva instead — unless commissioners vote yes.
However, nobody except Edwards was there to lay out that point of view Oct. 16.
"The meeting they held in October was at the height of our leaf season, and understandably at that time our businesses were slammed serving folks and working 12-hour days," she said.
Edwards has requested that, in addition to waiting until spring to schedule a public hearing, commissioners hold said hearing in Cashiers, which sits about 45 minutes up a windy mountain road from the county seat in Sylva.
Commissioners expressed their willingness to grant this request during a work session Nov. 14, with Commission Chairman Brian McMahan adding that he'd like to have a public hearing in Sylva as well prior to the vote.
No dates have been set beyond a general agreement to revisit the issue in the springtime. However, when the vote eventually is held it will likely be split, and based on comments commissioners have made during public discussions of the issue thus far it seems possible the measure could fail to get the three "yes" votes it will need to pass.