Archived News
Catamount School embarks on its first year
Wednesday, November 15, 2017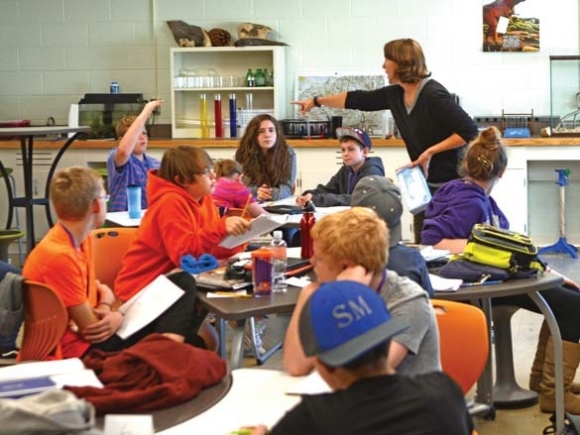 It's hard to find a place inside Western Carolina University's Catamount School that isn't buzzing with activity.
Opened this August to serve Jackson County kids in grades six through eight, the new school is nestled into a previously unused wing of Smoky Mountain High School, and until recently the office where Principal Bob Dinsdale keeps his desk was an old prom closet. Now, it's a hub of activity, the door constantly opening for kids in search of a quiet place to take a test and teachers needing to use the printer or drop off a paper.
"It's a revolving door," said Dinsdale, a previous principal at Smoky Mountain High. "That's not a bad thing. You get to know kids quicker. You get to know what's going on."
A rapid start
Quickness has been a hallmark of The Catamount School since planning for it began to unfold in January. Its launch was the result of a July 2016 act from the N.C. General Assembly requiring the University of North Carolina system to designate eight of its 17 institutions to start a laboratory school, to be charged with developing innovative teaching methods and aiding education programs for teachers and administrators. UNC then had to decide which eight of its schools would be involved and which four of those eight would open for the 2017 school year, with the other four opening in 2018.
It wasn't until this winter that Western Carolina University received official word that it would be required to open with the new school year in August, leaving less than eight months to plan the instructional approach, hire faculty, recruit students, secure a facility and work out a host of other details necessary to successfully running a school.
Now, Catamount School students are nearly three months into the year at their new school, and Dinsdale said he's happy with how things are going, especially considering the somewhat hectic lead-up to opening day.
With a capacity of 75 students, the school enrolled 57 for its first year, with that number eventually settling down to 55.
"Considering how quickly all this came together, we're pretty happy," Dinsdale said. "Our goal was around 50, and we got over that."
Eighth grade is the smallest class, with only 12 students, while the sixth- and seventh-grade classes both have more than 20. About 25 percent of those students transferred from Cullowhee Valley Elementary School, and roughly another 25 percent were not part of the Jackson County Public Schools system last year. Slightly fewer than 25 percent came from Fairview Elementary School, with the remaining students a roughly equal split between Scotts Creek Elementary School and Smokey Mountain Elementary School.
No students came from Blue Ridge School, which is located near Cashiers.
That's notable, because the legislation that created The Catamount School was targeted primarily to Blue Ridge School and Smokey Mountain Elementary School. Both those schools were last year rated as "low-performing" by the state, and granting an alternative to students from schools designated as low-performing was part of the lab school legislation's stated goal. Students from those schools received first-priority acceptance to The Catamount School. However, Smokey Mountain Elementary represents just a fraction of the first class of applicants.
In other respects — such as racial makeup and numbers of gifted students and students with IEPs — The Catamount School closely mirrors Jackson Schools, Dinsdale said. However, the school doesn't have any students learning English as a second language and its Native American population is lower than the countywide average at Jackson Schools, he said.
Building identity
Now in the thick of the school year, the folks at The Catamount School are relishing the opportunity to build their school identity from the ground up.
"The great thing about not having a tradition is you get to start it," Dinsdale said. "The phrase, 'We've not done that here,' or 'that's not what we do here,' that's not something you hear — whereas if you come into a school that's been there for 30 years, there's a certain norm," he said.
The whole point of the Catamount School, at least in the legislature's eyes, is to promote innovation and give kids who might be struggling in school an option offering more access to small-group and one-on-one attention. Having a blank slate as far as tradition is concerned certainly helps meet that goal.
The school employs four teachers, each of whom is responsible for a different subject, with a WCU intern also helping in each class. Each day starts with a PE class taught by a WCU intern and supervised by a WCU employee who is a PE teacher. Students then go to their first-period class and rotate through a couple periods until it's lunchtime. In the middle of the day, students have club time, which is a chance to spend some time playing football, learning about world cultures, doing drama or pursuing any of a number of other options. Afterward, they cycle through their remaining classes before the bell rings at 3 p.m.
In setting up the school, WCU did its best to prevent some of the behaviors that often cause problems through the use of flexible furniture. There are tables that fit together and pull apart for use as individual desks or group work stations, high café tables where kids can swing their feet as they sit and wobble stools that allow fidgeting and working to coexist.
"We ask kids to sit for a long time, and then we get upset if they're wiggling around and they have to stretch," Dinsdale said. "That kind of helps the bouncier ones."
The school also does its best to lean on the diversity of expertise on Western's campus to give students enrichment opportunities. Katy Elders, enrichment coordinator, makes it her business to explore those opportunities. So far, several stage and screen students have come over to give drama lessons, parks and recreation students have helped with a wildlife skills unit and international students have brought over the food and music of their home countries, among other special offerings. Dinsdale said that collaboration will only increase in the future. Because Western's instructors set their syllabi far in advance, the fast pace of The Catamount School's opening made it difficult to put many of those partnerships in place initially.
"The music school is particularly interested in trying to get time to work out a more regular commitment from their students, so I think it will be a much heavier presence in the spring," Elders said.
Those partnerships are especially important because kids at The Catamount School aren't allowed to participate in extracurriculars offered through Jackson County Public Schools.
"We have Policy 4000 that tied our hands, quite frankly," said Acting Superintendent Kim Elliott.
The policy states that students must be fully enrolled in Jackson Schools to participate in extracurriculars, and The Catamount School isn't part of Jackson Schools. Allowing those students to participate in extracurriculars would have required the school board to rewrite the policy, Elliott said.
A positive partnership
Overall, the relationship between WCU and Jackson Schools is a tight one, both Elliott and Dinsdale said.
"I feel like because of the strong partnerships between WCU and Jackson County Public Schools, The Catamount School is going extremely well," Elliott said. "We are sharing resources two ways, and for that I believe students in Jackson County Public Schools and The Catamount School will benefit."
A memorandum of agreement between the two organizations outlines the broad strokes of the partnership. Jackson Schools will let The Catamount School use the facilities it needs within Smoky Mountain High School and will perform all routine and preventative maintenance. The Catamount School will provide its own staff and will fix any damage to the space for which it is responsible. Jackson Schools will provide food service and bus transportation to Catamount School students. To offset these costs, Catamount School will remit 30 percent of the per-student funding it receives back to Jackson Schools.
However, the partnership extends beyond those contractual bullet points. Seniors at Smoky Mountain High are giving weekly, one-on-one music lessons to Catamount School students who want to learn an instrument. Elders has a high school intern working with her on enrichment planning, and Elliott sits as vice chair of The Catamount School's board of advisors. Meanwhile, WCU's technology intern responsible for assisting with tech equipment at The Catamount School is also helping at Smoky Mountain High School and is available for other system schools as well. In addition, all computers at use in The Catamount School will be recycled to Jackson Schools' inventory after five years.
So far, the agreement seems to be working for both parties, trickling on down to the classrooms.
In the second-to-last hour of classes on a mid-term Thursday, Beth Poteat's English class is engaged in a quiet session of individual reading, students spread throughout a room free of fluorescent lighting but displaying ample numbers of plants. Down the hall in Amanda Clapp's science room, the kids are learning how to use water displacement to measure density.
"What do you have to know before you put something in the water?" Clapp asks.
One student guesses that you need to know its height, another guesses the weight and then a third gives the correct answer — that you've got to find out how much water there is to begin with.
Things are going well at The Catamount School, Dinsdale said.
At this point, he said, the biggest hurdle for the fledgling school is the distance to the nearest water fountain.