Archived News
Leading by example: WCU chancellor, wife give $1.23 million for scholarships, reflect on Catamount identity
Wednesday, November 01, 2017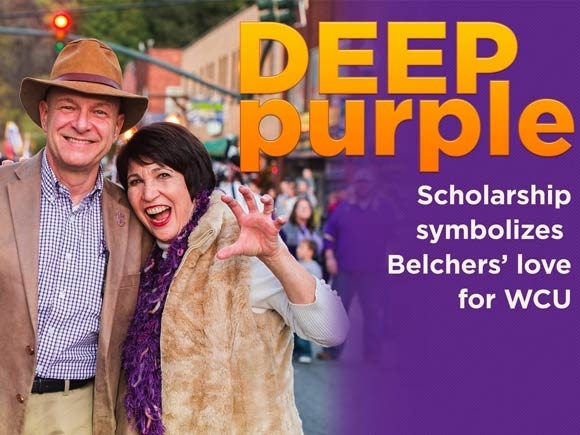 Through careers as students, teachers and administrators, David and Susan Belcher have marked the milestones of their lives in college campuses, but their 2011 arrival to Western Carolina University was the day they discovered their home.
"It was kind of instant. It was kind of love at first sight," Susan said. "It's not the (natural) beauty. It's the people. And it's the community also. This region takes care of each other, through and through."
To the new chancellor and his wife, coming to WCU felt like coming home. Now, six and-a-half years later, they've made a promise to seal their commitment to the Catamount Nation forever. On Oct. 12, the Belchers announced a pledge of $1.23 million — a blend of cash and an estate gift — to support a scholarship endowment after they have passed away.
It's a decision that speaks to the core of their care for the region and its people, who often come from homes not capable of funding a college education.
"Western is a really affordable institution, but it doesn't matter," David said. "So many students in this area, they still have huge challenges to deal with these kinds of issues. So this is an opportunity for us to give back."
"Scholarships will roll off of that endowment forever, in perpetuity, and that's really important to us to know whatever we did in this lifetime will continue to help other people long after we're gone," Susan added.
While this pledge is the biggest scholarship commitment that the Belchers have made to Western, it's not the first — or even the second. Two months after they arrived at WCU, they started an endowment scholarship for the honors college, with the first recipient graduating just 3.5 years later. And last year David surprised Susan — an opera singer whose career included teaching, singing and directing productions — by endowing a scholarship in the College of Fine and Performing Arts, which began this spring. The first recipient of that scholarship is senior music major Claire Lemke.
"While I was one of the first recipients of a scholarship supported by the Belchers, I will be only one of hundreds to come," Lemke said at the Oct. 12 luncheon where the $1.23 million gift was announced.
The Belchers made their announcement ahead of a public campaign called Lead the Way aiming to raise at least $50 million for endowed scholarships, a goal that Belcher has had in the cross-hairs since his March 2012 installation address. The intervening years have seen more than 200 new endowed scholarships established.
"We share this with you, not to put ourselves in the spotlight, but to lead by example," Susan said at the Oct. 12 announcement. "And, we are looking for partners to join us — partners who are willing to make gifts that will make a real difference to our students, partners who will dare to make gifts that will inspire others to give, partners who will join us and Lead the Way in helping our students to achieve the American Dream — partners like you."
Mere weeks out from the announcement, it seems that the strategy is working.
Just 16 days after the Belchers announced their pledge, former WCU Board of Trustees Chairman Ed Broadwell announced that he and his wife Donna were promising $1 million in cash donations and an
estate gift to the cause. Fittingly, Broadwell made the announcement as he accepted the University's Distinguished Service Award as part of the Homecoming 2017 activities.
It was the Belchers' gift, he said, that inspired them to do it.
"I truly believe that higher education is the great equalizer and the key to upward individual economic mobility," said Broadwell, retired CEO of HomeTrust Bank. "I truly believe that Western Carolina University — through the well-educated graduates that it produces — is vital to the social and economic development of Western North Carolina."
Bleeding purple
Western Carolina University is where the Belchers have planted their flag, but it's far from being the first campus where they've worked or the first college town where they've lived.
Susan is from St. Louis, Missouri, while David is from Barnwell, South Carolina. Their careers have included more than a decade at Missouri State University and eight years at the University of Arkansas at Little Rock — both tenures substantially longer than the 6.5 years they've spent at WCU thus far.
But they're both quick to say that there's something special about WCU, a quality that goes beyond the magnetic beauty of the mountains and straight to the character of the people and communities that populate it.
"We worked at several universities together, and they've been great places to help and work with, but when we got here it was a place we loved. We feel like this is an area that needs help in so many ways," David said.
The students are smart and equipped with a do-it-yourself energy you don't find just anywhere. But at the same time, many of them come from families that have no way to pay for college, and it's not uncommon for Western students to be the first in their family to seek a degree.
"I just found that after years of being here, I am a Catamount through and through," Susan said. "I bleed purple more than any university I have been in some way affiliated with. I love this place, and I love the people."
"This is a place that loves their families and their communities, but there are challenges in this area," David said. "So for us we can't do everything, the two of us, but we believe that education is one of the…"
"Silver bullets," Susan said, filling in the words David was searching for.
"It is, in so many ways," David continued. "This is a way that we can help these people."
"Everyone helps in their own way. This just happens to be the way that we know we can do it," Susan said.
With the Belchers, "we" is an often-heard word. David is the chancellor of WCU, but there's no denying that leading the university is a team effort.
"She loves people and that's who she is. I know I couldn't have done anything that I have done here without her," David said of his wife. "I do a lot of the work, the normal chancellor stuff. I work here, I work with the legislators and donors and alumni but Susan has been just — we're just right with each other."
"You complete me," Susan said, laughingly repeating the famous line from "Jerry McGuire."
It's true though, she continued — both she and David are "people people," but beyond that their skills are different and complementary.
"I could not do what the chancellor does. I'm not an administrator," she said. "The vision that he brings to the university is unique, and he articulates it so well. But I do feel that what I can do is support that vision. Both of us, David and I, are 'people people'
— people persons — and for me it comes down to wanting to open up our home and our lives to the university, to the community, to the alumni, the donors and citizens that make this the great place that it is."
Uniting a region
The team effort has yielded a litany of notable results for Western Carolina over the last 6.5 years.
"Some of the ideas that we wanted to do five or six years ago have done really well. They've been going really well," David said.
At his inauguration speech in 2012, David had laid out five promises to the WCU community — he was going to lead an administration that would develop the pub-lic-private partnership Millennial Campus, create a leadership academy for faculty and staff, organize an annual summer tour of the region for institutional leaders, convene a consortium of educational leaders from WNC and make fundraising for endowed scholarships the school's number one philanthropic priority.
Five years later, tangible progress has been made on all five fronts.
A new Health and Human Sciences building stands in the Millennial campus, with a medical office building now in the planning stage. The university holds an annual leadership academy that graduates 12 WCU employees each year, with the capstone experience a weeklong bus tour giving participants the chance to experience firsthand the communities WCU serves, from Asheville to Hayesville. WNC's educational leaders have banded together to improve the cross-institutional pathway from preschool to college, and the effort is playing out on a statewide level as well, with UNC President Margaret Spellings inviting David to serve on the My Future N.C. Commission, a high-level task force formed to examine those pathways on a larger scale.
And, of course, more than 200 endowed scholarships have been created — including three funded by the Belchers themselves.
"There were so many activities and goals the chancellor had set in that (installation address), and it's very gratifying as an institution that we've been able to say we've accomplished them," said Melissa Wargo, WCU chief of staff.
"And they've morphed, and actually that's better," David said. For instance, the goal about uniting leaders of WNC's educational institutions to talk about how their systems can work together more seamlessly.
"This has morphed not just in WNC, but throughout the state and I think in many ways throughout the country," David said. "So it's changed in some really exciting ways."
That's not to say that all the work is done. One of the focuses of David's inauguration address was the need to improve compensation for WCU faculty and staff and stem the tide of experienced employees leaving for better-paid pastures.
"Here's the issue. We're doing what we can, but it's not enough," he said. "I'm just going to be direct. It's important to us because this is about students."
New issues have also arisen. There's N.C. Promise, for instance, the program that will drive in-state tuition at WCU down to $500 per semester starting in fall 2018. The university has been working since the program was announced to anticipate and accommodate the increased interest from students statewide and other issues likely to result from the program's implementation.
Enrollment is rising, spurring questions as to how WCU will grow to meet the need while still retaining the character that's made it what it is.
And then there's the Catamount School, the new middle school located at Smoky Mountain High School and run by WCU. The university was given only months to work with Jackson County Schools to plan its opening after a state mandate came down requiring its launch. Initially, university and school system leaders alike were wary of the implications, but two months into its first year of classes things seem to be going well.
"We decided, 'You know what, this is an opportunity,'" David said. "Education is our thing. We're looking at innovation in this area. This is an opportunity."
"It's the culture of yes, and that's what I love about Western," Susan added.
"If you look at centuries, people were here. They had very little. They said, 'We're doing it anyway,'" David said. "This is another opportunity to see that sort of chutzpah."
Fighting cancer
During his first years on the job, David's take on the chancellor's job involved a seemingly endless flurry of activity, a never-ending push to get as much as possible out of every hour.
But about 18 months ago, that way of life came to a screeching halt when the Belchers received a diagnosis that would eventually send a ripple of dismay throughout the entire Western North Carolina community. In April 2016, doctors discovered that David had a small brain tumor, which later proved to be cancerous.
Just a day after the announcement, about 250 WCU students, faculty and staff gathered in the rain to rally in support of their beloved leader.
"It's been difficult in some ways, but people have been amazing for us," David said. "They've supported us, they've done anything they could have done."
In the 18 months since the diagnosis, his fight against cancer has had its ups and down, and he's kept the university community informed of the major developments through a web page created for the purpose. In May 2016, he had a surgery at Duke University to remove the tumor, with 11 months of follow-up treatment afterward. The surgery was successful with no cancer initially detected afterward, but in August he faced a setback when a medical exam showed that the cancer had returned. David is now in the midst of a new round of treatment.
Through it all, he and Susan have had to grapple with the challenge of discovering a new normal, a sustainable way to live their lives while also hitting the cancer as hard as possible.
"Right after the diagnosis 18 months ago, my doctor said to Susan, 'This will change him.' And it was instant," David said. "It was like suddenly you don't know how much time you have. Honestly, that's really the issue. So what's the important stuff?"
"Twenty-four hours in a day was not enough when David was chancellor (before the diagnosis)," Susan said. "Having to deal with a major health issue on top of it meant we needed 48 hours in a day, and that's what we didn't have."
Even before the diagnosis, David said, his staff had been trying to get him to delegate more. He was trying to get there, but he was still working 60 or 70 hours a week — "we were having a great time" — when he found out about the cancer. Then, delegation became imperative.
"I have a great team at Western Carolina, so they took issues that they could have always done, but by delegating them, allowing them to take opportunities to do a lot of things that we need to do at Western Carolina University, that allowed me to have my focus around the big issues," he said.
He's still working with the legislature, the donors, the general administration. He's just learned how to rely on his staff to take care of the rest and to work within the limits of his health. Some days are easier than others, and with his current treatment regimen he often finds himself leaving work after five hours or so to take a nap before resuming the workday once more.
"It changes a little bit my routine, but I'm working as hard as I can," he said.
It's been a hard year, there's no denying it. And while David is quick to say he would-n't want to go through it again, he also knows that he's seen the true colors of the university community where he lives and works in a way he wouldn't have been able to otherwise.
It's a region that takes care of each other, and when he's needed it, its people have done their best to take care of him.
"When anyone has a life change like this, you become more grateful for support and kindnesses, and you become more aware of people around you and what they're doing to make your life and the university's life better and greater," Susan said.
"If I wasn't completely a Catamount before last year, if I just kind of wore purple, I began bleeding purple last year."
Give for scholarships
WCU is seeking at least $20 million in endowed scholarships through its Lead the Way campaign, more details of which will be revealed when the public phase of the effort launches in 2018. Endowed scholarships live on in perpetuity, helping students pay for their education from the interest accrued while leaving the principal intact.
Learn more or donate at give.wcu.edu.