Archived News
Sylva's mayoral race nears the finish line: Sossamon and Allen to rematch for mayor's seat
Wednesday, October 18, 2017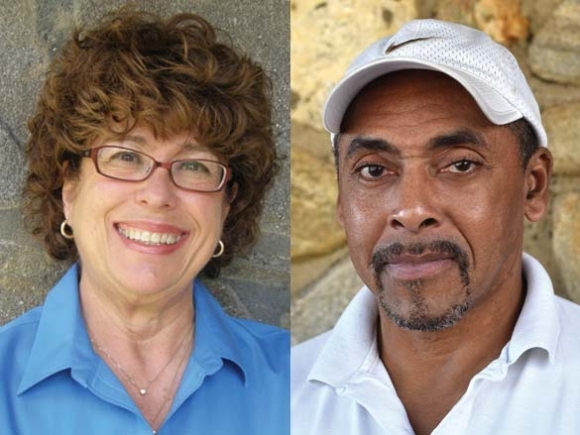 Sylva voters might feel a bit of déjà vu when they enter the polling place this year, with both names on the ballot for the mayor's seat repeats from the 2015 election.
Last time around, Lynda Sossamon, Danny Allen and Barbara Hamilton — who were all sitting as town commissioners at the time — ran for the office, with Sossamon winning the seat by a razor-thin margin. She beat Allen by just three votes, and Hamilton came in a mere 12 votes below Sossamon.
This year, Hamilton will seek re-election to her seat as a commissioner, but Sossamon and Allen will again vie for the mayor's seat.
The two candidates come with different goals for the next four-year term and different perceptions of how things have gone over the last two.
In Allen's view, he's the better candidate for voters who are looking for someone who will listen to and speak for the interests of the people.
"I don't really want to say anything negative about anybody, but they (town residents) have come to me and said we cannot get any answers from any questions they've asked, and they wanted me to run again because they feel comfortable coming to me and speaking with me," Allen said.
Allen, a lifelong Sylva resident, has previously served 12 years on the Sylva town board under two mayors.
For her part, Sossamon believes she's worked hard over the past two years to learn the mayor's role, further develop her leadership skills and help the board build momentum toward its goals.
"I think the leadership role is the key. I've tried to educate myself. I just think I've been able to lead the board positively these past two years and we've all worked well together," Sossamon said. "I would like to continue that relationship."
Sossamon is proud of the work the board has done since 2015. It's not always easy to move forward when you're a small town with a tiny tax base that often struggles to cover basic services such as police protection and road maintenance, but she feels that the town has made major strides in the right direction.
There's a new electric vehicle charging station downtown, as well as a water fountain. New stencils on the sidewalk down Main Street identify Sylva as being part of the cross-state Mountains-to-Sea Trail. Much-needed sidewalks will soon go in along Skyland Drive, a long-discussed traffic project has been completed on Mill Street and the newly formed Public Art Commission is looking into ways to make downtown more aesthetically appealing.
"I want to continue working on increasing Sylva's tax base without raising taxes," Sossamon said. "The ways I feel we could do that is by attracting new businesses and making sure our ordinances allow for growth and housing — apartments and single-family. I want us to continue finding grants to continue making improvements to the town."
Reflections on the tax hike
Sylva did raise taxes in 2016, for the first time in 12 years. The increase was significant, a 41.7 percent rate increase to boost town taxes from 30 cents per $100 of property value to 42.5 cents per $100. Multiple factors were responsible for the increase — a reduction in overall property values meant that the same rate would yield less revenue than it had before, and meanwhile the cost of running the town was rising. In addition, Duke LifePoint's decision to dispute its property valuation took another bite out of the town's projected revenue.
In the end, the large tax rate increase provided the town with little wiggle room outside of its basic budgetary needs, its main effect being that the town no longer had to take from its savings account, called a fund balance, to stay in the black. During a February planning meeting, Town Manager Paige Dowling called the budget resulting from the tax increase "the town's single biggest accomplishment" of the past year.
While Allen allowed that he hadn't been keeping close track of town business since leaving the board, he indicated that he might not have voted for the tax increase had he been in office at the time.
"What really hurt and gave the board a bad name is when you have a 12.5-cent increase and then you want to put art downtown," he said. "How do you think the taxpaying citizens feel about that? They were really irate. A lot of upset people."
The town did form a Public Art Commission after passing the tax rate increase. However, as of now no town funds are going into the commission's activities. The volunteer board members are charged with identifying places downtown conducive to art installations and then seeking funding to see those projects through.
While some board members had stated their support for budgeting some town funds to support the effort, no funds have been allocated and Sossamon has not publicly advocated for or against such funding. She is, however, an enthusiastic supporter of the commission's first project, a mural that will be funded with a $10,000 state grant if the application is approved.
For his part, Allen feels that the board could have looked at other solutions before raising taxes by such a large amount. In fact, he'd like to see the town consider getting rid of its police department to instead contract with the Jackson County Sheriff's Department for law enforcement services. Currently, the Sylva Police Department's budget includes $1.2 million of the town's total $3.1 million budget.
"I think maybe that would save the town some money, and also it would put more officers out on each shift to protect," Allen said. "Right now the citizens in Sylva are paying double taxation. That's double for the use of any and all the county. I don't know of too many instances where the county would come inside the city limits and enforce the law."
Bringing business to town
Allen also said he'd like to work on getting more businesses into town in order to build up the tax base from which the town draws its revenue, forestalling any future tax increases.
"There's outside businesses that are interested in coming into town, and I really don't think the town was behind it, getting other people, other revenue from outside businesses," Allen said.
He mentioned conversations he'd had while in office with interested corporations such as Fatz, Steak 'n Shake and Big Lots, noting that they ultimately had decided not to locate in Sylva. He said the town's small population was probably part of that decision-making process.
Sossamon concurred that getting new businesses into town should continue to be a priority. But the exact method of doing so, she said, is hard to say. It's a struggle for nearly every small town in Western North Carolina.
"I don't really know the answer to that," she said. "We are in a good location. We have a lot of tourists that like the area, so that should make it attractive to business. It's just some of the infrastructure problems that are there right now."
Principally, water and sewer. Those services are the purview of the Tuckaseigee Water and Sewer Authority, a cross-jurisdictional organization that manages water and sewer infrastructure throughout the county.
Recently, TWSA's impact fees have been a topic of discussion when it comes to economic development. When new users want to tap into the system, they have to pay an impact fee intended to offset the cost of handling the additional capacity they bring to the system. For business that use large amounts of water and sewer, such as restaurants, the up-front fee can be in the tens of thousands of dollars. Those costs have been blamed for hampering economic development. Some local leaders have voiced support for eliminating impact fees altogether.
"The control is out of our hands. We just have to encourage TWSA to fix those things," Sossamon said, adding that, while some TWSA policies are "challenges," she knows they need the revenue and isn't sure whether eliminating impact fees is the best path.
Allen agreed that impact fees can present a challenge but worries that eliminating them would adversely affect residents who would find themselves paying a higher bill to make up the difference. He feels that the best solution for now is just to get better about educating prospective businesses about the options available to navigate impact fees, such as the allocation rental option that allows businesses to pay a monthly fee rather than coming up with a large up-front cost.
"I do think that impact fees are hindering businesses that are coming, and I think the town, the county, TWSA and even the university should publicize more information about the impact fees," he said.
Looking forward
Both candidates have things they like about the way the town is running and things they'd like to work on going forward. Allen would like to see Spring Street — which was diminished to one lane this year as part of a traffic flow project on Mill Street — closed completely and a public bathroom installed there to keep tourists in town longer. And Sossamon would like to continue work on implementing Sylva's Economic Development Strategic Plan, adopted in May. She's also excited about efforts to clean up Scotts Creek, which runs right through downtown. The town landed a grant to fund a study that will develop a plan for cleanup.
However, as Allen pointed out, the mayor is just one person on a six-member board, so getting anything done requires the willingness and cooperation of the majority.
"If I say to you, 'I'm going to cut taxes,' I can't do that," he said. "I can just make a motion. One person cannot get anything accomplished. It's going to take the majority."
And in the mayor's case, that power is diminished even further. In Sylva the mayor votes only in case of a tie.
"I think it all boils down to a good leader," Sossamon said.
The candidates
Two candidates are on the ballot for Sylva mayor this year, with the winner to serve a four-year term ending in 2021.
Lynda Sossamon
• Age: 70
• Background: Sossamon co-owns the Sylva Radio Shack franchise with her husband Boyd. Having first arrived in Jackson County as a student at Western Carolina University, Sossamon has called Sylva home ever since.
• Political experience: Served as Sylva town commissioner 1997-2001 and 2011-2015 and as mayor 2015-2017; has served on or chaired numerous boards including Mountain Projects, the Jackson County Chamber of Commerce, TWSA, Sylva Partners in Renewal and the Arts Advancement Council at Western Carolina University, among others; finished the N.C. Rural Center's three-day Homegrown Leaders program in 2016 and the six-month Leadership Jackson program in the 1990s.
• Reason to run: "There is a learning curve to learning how to handle a board. I'm just beginning to feel really comfortable in the role. I want to continue the progress we've been making."
Danny Allen
• Age: 61
• Background: Allen is a lifelong Sylva resident. Currently retired, he's previously worked as a security guard at N.C. Center for the Advancement of Teaching and manager at Quin Theaters. During this fall season he's been volunteering his time at Barber's Orchard in Waynesville.
• Political experience: Served as a Sylva town commissioner 2001-2007 and 2009-2015; was a mayoral candidate in 2015.
• Reason to run: "I was born and raised here. I've lived my whole life in Sylva. I worked under two previous mayors. I think a little bit of that has rubbed off, and bottom line is I think I have something to offer to the people. I am a spokesman for the people."
Also on the ballot
While the mayoral race is the only contested election on Sylva's ballot, two commissioner seats are also up for election. Incumbents Mary Gelbaugh and Barbara Hamilton will run unopposed.
Barbara Hamilton
• Age: 73
• Background: Hamilton has lived in Sylva for 46 years, 25 of them working as a nurse at Harris Regional Hospital. Her career included 38 years in nursing. She and her husband Joe raised both their children in Sylva.
• Political experience: Five years on the Sylva town board after being appointed to a vacancy in 2012 and winning election in 2013. Serves on a variety of boards, including the Main Street Sylva Association, Jackson Neighbors in Need, Jackson County Library and Fontana Regional Library.
• Reason to run: "I really feel like this is public service and it's giving back to my community. We've lived here a long time, raised our family here and we love Sylva. Anything I can do to make it a better place for other people I'd like to do."
Mary Gelbaugh
• Age: 38
• Background: Gelbaugh works as office manager for Wilson Family Chiropractic and serves as an elder at First Presbyterian Church of Sylva, with an educational background in travel and tourism and holistic nutrition. Downtown Sylva has been part of her life since her parents started Livingston's Photo on Main Street in 1971. She is married with two small children.
• Political experience: Has served as a Sylva commissioner since her election in 2013 and previously served as an appointed member of the Sylva Planning Board 2008-2012.
• Reason to run: "I have enjoyed serving on the town board. Sylva is my community. I work, play and live in Sylva. To be a voice for Sylva, to feel heard and to make a positive difference has me motivated to seek re-election."