Women in Business
Building business in Haywood County
Wednesday, October 18, 2017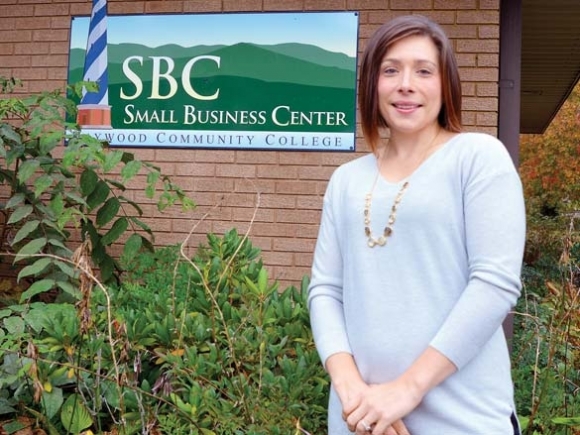 Its no surprise that The Smoky Mountain News' annual Women in Business issue highlights women who are in business, but this year, we decided to focus on something a bit more meta: the daughter of a woman in business who is a woman in the business of getting women into business.
Katy Gould, director of the Small Business Center at Haywood Community College, was raised in Haywood County by a mother who operated a data processing business with both a local office and an office in Washington, D.C.
"I grew up in a small business, so I know what a good day looks like, what a bad day looks like, and what it looks like when all hands are on deck to make a business run," Gould said. "I think that's what really shaped my love for entrepreneurship — watching my mom."
Gould earned her degree at Berea College in business administration, where she was introduced to a program called Entrepreneurship for the Public Good, headed by Dr. Peter Hackbert since its inception in 2007.
"It was focused on taking entrepreneurship to rural Appalachian coal mining communities where the coal mines had left environmental destruction and economic destruction," she said. "We worked hand in hand with these communities to help entrepreneurship evolve that ecosystem."
After college, Gould was recruited into the world of big box retail.
"That was not the best fit for me," she said. "I really love small business. Big box retail is a major component in our economic ecosystem but I just love those small businesses."
She returned to Haywood County to work as an events coordinator at the Haywood County Chamber of Commerce while earning her master's degree in entrepreneurship at Western Carolina University; when the previous director of the Small Business Center retired, Gould jumped at the chance to lead the organization.
The Small Business Center is part of the N.C. Small Business Center Network; before being named the Haywood Chamber of Commerce's Young Professional of the Year in 2016, Gould was named the NCSBC's "Rookie of the Year" in 2015.
"I think there's 59 across the state," she said. "There is one Small Business Center within 30 minutes of every North Carolinian."
Like the others, Haywood's SBC offers free, confidential, one-on-one technical assistance, counseling, educational seminars, resource referrals and micro lending assistance for businesses in any stage — from idea to market, and beyond.
"You can be a start up, you can be an idea generator, you can be in business or in business for five years and experiencing a trouble spot where you're not sure what to do — we are here for all of it," she said.
As women have traditionally been underrepresented in the business community as well as in the entreprenurial community, their inclusion is of particular import in both economic development and social aspects.
"I think women entrepreneurs have unique opportunity," Gould said. "North Carolina is phenomenal — I think we're number three as far as women-owned business startup growth."
She feels the same way about Haywood County.
"For a rural community, it's unlike anything I've seen," Gould said. "In my opinion, it's one of the top [counties] in North Carolina. We have vibrant downtowns. We have great subsectors throughout the community, and each municipality really has something to bring to the table, from their downtown perspective — from their merchants' associations and their chambers of commerce."
Another asset to female entrepreneurs in the region is the Buncombe County-based Western Women's Business Center, which in addition to providing services like Gould's SBC, also helps entrepreneurs interface with the Carolina Small Business loan program.
"It's a phenomenal program doing nothing but supporting women in business," said Gould. "They are a catalyst to help drive the women's business economy. They ensure access to capital, additional technical experience, additional educational seminars, and they do an annual conference."
Gould's group partners with the organization on two yearly women in business luncheons that bring women together to make connections.
"So you're not only learning, you're almost in a co-working environment for that two hours you're together," she said. "You're collaborating with one another, you're building with one another — you're building networks."
The local network, Gould said, is strong as well.
"I find the Haywood County women's business economy to be very inclusive, which I appreciate. Women supporting other women. Women mentoring other women in business. Women really wanting to help one another to get a leg up, rather than being in an environment where people may be standoffish to a competitor."
It's all of those reasons why Gould implores anyone, but especially women, to consider starting their own business in Haywood County.
"Assuming the idea is a good fit — if it's a unique value proposition that is a good fit for our county, and is a product or a service that is of need, or maybe something new, different, or better, my recommendation is to really revisit yourself," she said.
Think through what impact the business will have on your self, your family, your financial situation and in your role in the community, Gould cautioned; if you still feel like it's a good idea, the SBC can help with the first steps to planning and developing a business.
"There are so many people in your ball court, so many people there to cheer you on, or even to lend a hand if you should falter," she said. "This diverse unique and vibrant business climate is really the perfect catalyst for women in entrepreneurship."