Archived News
Revised plans for Jackson Health Department will include one-stop permitting
Wednesday, September 20, 2017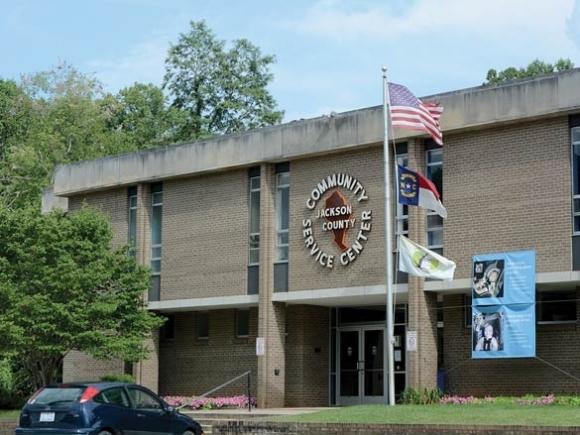 Jackson County will spend $10,000 on a revised plan to renovate the Health Department building off Hospital Road after commissioners decided they'd like to see the building house the planning and code enforcement departments as well.
Funding for the revised plan was approved unanimously during the commissioners' Sept. 18 meeting.
The original study, completed by McMillan Pazden Smith Architecture in January, aimed to show how the existing building could be reconfigured to accommodate the modern needs of the Health Department, aiding commissioners in deciding whether to renovate the structure or build new. Commissioners have since reached a consensus that they'd like to renovate, but three of the five — Commissioners Mickey Luker, Ron Mau and Charles Elders — have been pushing to couple the renovation with creation of a one-stop permitting center.
"In effect this is going back and pretty much reprogramming the second floor itself, and maybe a little bit on the first floor," said County Manager Don Adams.
Currently, people seeking building permits have to travel between environmental health — housed within the Health Department — and planning and code enforcement, housed in the Jackson County Administration Building. Luker, Mau and Elders would like to see those three departments pulled together to make the process easier, but the one-stop center isn't as high a priority for the other two commissioners.
"It will be interesting to see at the end of this whole process what the cost will be to accomplish the one-stop," said Chairman Brian McMahan. "I'm all for the one-stop if it can be done and it's equitable and economically feasible."
However, he said, if the cost winds up being too high to justify the benefit gained, he might not support it.
Commissioner Boyce Deitz, meanwhile, questioned whether it was really necessary to move the three departments in together. Instead, he said, might it be more important to get the county's technology up to snuff so that paperwork could make the rounds without the applicant having to physically go to each location?
After talking to a few different contractors, he said, "there's kind of a mix of feelings (about the importance of a one-stop), but everyone felt like there should be a more efficient way of doing it."
However, Elders said he'd spoken with many of the same people as Deitz and had gotten a much different response, with at least one of the contractors saying he was "thrilled to death" this was being discussed.
"I've not had anyone personally say they don't want us to do it," Elders said.
The original programming study for the space had cost the county $17,600 plus $1,200 in expenses. The $9,860 for the revised program will bring the total cost to $28,660 plus any expenses accrued in the revision.