Archived Arts & Entertainment
Carden in the rye: WNC storyteller bridges past, present
Tuesday, September 12, 2017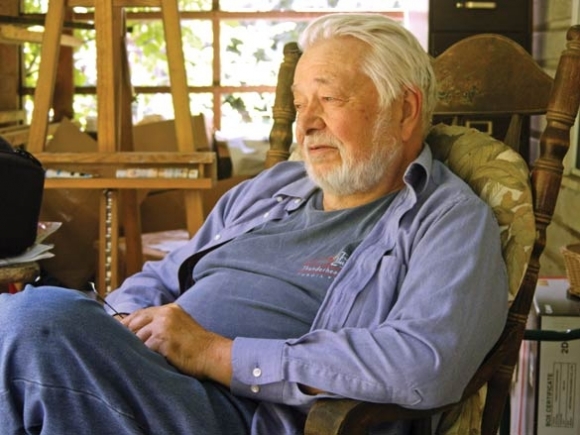 There is no middle ground.
With Jackson County storyteller/playwright Gary Carden, you either love the guy or you tolerate him, a curmudgeon some might say. Luckily, most folks in Western North Carolina appreciate and revel in the singular, beloved personality that is Carden — an increasingly rare voice that serves as a vital window into the past.
At a recent book fair in Bryson City, several local authors gathered to sell their works, catch up with old friends and fellow scribes, and maybe give a short presentation if time allotted. The authors would talk for up to a half hour in a conference room down the hallway. But, not Carden, even at age 82. His tales clocked in over an hour, with everyone in attendance eager for the next scrap of Southern Appalachian lore or wisdom to echo out of Carden's gregarious mouth.
There's the long, winding tale of how his father was shot and killed when Carden was just 18 months old. Carden's father, John Lyndon Carden (aka: "Happy" Carden), ran a service station in Sylva (Hap's Place) and was murdered by the town drunk, who, high on "wood alcohol," waltzed into the business and raised his gun at Carden.
"He [fired,] backed up and dropped the pistol, the whole place was filled with smoke because it was a cheap old gun, shouldn't have even fired" Carden recalled. "He turned around and ran out of the station, across the highway, across the railroad tracks, down to the bank to the creek where the bridge is. He sat down, and took his shoes off, and then his socks, [because] the dogs were after him."
The man, Claud Morgan, ended up on Fisher Creek towards Pinnacle Park just outside of Sylva, hiding out from the law for almost a week. Meanwhile, chaos ensued at the home of the Carden's.
"I was raised by my grandparents. When I lost my father, I also lost my mother," Carden said. "She brought me to my grandparents' house and left me on the front porch with a little paper bag with some clean underwear in it. She went over to the highway, she had a little suitcase, and she caught the bus to Knoxville and she didn't come back."
The turmoil of his father's murder led to a lifetime of confusion, sadness and anger swirling around Carden and his ultimate journey. It seemed every time he'd learn some new fact about the murder or about his father in general, more questions would be raised, or lack thereof, seeing as many in Carden's family didn't want to talk or reminisce about their fallen loved one.
Then, there's the "Flood of 1940," which devastated Sylva and greater Jackson County. The "cloudbursts" or "waterspouts" tore down from Little Canada, down Caney Fork, barreled along the Tuckasegee River, and finally turned into downtown Sylva. It was reported that every bridge that crossed the Tuck was destroyed.
"There [are] pictures of the lumber floating down Main Street, crossing the railroad tracks right where the fire department is right now, and floating right down by The Coffee Shop," Carden chuckled. "That flood really washed Sylva away, and the better part of 12 counties. That's why you still see, while driving 'round here, huge rocks sitting out in fields. 'What the hell, how did that get there?' It came with this flood in 1940. It turned the counties around here to mud and washed them down the river."
Carden spoke of being a young 5-year-old boy and witnessing the natural disaster firsthand from the front porch of his grandparents' house.
"And here it came, just like a tidal wave out of [my grandfather's cow] pasture. It came through our front yard, followed the course of the little branch [beside] our house and took the cornfield away," Carden said. "My granny did what she always did when she didn't know what else to do, she got up and started cooking. I stood on the porch and told everybody what was going by. All of sudden strange things started coming over the hill. Mr. Painter's outhouse. Oak tree. Dead chicken."
And then there's the tales of Carden's ex-wife, who suffered from severe depression, and tried to kill him — twice.
"Something happened to her everyday while I was at work. She just got stranger and stranger and stranger," Carden said. "I woke up one night and my wife was sitting in the bed cross-legged with [my] pistol cocked and it was pointed at me. And I immediately became the most concerned, sensitive husband you've ever seen. She said, 'I was thinking about shooting you and shooting me.'"
Carden carefully defused the situation, only to later find himself in the passenger's seat of an automobile, his then-wife behind the wheel, ready to take the duo to the "other side."
"So, [driving down this road,] we topped [this] hill out, and here we went down that slide. I looked [over] at the speedometer and it was 50 and 60 and 70, then suddenly it was 80. And I looked at my wife, and she winked at me," Carden said. "And she hit the bridge, head on. I had a beautiful '57 Chevrolet. Tore it all to hell. By all rights, we both should have been dead, but neither one of us were dead. Both crammed up under the dash."
The stories radiating from Carden keep going and going, and going. An endless stream-of-consciousness that encompasses the physical and social history of Southern Appalachia. But, never once is the listener bored or looking around the room for a distraction. If you're in a room with Gary Carden, all eyes remain focused on Gary Carden.
Carden has lived a life many would have fallen victim to, whether from emotional stress or simply to block out the past. But, for some reason, Carden found humor in everyday life, something that seamlessly transitioned into a successful, ever-evolving career as a talented writer and prolific storyteller — a walking, talking, living legend, not in his own mind, but in the minds of many who cross his path.
Want to go?
Writer/storyteller Gary Carden will host the presentation, "Tears in the Rain: The Cowee Tunnel Disaster," at 2 p.m. Tuesday, Sept. 19, at the Waynesville Public Library.
On Dec. 30, 1882, 19 convicts drowned in the Tuckaseegee River while attempting to cross to their work site at the Cowee Tunnel. The river was up after a night of rain and the convicts were chained together which contributed to the horrible accident.
Information about this event has always been vague and no one has ever known the identity of the convicts or where they were buried. During a research project on the accident, Carden found the burial site and eventually discovered the names of the convicts. But, the most amazing thing uncovered by Carden was a hidden story of political corruption and greed. None of the victims were guilty of significant crimes. The average age of the convicts was 28 and the youngest was 14.
This program is free and open to all. No registration required. Sponsored by the Friends of the Library. The library is located at 678 South Haywood Street in downtown.