Living Well
Waynesville Yoga Center: Bending over backward for beginners
Wednesday, August 30, 2017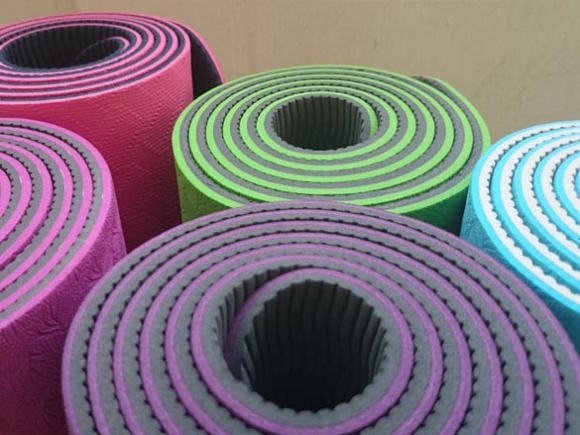 Haywood County competes favorably with Buncombe County in a number of areas; while employment, housing, cultural attractions and tourist amenities easily come to mind, there's now a new way Waynesville measures up to Asheville — yoga.
Although yoga has grown in mainstream acceptance since the 1970s, it's often slow to appear in smaller communities; Asheville has been known as a hotspot for yoga for years, but Waynesville not so much.
This becomes problematic in two unexpected areas — tourism and job creation.
Haywood County's bustling tourism economy sees a great number of overnight visitors each year who come from both near and far to enjoy all the area offers, but the lack of a convenient, upscale yoga studio has doubtless left many choosing other destinations.
Likewise, as young families consider moving to the county to escape the sprawl of Asheville or simply to break off a small chunk of that coveted "mountain lifestyle" desired by people across the country, the lack of a place to practice yoga — while not a make-or-break — is indeed a factor as well.
Since mid-August, Jay MacDonald and her staff have — from a historic house on South Main Street — been working to give Waynesville the kind of place that will satisfy both tourists who don't want to interrupt their healthy lifestyles while on vacation and new residents hoping to continue their regimen.
And maybe most alluringly, they'll save every yogi in Waynesville a 60-minute drive.
Entrance
On an exterior wall of the Charles and Annie Quinlan House at 274 South Main Street in Waynesville hangs a small sign that says "Entrance."
It's not clear if it's a noun or a verb; although positioned close to the home's front door, it also speaks to the spellbinding serenity of the place, inside and out.
Perched high atop Prospect Hill since 1901, the historic home's ground floor is now home to the Waynesville Yoga Center.
From the soothing reception area to the library to the main exercise room, the home has been redone to reflect the relaxed, calming nature of yoga itself.
Although the center offers several advanced courses, its focus for now involves a heavy educational component — tourists and experienced practitioners will certainly come, thinks MacDonald, but there also exists a strong local market unfamiliar with the benefits that come with this healthy lifestyle.
"There are tons of benefits of yoga — physically and mentally it's been shown to calm anxiety and lift depression by stimulating the parasympathetic nervous system," said Leigh-Ann Renz, general manager of Waynesville Yoga Center. "That's mostly what it's doing — it's allowing your nervous system to get to a place of 'rest and digest' and get you in kind of your optimal zone as far as mind and body goes."
Accordingly, class sizes are small.
"We can only fit about 14 people in a class, which means you're always going to get individualized attention from the instructor," said Renz. "There's tons of great yoga in Asheville, but sometimes you're literally one of 60 people. Teachers will be calling out, and you can't hear what they're saying, you can't see what they're doing."
Renz said that the individualized attention is especially good for people who've had injuries — instructors can see what's going on and prevent problems before they occur during class.
Many of those classes are particularly oriented toward beginners, including Yin.
"It's very gentle," she said "You go down on the floor and stay on the floor the whole time. And it's long holds. It's wonderful for people who are athletes or muscle-bound and may have had injuries with scar tissue, or for anyone that wants a very gentle deep stretch class."
Tai Chi is well known, but sometimes misunderstood.
"It is a type of martial art," Renz said. "There's no fighting or person-to-person interaction, but it did originate in Asia as a martial art."
At the Waynesville Yoga Center, the Tai Chi class helps bolster balance and coordination, and is excellent for people with arthritis.
"It's mostly all done standing, but it's very gentle — it's very slow movements. It's very accessible and very good for the elderly because you can do it with mobility issues. Even if you can't stand, you can sit in the chair and still participate."
Restorative yoga is another gentle, beginner-oriented class where students spend most of their time on the floor.
"The difference between restorative and Yin is that it's focused on stretching the muscles," Renz said. "It is also focused on tapping into the body's natural ability to balance by feeling supported and comfortable."
That support and comfort comes from using straps, foam blocks and blankets.
"You're going to be in a yoga pose, but you've got all types of support around you to be in that pose so you can fully relax and let go in the pose," said Renz. "What that does is help the body to heal, strengthen immune function and allow your body to rebalance."
For those who can't get down to the floor — or can get down to the floor but may not be able to get up from it, WYC offers something called, appropriately, gentle chair yoga. Renz recommends it for people with osteoporosis, but barre and balance classes offer similar chair-based yoga movements.
Even still, WYC instructors like MacDonald and Renz are bending over backward to make it as easy as possible for newcomers to access this essential part of a healthy lifestyle.
"We've gotten a lot of response from people in the community saying, 'What would be good for beginners?'" Renz said. "We'll be adding two classes a week that are called 'yoga basics' which will be done from a four-weeks syllabus, so you can drop in anytime."
The spiritual benefits of yoga are also widely known — something not overlooked at the idyllic, historic building atop the hill. Coupled with gains in flexibility, mobility and balance is the mindfulness some people crave just as much as the exercise.