Living Well
A smooth way to start your day
Wednesday, August 30, 2017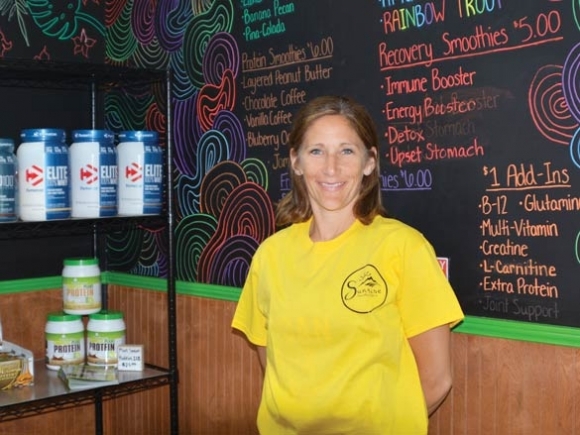 Like salads, smoothies are what you make of them — and you can easily make them into a high-fat, high-calorie mess barely better than a Big Mac.
But Waynesville's Sunrise Smoothie Café offers a healthier way to start your day.
"There are lots of people coming from the gym, and for breakfast," said Andrea Trout, who with her husband Nathan owns the café, located in a nondescript shopping plaza off Haywood Street in downtown Waynesville.
Trout opens the café at 7 a.m. Monday through Friday. As any downtowner knows, quick, healthy breakfast options are nearly non-existent, especially at that time of day, and especially for those who lead an active lifestyle.
Given that nutrition — especially post-workout — is the most important part of any fitness plan, the café has been a welcome addition to the downtown culinary scene.
"Some of our recovery smoothies are all fruit," Trout said. "We use almond milk, Greek yogurt, turmeric, all sorts of ingredients."
What Trout doesn't use are syrups, puddings, Jell-O, or the ice cream found in many so-called "healthy" smoothies peddled by fast-food chains seeking to elbow their way into the healthy lifestyle market.
"It's healthier," she said. "It's better than going to McDonald's."
The menu includes a variety of "green smoothies," all of which contain spinach or the current generation's wonder ingredient, kale. The café also offers over-the-counter supplements like protein powders and snack bars.
Although one can choose from a variety of fruity, delicious smoothies like blueberry peach, strawberry banana and even orange creamsicle, customizable add-ins provide a tremendous benefit tailored toward the nutritional needs of everyone from high-performance athletes to cubicle-dwellers just trying to make it through the day.
Vitamin B-12 is important for energy production and blood health; creatine aids in muscle growth, as does whey or vegan protein; glutamine and carnitine are also popular dietary aids available for inclusion in any smoothie.
If diet and exercise isn't your thing, Sunrise Smoothie Café still might be — when Trout opens each morning, coffee from Texas-based Katz Coffee is always ready to go.
And, if rising with the sun isn't your thing either, well, Sunrise Smoothie Café is open until 4 p.m. for that late breakfast, afternoon snack or early dinner.
"We want this to be a good place to come post workout, and pre-workout," Trout said.
Sunrise Smoothie Cafe
284A N. Haywood Street, Waynesville
828.476.2202