Living Well
Wild Market offers natural solutions
Wednesday, August 30, 2017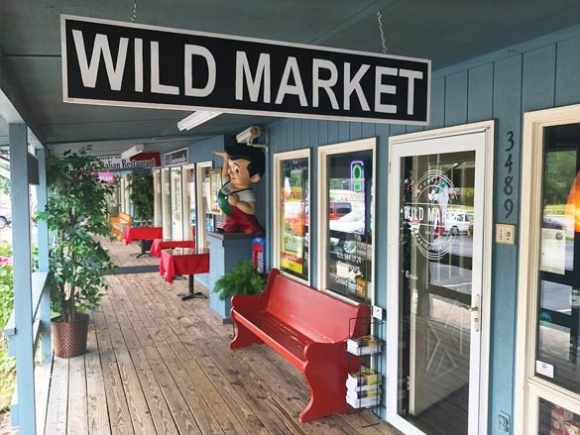 Located amidst the ice cream shops and candy stores in Maggie Valley's Market Square is a different kind of establishment — Wild Market.
"We are showing people there is a better way to reach optimal health which often out-performs pharmaceutical medications without negative side effects," said Leslie Larsen, charter proprietor of Wild Market.
Not everyone believes that mainstream pharmaceuticals are the best solution to every health ailment; sometimes, big pharma's cures can be worse than the disease.
Larsen has been on what she calls a "natural health journey" for the past 17 years, ever since her daughter was diagnosed with a severe learning disability Larsen says was remedied by eliminating the foods causing her severe allergic reactions.
Currently an educator who travels the country teaching health food store proprietors, staff and customers about the benefits of natural health, Larsen also serves on a nonprofit organizational board that focuses on education and advocacy for the natural products industry.
With Larsen often away from her Maggie Valley shop, she recently partnered with Kathy Hardin to help operate it.
Hardin, who also has been on a natural health journey due to severe ailments she and her son suffered — ailments that she says were successfully remedied by eliminating contaminated foods and using natural supplements — also like Larsen seeks to serve the community by offering a healthy alternative to expensive, oft-ineffective drugs.
To prove her point, Hardin said that the store offers a variety of foods and products from local artisans who sell tasty, organic and sustainable products like Tribal Grounds coffee crafted on the Qualla Boundary, non-toxic Faeri Made nail polish created in Asheville, pipes made by West Asheville's Highlander, hot sauces by Candler's Smoking J's Fiery Foods and Bean's Brown Soap from Waynesville.
Wild Market also specializes in dietary supplements, additives and extracts not easily found at your local CVS, Rite-Aid or Target — products like Glutathione (an antioxidant) and Choline (a neurotransmitter).
With a rapidly aging population and continuing concern over the national health care situation, Americans now more than ever are considering the natural alternatives available at places like Wild Market in greater and greater numbers.
But at the core of Wild Market's mission remains education, the most important component of which is summed up succinctly by Hardin.
"Healthy living can be simple, affordable and delicious," she said.
Wild Market
3489 Soco Rd., Maggie Valley
828.944.0724