Archived News
Jackson health building to be renovated
Wednesday, August 30, 2017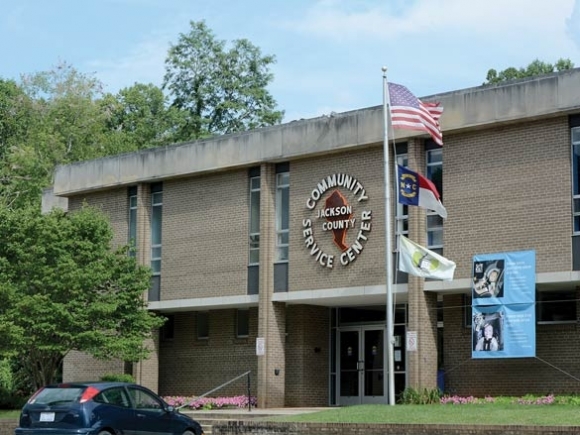 After years of discussion, Jackson County is ready to move forward with plans to address the needs of its aging health department building — but the resulting project will likely affect the planning and code enforcement departments as well.
For all of 2017, the current board of commissioners has grappled with whether the county should build a new health department building or renovate the existing 1960s structure, and earlier this month a third option entered the mix — leasing the Vaya Health building near Southwestern Community College, which will likely soon be vacant.
Closer examination showed that, while the building could prove suitable to temporarily house employees during construction, the lease option wouldn't make sense — the building is too small for the health department's needs and renovating it would uncover a host of code compliance issues. During an Aug. 28 work session, commissioners agreed unanimously that they'd prefer to renovate the existing health department building rather than build new. A 2017 study from McMillan Pazden Smith Architecture determined that renovation would cost between $4.7 and $5.6 million and that a new building would cost $5.6 million, not including land.
While the decision to renovate rather than build occurred without disagreement, commissioners were divided along party lines over what exactly that renovation should entail. Republican commissioners Mickey Luker, Ron Mau and Charles Elders wanted to see the renovated health department include a one-stop permitting office to make it easier for people seeking construction permits to get that paperwork done. Currently, customers have to travel between multiple buildings to get their permits in order. Creating a consolidated office would involve moving the planning and code enforcement offices out of the administration building and into the health department building so they could share a location with environmental health.
Chairman Brian McMahan and Commissioner Boyce Deitz, both Democrats, felt that the health department building would be best left as a health department only, with the one-stop permit center a different issue for a different day. Planning and code enforcement collaborate with other departments that are housed in the administration building, McMahan said, so moving those departments out could create hardship.
"What would be the problem with being able to pull at least some staff from environmental health over here (to the administration building) and use this facility to be the one-stop shop for this end of the county, similar to what we do in Cashiers?" McMahan asked. "It would be easier to accommodate here than to move everyone else over there."
Luker replied that the security screening at the entrance of the administration building was too much of an inconvenience for contractors with full pockets and tool belts who have to make constant trips over to get their questions answered.
McMahan countered that, given that the county will soon have to build additional court space, it could construct a new courthouse — courts are currently co-located with administration — and eliminate security from the administration building altogether. Or, alternatively, commissioners could proceed with plans to renovate the health department and come back in a couple years to construct a standalone permit office.
"But what does that couple of years become?" Luker asked. "I'm just not in favor of postponing this."
For his part, Deitz called the effort to create a one-stop permit office in the health department "a solution looking for a problem."
"What have we accomplished when we've done all this?" he asked.
"I think we've sat here in a conversation for an hour and discussed it," Luker replied.
"From my viewpoint, what we've accomplished is we've made it easier for a few contractors to build a house … The cost we're putting in this isn't worth the reward," Deitz said.
County Manager Don Adams said that any solution at this point would be imperfect. The real solution, he said, would be to build a new administration building, but that sort of project is still a good 10 years off.
The majority of the board asked Adams to work with architect Ron Smith to redesign plans for the second floor of the health department building to accommodate the planning and code enforcement departments.
"I'll try to move as quick as we can on this, because I do think no matter what we do with this building that the Vaya (Health) building has a role in this conversation, especially for transition and so forth, so hopefully I can still line up that timing," Adams said.