Archived News
Sylva revises demonstrations ordinance following Charlottesville violence
Wednesday, August 30, 2017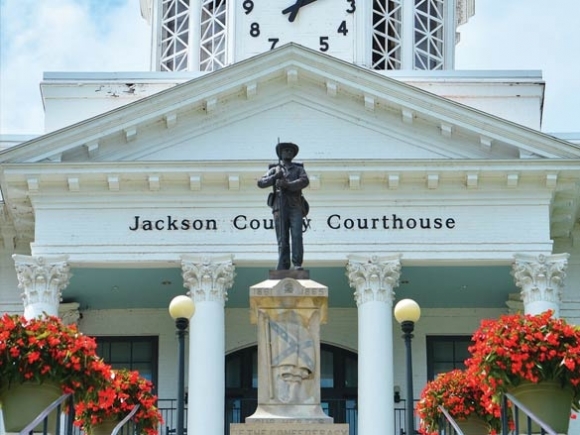 The town of Sylva now has new rules governing when and where parades and demonstrations can take place, with revisions taking place swiftly following the violence in Charlottesville, Virginia, Aug. 11-12.
"With today's society and today's world, we just want to ensure the safety of all citizens and our town, our officers and out-of-town guests that might come and aren't aware of the statutes already in place," Assistant Police Chief Tammy Hooper told the town board during its Aug. 24 meeting.
Hooper said that the updated ordinance was mostly revised to incorporate the state statutes so that people navigating it in the future could more easily understand what they are and aren't allowed to do during a demonstration.
"I'll be honest with you, until we started really looking at the statutes I was not aware of everything that was in those statutes, so it was a very good learning experience for myself," Hooper said. "It's an outline for the applicant, it's an outline for the people around us and it's also an outline for the officers."
However, in addition to specifying that animals can't be used in demonstrations, that "masks, hoods or other items that could be construed to intimidate other persons" aren't allowed and banning weapons — all regulations that are already in state law — the ordinance includes some substantive changes too.
Namely, it requires that groups apply for a permit at least seven days before the event is to take place and outlines a list of reasons for which the police department can refuse to grant a permit. Commissioner David Nestler felt those changes were significant enough that the board should postpone voting on them.
"I think there are some pretty drastic changes in this," he said. "It doesn't feel right to be provided this and less than 48 hours later vote on it with no public input."
In particular, Nestler took issue with a line that allows the police department to refuse a permit if "the time and place are inappropriate to the peace and security of the community."
"This just leaves it too far up to discretion. 'Time and place are inappropriate' — you can regulate time and place of protest, but you can't designate it per individual event," he said. "This gives the ability to do that."
Town Attorney Eric Ridenhour, who worked with Hooper to draft the ordinance revisions, said that line was intended to prevent protests from happening during exceptionally busy times — such as the solar eclipse — when law enforcement wouldn't have had the capacity to ensure that a protest could proceed safely.
"You have every right to protest against the statue, but that is not the time or place to do that," Ridenhour said concerning discussions the week before about potentially protesting the Confederate monument at the Jackson County Public Library during the solar eclipse festivities. "We are swamped with law enforcement, all hands on deck. We could not possibly police that at the same time."
The Jackson County NAACP, for example, had wanted to hold a candlelight vigil for the victims of the violence in Charlottesville the weekend of the eclipse but, at the police department's request, held the demonstration Saturday, Aug. 26, instead.
"I get it for the eclipse," Nestler said. "That's an extreme circumstance. It can be used at any time."
Other sections of the ordinance already say that permits can be denied if the demonstration is "reasonably likely to result in violence" or if there isn't enough law enforcement available to police it, so why is the broader section about the time and place being inappropriate even necessary, Nestler asked.
"To my knowledge there has never been a permit that has been denied," Hooper said.
"I know, but you're not always going to be the police chief," Nestler said. "There will be people behind you and I feel like this gives too much discretion for denial."
"At that point you need to trust your town leaders to make sure their best interests are keeping the town safe," replied Town Manager Paige Dowling.
"I do, but the ordinance already prevents anything dangerous from happening," Nestler said. "I don't understand why we need to give more grounds for denial of a protest."
In a follow-up interview, Hooper said that the language before the revision had been even more vague and maintained that the language Nestler disputed is, in fact, necessary to keep the town safe.
"Yes, I do feel the amended language was necessary because we want to be sure protests are conducted in the safest and most peaceful way possible," she said. "Our overall goal is to protect the community."
Commissioner Greg McPherson wasn't bothered by the grounds for denial but questioned increasing the advance notice required for a permit from 24 hours to seven days.
"Twenty-four hours doesn't give enough notice to reschedule to allow for overtime pay to bring in officers who may be in Asheville," Ridenhour said.
"Is that something you've had a problem with in the past?" asked McPherson.
"Yes," Hooper replied. "If we have multiple groups, we're going to have to reach out to other agencies."
In a follow-up interview, Hooper clarified that approving a permit won't take seven days in every case, but rather that the revised ordinance allows the department up to seven days to revise work schedules and make other accommodations necessary for the demonstration to proceed.
Ultimately, the ordinance passed 4-1 with only Nestler opposed.
"David [Nestler] don't like it, but I like it," said Commissioner Harold Hensley. "I think they (the police department) should have all the right in the world to control things like that. If you can't trust your town manager or your police department, who can you trust?"
"I appreciate all the hard work that everybody has put into doing this and trying to spell out for people what North Carolina statutes are in place already that people don't know about," Mayor Lynda Sossamon added. "I think it will allow for peaceful parades and demonstrations."