Archived News
Jackson debates health department construction
Wednesday, August 23, 2017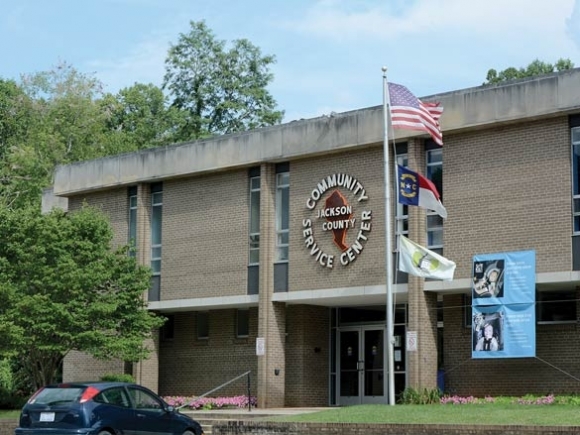 When the Jackson County Commiss-ioners met to discuss construction needs in the health department Aug. 8, the goal for the afternoon was clear.
"We're going to leave here with a decision today," Commissioner Boyce Deitz said as Chairman Brian McMahan called the meeting to order.
"That's our mission," McMahan agreed. "I would love to be able to make some kind of decision to give staff a direction to move. This is a topic that has been on the table far too long."
However, the meeting closed with no decision, and the issue was still not settled after a follow-up discussion during an Aug. 15 work session. Commissioners hope to reach a conclusion during another special-called meeting slated for 4 p.m. Monday, Aug. 28, at the Jackson County Justice and Administration Building in Sylva.
The decision in question is what the county should do to address the aged health department headquarters off of Hospital Road in Sylva. The 1960s building has an ailing HVAC system, cramped clinic space that doesn't afford patients much in the way of privacy and a lack of elevators required to comply with the Americans with Disabilities Act.
In fact, said Director Shelley Carraway, one section of the building has a broken HVAC system that can't be repaired, so everyone working there is just resigned to enduring the heat.
"Our building is deteriorating rapidly as we speak," she said.
Something has to be done. But commissioners have yet to decide whether that something is renovating the existing building or starting from scratch with new construction.
A 2017 study from McMillan Pazden Smith Architecture determined that the existing building could accommodate the health department's future space needs and that renovation would cost between $4.7 and $5.6 million, depending how commissioners decided to phase the project and the cost of temporary office space while renovations took place.
The same study estimated the cost of a new building at $5.6 million, though that figure does not include the price of land. In February, commissioners voted to pay $424,350 for a 3.9-acre piece of property on Skyland Drive, not far from the existing health department. According to an evaluation from McMillan Pazden Smith, the parcel would be large enough to fit a new health department building and associated parking. Commissioners could decide to build there, but they could also renovate and keep the parcel for another use.
During his presentation to commissioners Aug. 8, County Manager Don Adams stressed that none of the estimates are set in stone and expressed his belief that the renovation option could prove less expensive than estimated, depending on what kind of temporary office space the county discovered.
"It's going to be dictated on what kind of space we can find," Adams said. "It's going to be dictated by cost and things of that nature."
The other variable in the mix is whether any construction or renovation related to the health department should be aimed at streamlining the permitting process for construction. Getting a permit to build typically requires visits to the planning, code enforcement and environmental health offices. Environmental health is located in the health department, on a different campus from the administration building that houses the other two.
Adams told commissioners they could choose to build or renovate the health department as it exists now, or plan a solution that would allow environmental health, planning and code enforcement to exist under the same roof. That could mean building a one-stop shop within the health department building or moving environmental health employees out to a new location elsewhere.
"The perfect solution is to build a larger administration building here to where I can move everyone into this campus and get rid of everyone running around, but that solution is not going to be mandated for another 10 years," Adams said. "I'm not really considering that an actual solution today."
The Aug. 8 meeting stopped short of reaching a conclusion when Commissioner Ron Mau brought up another option — moving into the Vaya Health building near Southwestern Community College. Vaya announced earlier this year that it would be reducing its presence west of Asheville and moving its Sylva offices to a smaller building.
Adams replied that he had discussed the possibility with the building's owner, but that it was unlikely the county would be able to buy the building outright — any agreement would be more likely to end in a longterm lease situation. Commissioners were split on whether they'd even be interested in considering a lease but agreed to give Adams time to find some more solid numbers.
By the time the Aug. 15 meeting rolled around, Adams had some more information about the Vaya building. It is 20,800 square feet, substantially smaller than what the McMillan Pazden Smith study said the health department would need. In addition, the space it did offer would require substantial remodeling to accommodate labs and clinical space. The building would offer the benefit of proximity to the Department of Social Services building, whose employees often collaborate with the health department. But it would be much further from the hospital than the existing building is, and that could make the clinical side of health department operations tougher.
"From a customer base standpoint, you're getting some tradeoff there," Adams said.
The building's significant shortcomings related to the health department's needs make it unlikely commissioners will decide to move in there.
"This option for me is not an option. I've heard enough at this point without having to pay for another study to be done," McMahan said. "I think it's back to the point we need to make a decision on whether to remodel the existing facility or build a new facility."
Mau agreed that the building probably wouldn't wind up working but asked Adams to give Ron Smith, the architect working on the project, a call asking his opinion before tossing out the option for good.
"I think it's worth a conversation to talk to Ron Smith," agreed Commissioner Mickey Luker. "At the end of the day he can say, '$15,000 and I'll tell you the answer,' or he may be very candid with you and say, 'It's a possibility,' or 'I think y'all have lost your mind.'"
Adams has reached out to Smith with some questions on the topic and expects to discuss the issue sometime this week.
Either way, the Vaya building could still play a role in the future of the health department. Depending on the timing of the vacancy, it could prove valuable temporary office space should commissioners decide to go with the remodeling option.
The Aug. 15 meeting adjourned with, yet again, no decision, but commissioners are hopeful they'll be able to nail down a direction following a special meeting scheduled for 4 p.m. Monday, Aug. 28, to discuss the issue.