Archived Outdoors
To try a tri: Race day is a whirlwind for a first-time triathlete
Wednesday, August 09, 2017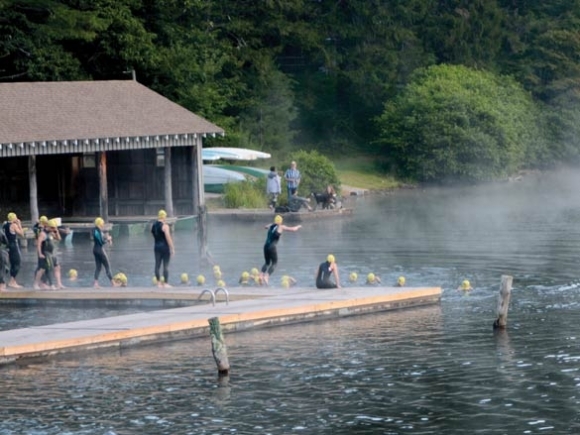 As I stood freezing on the dock above 67.3-degree Lake Logan, the main thought running through my head was a question: Why did I put myself up to this?
Wearing only a swimsuit, I was surrounded by a bunch of wetsuit-wearing athletes who were more intense than I would ever be, and here I was, set to swim, bike and run alongside them in the Lake Logan Sprint Triathlon. My stomach growled, either from hunger or nervousness — it was hard to tell — but either way it seemed an affirmation that I should have slept rather than waking up at 4:30 a.m. to come out here and embarrass myself.
Nevertheless, I got in the water, tried to calm down — and immediately panicked when the timing chip strapped around my ankle somehow fell off into the dark water. I looked around for somebody to flag down, but there was no time. The race had started, and I had to swim.
So, I swam, sort of. The cold water shrank my lungs, and I struggled, sputtering, through lake water that appeared dark as night through my goggles. I fell behind, and the first buoy seemed impossibly far away, the 500-meter finish even farther. I found myself seriously considering waving down one of the volunteers sitting in kayaks along the course, bailing out.
But, before I could decide, something changed. I warmed as the exertion caught up with me, and I felt my stroke regain the rhythm I'd practiced over countless hours in the pool. I was breathing easier, no longer sputtering, and each stroke became a mini pep talk as I rounded the first buoy, then the second, and aimed for the bridge beyond which the swimming leg would finally end.
I had trained for this.
I could do this.
I would do this.
I kept telling myself that, even as I hit the frigid water entering the lake from Big East Fork, swimming as fast as I could so that the heat of exercise would offset the cold. I made it to dock, where I climbed up and jogged to the transition area, toweling off, pulling on shorts and sneakers, grabbing a quick drink of water and extricating my bike and helmet.
One leg down, two to go.
I mounted the bicycle, made an initial climb up N.C. 215 and then began the long descent toward Jukebox Junction. It was still early morning, not past 8 a.m., and for a while I forgot that I was supposed to be racing — the rolling farmlands heading down to Bethel were entrancing, covered with the orange-tinged light of a day that's still young, revealing views of horse pastures, fields filled with workers, and patches of trees spilling shade onto the road.
My toes chilled as air rushed through my ventilated sneakers, and I remembered that this was a race. I pedaled harder, shifting gears to get up hills and down hills until arriving at Jukebox Junction, hanging a left onto U.S. 276 and then left again onto Lake Logan Road, which would loop around to return the way I'd come — except that now that big downhill would be a big uphill.
I didn't have the best bike for this, I knew that. Everyone else seemed to have these fancy, skinny-tired racing bikes that allowed them to zoom right past me as I struggled uphill. I, on the other hand, had a hybrid bike that I'd borrowed from a friend when my beloved Klaudia, a clunky steel-frame I'd had for 10 years, was deemed unrideable pending extensive repairs. My borrowed steed was a good bike, but it was no $1,000 racing machine.
So, I pedaled as hard as I could, making use of every gear I had. Lots of people passed me, but I passed a few myself, which was reassuring. I might be slow, but at least I wasn't the slowest.
After what seemed like forever, 12 miles were gone and I was back at the transition area again, putting my bike up, taking a bite of banana, and throwing on a headband to keep my increasingly wild hair out of my face as I embarked on the final leg: a 5K.
The first few steps were hard, but before long I'd found my rhythm and the race more resembled an enjoyable morning run than the forced march I'd feared. I'd come full-circle, from knowing I couldn't do this, to thinking maybe I could, to knowing that I would finish with a smile on my face.
I kept my pace steady during the gradual uphill that comprised the run's first half, grabbing a cup of Gatorade at the turnaround and then pointing my sneakers downhill. My strides grew long as gravity carried me back toward the finish line. I was passing people and realizing with relief that a surprising number of people were behind me, still pressing uphill.
I started hearing the announcer back at the finish line, knew I was close. I could see the bridge. I could see the finish line. I catapulted to an all-out sprint — only to realize that the course included a loop through a grassy field before returning to the finish. So I slowed, took some gasps of air, and then turned it on again to sprint under the green arc marking the end.
My time, I would find out later, was one hour, 44 minutes, 21 seconds. I'd placed 90th out of 131 people, so toward the bottom of mid-range.
I was elated, though. It was never about time or ranking for me. It was about finishing — about putting my mind to completing this race, sticking out the months of training required to do it well, and then crossing the finish line with an actual triathlon race under my belt.
It was a strange feeling, really — I've never considered myself an athlete. I was never on any athletic teams in high school, as a kid never stuck with any sport for more than a season or maybe two, mostly because I was pretty bad at all of them. And now, somehow, I'm a person who runs, bikes and swims regularly. I still can't shake the feeling that I'm a hack at it all, that it's obvious to everyone that I have no idea what I'm doing.
Maybe I still don't know what I'm doing, but that doesn't change the fact that I — with the help of a community offering support, encouragement and plenty of well-taken advice — actually did it.
And that's a fact worth toasting with a glass of Gatorade and a nice, long nap.
A weekend's worth of sport
The Lake Logan Sprint Triathlon was just one of the three events comprising the 11th annual Lake Logan Multisport Festival. The grueling half-ironman race was Saturday, Aug. 5, and the sprint triathlon and longer international triathlon were held on Sunday, Aug. 6. About 700 people competed over the course of the weekend. Information and results are online at www.gloryhoundevents.com/event/lake-logan-multisport-festival.