Archived Arts & Entertainment
Finding a balance: Tipping Point Brewing closes, new location set for Brevard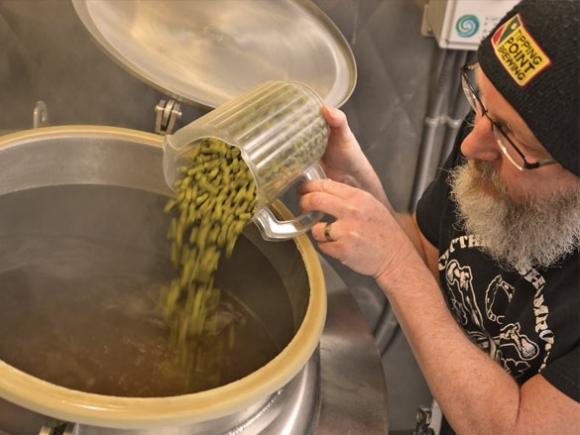 It's 12:15 p.m. Sunday.
On a normal weekend, Tipping Point Brewing in downtown Waynesville would have been open for 45 minutes, its craft beer being poured to numerous local residents and summer tourists. But, this past Sunday, the front doors were locked, with owner/brewmaster Jon Bowman sitting inside. He watched as, one-by-one, confused people try to open the door, looking at their watches, looking around for an answer — one that Bowman holds.
"I never thought I'd be in this position," he said candidly. "But, I am, and now I understand why this happens."
What happened the previous night was a bombshell in the Haywood County culinary scene, and also the greater Western North Carolina craft beer industry. Late Saturday afternoon, just as downtown eased into another relaxing summer evening, Bowman turned off the "Open" sign in the front window and gathered his entire staff. He stood before them and gave the news he'd been keeping to himself for the better part of a year.
"I said, 'I know some of you haven't known me that long, you may like or dislike me, but you might hate me in a few minutes,'" Bowman recalled. "About a year ago, I bought my partners out, and I immediately started looking for brewery spaces [in] Asheville, Brevard, Pisgah Forest."
On the exact six-and-a-half-year anniversary of the Tipping Point opening, Bowman pulled the plug on the beloved brewery, a mainstay in Waynesville for social interaction and innovative craft beer. Bowman noted that plans are already in the works to open another, similar brewery just over the ridge and just down U.S. 276 in Brevard.
"I will say, it's one of the hardest things I've ever done. Hands down," Bowman said. "And everyone took it way better than I thought. I told all of [my employees] I will help do everything I can to get them jobs somewhere else."
The news has created a ripple effect throughout the community and Haywood County, with as many questions being raised as answers being given by Bowman.
"I'm an avid [mountain biker] who doesn't get to cycle," Bowman said. "I'm making a lifestyle change, and getting out of the restaurant business. [My] passion is the beer. About three months ago, we found a spot I could not turn down [and] I signed the lease two months ago."
Located in the Lumberyard Arts District of Brevard, within riding distance of DuPont State Forest (the city and forest both mountain biking meccas), the new (yet unnamed) brewery is expected to open in early October. There will be no food component, just a brewery with a large outdoor space. And Bowman is straightforward and blunt with his reasoning in shutting down the Tipping Point. He simply wants out, of the food business, and also his current state of mind in Waynesville.
"Cycling — that's my thing. Two to three times a week someone comes in here and says, 'You been riding?' And I say, 'No, I just spent 12 hours in the kitchen, too tired to ride.' I'm about to turn to 57, am [I] ever going to ride my bike again?" Bowman said. "I'm more excited about getting more into the beer than I am in missing this place. I'm more excited about the future than in retrospect. We don't have the space to expand our brewery, I want to have a bigger brewery. And I want to get out of having a kitchen. It's a no-brainer."
But, what remains is an empty space — physically and emotionally — at one end of the thriving downtown that is Waynesville. Though other spots of libation and social gatherings have popped up in recent years, the Tipping Point was, for many years, the first place where you went if you just moved to town and didn't know a single soul, where you went on a first date, where you went to celebrate or to get over your sorrows, where you saw up-and-coming musical acts (like 2014 IBMA "Entertainer of the Year" Balsam Range), where you laughed, maybe cried, maybe (finally) won a Wednesday trivia competition, or maybe stopped by for a drink when you came back through town after moving away.
And, regardless of distance, you kept coming back, through the same doors, sitting with those same faces, beverages hoisted high and in celebration of another great time with friends, family, and strangers soon to become fast friends. Though many in the community don't expect the space to be empty long, the initial and ever-present memories of 6.5 years of the Tipping Point at the heart of downtown Waynesville are permanently soaked into the building's walls and floors, like spilled beer into the unnoticed cracks of time.
"I'd like to thank all of our loyal customers for their support over the years," Bowman said. "Thank you, [but] it's time for me to move on."