Archived News
Community spirits: First craft distillery opens in Maggie Valley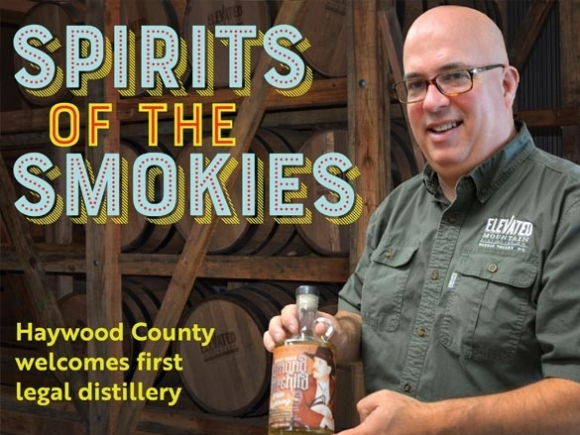 Dave Angel hasn't wasted any time becoming part of the Maggie Valley community and in return, they've welcomed Haywood County's first distillery with open arms.
Elevated Mountain Distilling Company, located in the former Carolina Nights Dinner Theater building on Soco Road, opened Memorial Day weekend, and has had hundreds of visitors a week ever since. It is the first craft distillery to open in the counties west of Buncombe.
"We opened Memorial Day weekend and started selling spirits — we've had a steady flow ever since. We see about 50 people a day during the week and more than 100 on Saturdays," said Angel, the distillery's owner. "We're getting people from all over the place and overall the feedback has been really positive — a lot of good reviews on the products."
The legal spirits
Visitors can now purchase four different spirits at Elevated Mountain and each of them have a distinct Haywood County name and flavor — Purchase Knob Unaged Corn Whiskey (88 proof), Hurricane Creek Vodka (80 proof), Shining Rock Peach Pie Moonshine (50 proof) and Raymond Fairchild's Root Beer White Lightning (70 proof).
Tasters have reported the products are top notch. The taste and smoothness of the vodka and even the flavored moonshine and white lightning has surprised many people sampling the products. Angel said the secret ingredient is really no secret at all.
"What makes it so good is the water we use in Maggie Valley," he said. Maggie Valley's water comes right out of Campbell Creek and Jonathan Creek, which runs right behind the Elevated Mountain Distillery.
SEE ALSO: New law gives alcohol entrepreneurs a boost
Angel's spirits are also made using local crops. With corn being the main ingredient, Elevated Mountain is in the perfect location to reap the benefits of local produce.
Angel isn't the first one to make whisky using local corn in Maggie Valley, but he's probably the first one to do it legally. Many of the heirloom seeds used to grow corn in the area today were still around generations ago when many mountain farmers were also moonshiners.
"We've developed a relationship with farmers — all the corn we use to make mash comes from right here in Haywood County," Angel said.
His current supply of heirloom corn comes from the Caldwell family on Cataloochee, the Parkins Brothers Dairy in Clyde and the Woody family on Jonathan Creek.
Elevated Mountain will have more variety in the future, but people will have to be patient and wait for the bourbon to be ready.
When visitors walk into the back of the distillery, they are greeted with beautiful, locally made oak reserve barrels on both sides of the aisle that will enclose the whisky for two years as it ages to perfection — only then is it bourbon.
The plan is to have two different kinds of bourbon — the Big Witch Bourbon and the Smoked Blue Corn Straight Bourbon.
"We've started aging whisky for the future and still have several flavor projects to come out, but the state controls how much we roll out at one time based on the success of sales at the ABC stores," Angel said, so new products will be slow to hit the shelves.
It's another North Carolina regulation that gives distilleries a disadvantage over the ones in Tennessee.
"When you go to Gatlinburg distilleries they have 10 flavors of whisky. That stuff doesn't sell as well in the stores — we'll sell more vodka in the liquor store — but people go to the distilleries for the fruity stuff so it makes it a challenge," Angel said.
Labels
If aesthetics has any impact on sales at the ABC store, Elevated Mountain is sure to do well.
Howell Golson, a graphic designer living in Maggie Valley, designed all of the bottle labels. While Golson keeps a low-key profile in the community, there's no doubt you've seen his work. He has designed the label for Paul Newman's Own wine bottles and the labels for Wicked Weed's many beers. He's also done work for Bridgeport Brewing, Coca-Cola, Farm Fresh, Cartoon Network and Target.
Angel actually met Golson by chance about two years ago while on a hike.
"I actually met him on Waterrrock Knob while hiking. I was hiking up and he was hiking down and we took a break together. He said he lived in Maggie and I told him about the distillery. He mentioned he did graphic label work so I looked him up when I got home and saw all the incredible work he's done," Angel said. "He's an amazing artist."
Angel and Golson worked with Maggie Valley's own famous banjo player Raymond Fairchild to embody Fairchild's unique brand into one of his products. The end result is the Root Beer White Lightning. The slight root beer flavor makes the swallow a lot easier to take and every element of the label is intentional.
The label has a photo of Fairchild holding White Lightning, the name of one of his many banjos. The border contains the Cherokee wave symbol because Fairchild is proud to be a member of the Eastern Band of Cherokee Indians, and the back of the label has a brief history about his career. So far, it's been the best seller at the distillery. Everyone wants to take the Bluegrass Hall of Famer home with them.
"Raymond made whisky for years on Campbell Creek with his family, so we worked with him on a recipe that would be something unique to him — something that stands out — so that's why we went with the root beer flavor," Angel said. "He's a unique guy himself, so I wanted to capture the spirit of Raymond."
Fairchild can still be found performing most nights at his Opry House in Maggie, and Angel said he's been happy to autograph his bottles.
Economic impact
Back in 2015 when Elevated Mountain Distillery was still just a dream in Angel's head, his business plan won the Haywood County Chamber of Commerce's Business Start-Up Competition, which provided him with $10,000 to help promote and market his new venture.
It's no surprise why the distillery project won the prestigious award — the craft brewery and distillery industry continues to grow in Western North Carolina and in Tennessee and Kentucky. The Kentucky Bourbon Trail has added hundreds of jobs and has contributed more than $338 million in additional tax revenue for the state since 2008.
Angel hopes to pull those tourists in Kentucky and Tennessee down to Maggie Valley. While the distillery may bring them here, he's certain they'll find plenty of other attractions and natural beauty to fall in love with here.
"It's something new to do in Maggie Valley — it's one more thing to add to the Maggie Valley experience," he said. "I love Wheels Through Time (museum), and I think we're a good complement to them for the day and then hopefully people will stay here longer to shop in stores, eat lunch at restaurants so that's more people benefitting from the visitors we have."
Elevated Mountain's distribution plans will also help put Maggie Valley on the map. Whether someone buys his product at the distillery or in an ABC Store, they will take home a bottle that says "Made in Maggie Valley, N.C." with breathtaking images of the area enticing people to come back for a visit. The retail side of the business also offers T-shirts, hats, and other Maggie Valley branded souvenirs for people to take home.
"We're heavily focused on the tourist side of things. We're in four or five ABC stores right now and we're working our way across North Carolina," Angel said. "The goal is to be as far as we can by the end of the year and then move into new states."
Angel already has interest from distributors in Florida and Georgia who want to carry his product. He encourages his visitors to ask their local ABC stores to carry his product if they don't already have it.
A dream come true
Owning his own distillery has been a long-time dream for Angel, who is a Haywood County native. He spent most of his professional career working in human resources for large corporations across the country, but family and the need for a career change brought him back to the mountains.
Even as a child, Angel had a fascination for making spirits. He wanted to learn how it was done and he learned from the best moonshiners in the county.
"I made my first still at 14 for a ninth-grade science project, and I've been playing with recipes ever since," Angel said.
The road to see his dream realized hasn't been easy. It's been time-consuming, expensive and frustrating at times with many unexpected challenges, but that's just part of the journey.
"It's a relief to be here finally," Angel said. "It's definitely been more complex and more hurdles than I expected."
Finding the perfect location and facility for such an operation was challenging, but after some renovations, the former dinner theater building has worked out perfectly for Angel — and Maggie Valley is exactly where he wanted to be.
Then there was a water pressure issue that forced Angel to bore 12 feet underground and across Soco Road to get the water pressure he needed from the town's water system.
Bringing in the massive equipment needed for making spirits was another new challenge for Angel. The process isn't much different than the small little homemade still he started out on as a kid, but there's just more electrical work and of course it's on a much grander scale. The 800-gallon state-of-the-art still is quite impressive sitting where the stage once was in Carolina Nights.
"People are blown away by how it looks," Angel said.
Community partnering
Angel has been successful in building a distillery, but also in building relationships in the community and across the country.
He's worked with the town to get his venture off the ground and he's been able to give back to the community by granting the town an easement along the creek right behind his building. Now the dilapidated small shed behind his property is a covered pavilion with picnic tables and a bench — an ideal spot for a creekside lunch. Angel and the town named the mini-park after late Maggie Valley Mayor Ron DeSimone, who was the first one to show Angel the Carolina Nights building and encourage him to start his business in Maggie Valley.
The distillery also has an intern — Reel Adams — from AB Tech's brewing and distilling program to help with making product and giving tours. It's a huge benefit to the budding business and great experience for AB Tech students.
Penn State University students and faculty made a visit to Elevated Mountain recently and stayed two weeks doing research on the history of moonshine. Angel got them connected with some ex-moonshiners in the area for extensive interviews.
He's also in discussions with a professor from the University of Michigan who is interested in writing a paper on the symbiotic relationships within the industry.
Angel has also jumped head first into the festival scene in Maggie and can be found manning a booth at the upcoming WNC BBQ Fest and Hillbilly Jam Festival coming to the festival grounds later this month.
"Everyone wins when we work together," Angel said.
Elevated Mountain Distilling Company
• 3732 Soco Road, Maggie Valley, NC
• Open 10 a.m. to 7 p.m. Monday through Saturday
• $5 for up to six tastings and a tour of the facility
• 828.944.0766 or www.facebook.com/pg/ElevatedMountain