Archived News
New law gives alcohol entrepreneurs a boost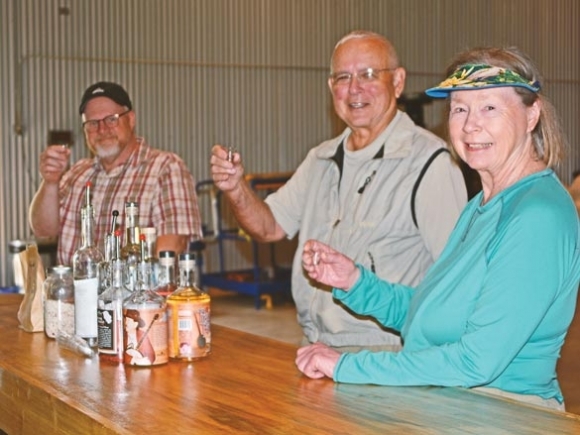 Residents and visitors may soon be able to enjoy a mimosa or bloody Mary during their Sunday morning brunch.
A new law passed in the North Carolina Legislature will give restaurants and distilleries an economic boost by allowing them to sell more of their own product.
The Economic & Job Growth for N.C. Distilleries Act — or the so-called "Brunch Bill" — will allow distilleries to sell five bottles per customer per year and will allow restaurants to serve alcohol starting at 10 a.m. on Sundays.
Before this change in the law, craft distilleries — like the new Elevated Mountain Distilling Company in Maggie Valley — could only sell one bottle per customer per year inside his facility. However, customers wanting more than one bottle were welcome to go across the street to the ABC Store to purchase as many as they want, which benefits the state coffers more than the business owner.
The new law also allows restaurants to serve alcohol beginning at 10 a.m. on Sundays instead of having to wait until noon, but the measure has to be passed by local jurisdictions before it goes into effect.
The loosening of regulations couldn't come at a better time for Dave Angel, owner of Elevated Mountain Distilling in Maggie Valley, who just opened his business on Memorial Day weekend. With four craft Haywood County products already on the shelf, his visitors can take a bottle of each home to enjoy after touring the facility.
"The new law is wonderful and we've definitely seen the benefits from it already, but unlimited sales would be even better," Angel said.
Allowing unlimited sales at the distillery would help Angel and other North Carolina spirit makers compete with surrounding states. Georgia distilleries can sell three bottles a day to a customer. Selling more bottles at retail price at his business allows him to see more revenue instead of selling wholesale to the state so ABC stores can collect on the retail prices.
The new law will also allow distilleries to offer free tastings of their product to people offsite at stores or festivals, which will also prove beneficial for the Maggie Valley distillery. Angel plans to have a booth at the upcoming WNC BBQ Fest and Hillbilly Jam at the Maggie Valley Festival Grounds just down the road.
While the new distillery regulations are automatic, local municipalities will need to take action before restaurants can serve alcohol at 10 a.m. on Sundays. None of the municipalities contacted have had a request to pursue the issue, but the law is still brand new. Waynesville Alderman Jon Feichter said that at this point, he has no strong feelings one way or the other.
"My first thought was, 'Are we really missing out by not being able to sell alcohol for three more hours each week?' But I can see why restaurants would be interested in it," he said, adding that he was currently talking to constituents to determine their feelings on the issue.
Canton Alderman Ralph Hamlett said he was "delighted" that the bill passed and said he would support it in Canton — but not without prior justification.
"If and when there's a need, I would vote for it," he said.
Franklin Mayor Bob Scott said the issue hasn't come up yet, but thinks restaurants might not know about it yet.
"I see no reason to bring it before the board if there is no interest in it," he said. "On the other hand, I don't know if many people are aware of this."
Bryson City Manger Chad Simons said the issue hasn't come before his town board either.
The issue could come before the Haywood County Commissioners as well, though there aren't too many restaurants located outside municipalities at the moment. Commissioner Kevin Ensley said he'd vote against the measure. Ensley also voted against allowing a referendum on the ballot last year to allow voters to decide whether alcohol sales should be allowed outside town limits.
"I've always thought it was good at 1 o'clock, so people aren't drinking during church hours," he said. "I think Sunday should still be a bit sacred."
Fellow Republican Commissioner Brandon Rogers said he hadn't thought much about the bill and that he does recognize the business benefit the extra hours might provide, but he doubts he'd support it, on religious grounds.
The North Carolina Restaurant and Lodging Association backed the brunch bill and claimed 10 a.m. alcohol sales could result in an additional $25 million economic impact annually.
"This is an exciting new option for the hospitality industry. North Carolina joins 47 other states that allow some form of early Sunday sales of alcohol," said Lynn Minges, president and CEO of NCRLA. "The passage of S.B. 155 will help restaurants to better meet the needs of their guests, particularly where tourism drives business or where local residents demand more choices. In cities and counties that elect this option, restaurants will be able to meet customer demands, grow their businesses, create jobs, increase tax revenue and bring patrons into business districts earlier in the day."
Some groups have opposed the new measures and lobbied against it, including the Association of N.C. ABC Boards and the Christian Action League. The Christian Action League claims the new law trades traditional Christian values for more alcohol sales at the expense of public health and safety.
However, Scott Maitland, president of the Distillers Association of North Carolina, has said it's about more than alcohol sales — it's about supporting a niche in the argi-tourism industry to create more jobs.
Many distilleries, like Elevated Mountain, use locally grown corn and grain from farmers to make their spirits. Breweries and distilleries then donate their spent grain back to farmers to feed their livestock.
Staff Writer Cory Vaillancourt contributed to this story.
The Brunch Bill
A new law makes multiple changes to North Carolina's alcohol laws:
• It will no longer be unlawful to drink or buy alcoholic beverages before noon on a Sunday.
• Malt beverages, wine, and mixed drinks will be allowed to be sold and consumed at 10 a.m. on Sunday upon local city council approval.
• The bill allows alcohol sales at auctions.
• Regulations on liquor distilleries loosened.