Archived News
State charges dropped in Gatlinburg fires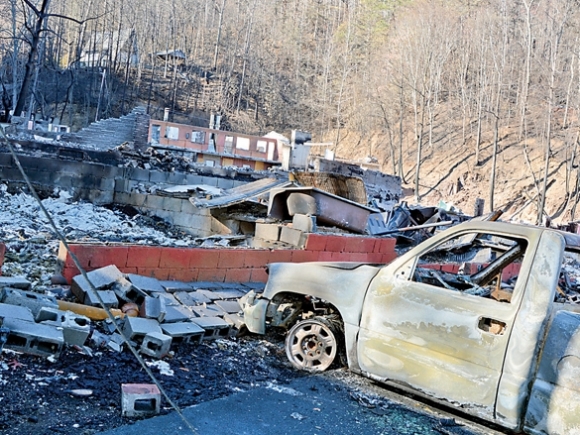 State charges against the two teenagers arrested in connection with November's deadly Gatlinburg fires have been dropped, but prosecution could resume with federal charges.
After a seven-month investigation, the Tennessee Bureau of Investigation concluded that there was no way to prove that the teens who allegedly started the Chimney Tops II Fire in the Great Smoky Mountains National Park were directly responsible for the deaths and property damage that resulted when the fire swept through Gatlinburg.
"But for the winds that reached speeds in excess of 80 miles per hour, it is unlikely and improbable that the Chimney Tops II Fire would have left the Great Smoky Mountains National Park and reached Gatlinburg," reads a press release from the office of James Dunn, Fourth Judicial District Attorney in Tennessee.
The windstorm whipped the flames into a frenzy, and downed power lines resulted in multiple other ignition points to a tinder-dry forest. With fire coming from sources other than the Chimney Tops II Fire, "it became impossible to prove which fire may have caused the death of an individual or damage to a particular structure," the press release says.
If it's impossible the prove that the Chimney Tops II Fire caused the damage in Gatlinburg and surrounding areas, then the alleged crime occurred only within the national park, and not on state land. Starting a fire in a national park, as the two juveniles allegedly did, is still a crime, but it's not in the state's jurisdiction. Prosecution would require action from the U.S. Department of Justice. The park hopes to make that happen.
"The National Park Service Investigative Services Branch will continue to work with the Tennessee Bureau of Investigation," said park spokesperson Dana Soehn. "As the next step, the National Park Service will present the case to the U.S. Attorney's office."
The teenagers, whose identities were never released, were initially charged with aggravated arson for allegedly starting a small fire on the north spire of the Chimney Tops Nov. 23. The fire ballooned to more than 17,000 acres when winds stronger than 80 miles per hour carried the fire down the mountain and through Gatlinburg and parts of Pigeon Forge Nov. 28. The fire resulted in the deaths of 14 people and more than $500 million in damage, with firefighting costs of more than $7 million.
Record-breaking drought created perfect conditions for widespread wildfires in fall 2016, with about 48,000 acres burning on the national forests in North Carolina west of Asheville in addition to the 17,000-acre Chimney Tops 2 Fire. Multiple other small fires burned in the Smokies and on the Blue Ridge Parkway, with blazes also occurring east of Asheville and across the state line into Georgia and South Carolina.
In most cases, arson was the suspected cause, but in Western North Carolina arrests were made in connection with only two fires.