Archived News
Moving the needle: Cashiers organizes to combat workforce development challenges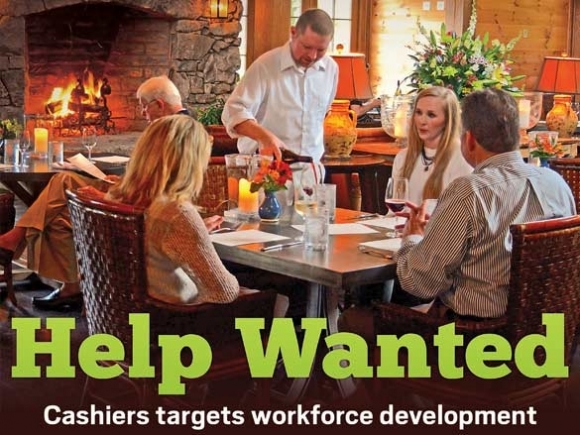 Spring can be a scramble at the High Hampton Inn and Country Club in Cashiers. Every year, after a long and quiet winter, the business prepares to reopen its kitchens, its golf greens, its rooms and welcome back the guests as trees leaf out and the cool mountain summer begins.
SEE ALSO:
• Larger labor pool, longer season make Sylva hiring easier
• Haywood County employers need workers
To meet the challenge, High Hampton's human resources manager Sydneye Trudics embarks on a rampage of hiring, in a matter of months nearly quadrupling the club's staff from a cold-weather crew of 50 to a summer peak somewhere north of 180. It's not an easy task.
"We have great jobs, fantastic jobs at really nice pay rates — and I'm talking about all the businesses up here — but we're really challenged in finding qualified staff or willing staff to come to this area, for a lot of different reasons," Trudics said.
Cashiers is a tiny place with a limited local labor pool, so filling jobs depends on recruiting from outside communities. Those workers must either make a daily commute from somewhere nearby like Sylva, Franklin or Brevard, or find a place to live in Cashiers. And while High Hampton does have on-site housing available for some workers, there just aren't too many housing options in the immediate area that are affordable for working-class people — especially for working-class people whose work dries up for months out of every year, due to the extreme seasonality of Cashiers' tourism industry. Even for people who have housing and transportation, and enjoy the job they've been hired to do, the environment can prove challenging, Trudics said. Cashiers is a sought-after vacation spot for its remoteness and natural beauty, but some people find it difficult to live so far from city life.
"Typically, when we interview people we ask, 'What do you like to do in your free time? How do you feel about nature, hiking, waterfalls?'" Trudics said. "You try to match the application not only to the job that you have, but to your environment, because if you're coming up here a single person it's a little difficult to find people to hang out with after hours."
Of the more than 100 seasonal staff that High Hampton brings in each year, many are young, American workers looking for a summer job during college break or seeking an adventurous type of work experience before settling down. However, High Hampton also brings in 45 foreign workers through the J1 visa program. It's a win-win: the workers get to improve their skills while also participating in a specially designed training program, and High Hampton rounds out its staff with employees who can stay for the full season, as opposed to American college students who arrive after the April opening and leave before the November closing.
"We want to actually experience the American culture as well as the experience of international hospitality," said 21-year-old Arianne Cruz, of the Philippines.
She and her friend Ashley Antonio, who is also at High Hampton for the summer, just completed four-year degrees in international travel and tourism management. That education level is typical of the foreign workers who come to High Hampton.
"When we come back to the Philippines, we'll be more knowledgeable and we will be ahead of them, since we have international training," Antonio explained.
Coming from the capital city of Manila, Antonio and Cruz found the heavily forested Cashiers area a startling — but welcome — change of pace. But they knew it would be like that before they arrived, and they were excited to experience their new lifestyle.
"I knew that this place is like a small town and that we wouldn't be able to go shopping or something, but the scenery just blew me away," Cruz said. "It just blew me away, it's so pretty here."
The foreign workers are wonderful, Trudics said — friendly, hardworking, and, unlike American college students, able to work the entire April-to-November season. But High Hampton is only able to host them because it's a big enough operation to house them, help them out with transportation and provide other services that someone who's been transplanted to a foreign country for half a year is likely to need.
And even so, there are some jobs that Trudics, now in her eighth season with High Hampton, finds perennially difficult to staff.
"There are certain positions that we have no problem filling every year, but when you get into positions like dishwasher, housekeeping, room attending, it becomes very challenging," she said.
Defining the issue
The challenge of finding — and keeping — good help is one that businesses throughout the Cashiers area grapple with on a daily basis. The area's remoteness, its extreme seasonality, its lack of affordable housing and its tiny local labor pool all twist to create a knotty problem. But it's a knot that the community, led by the Cashiers Area Chamber of Commerce, hopes to unravel.
"Our mantra this year has been, 'Let's move the needle,'" said Stephanie Edwards, executive director of the Cashiers chamber. "We understand we can't solve everything overnight, but if we can make a positive advancement that's a good thing."
Affordable housing, transportation needs and reliance on the seasonal tourism industry aren't challenges unique to Cashiers. But it's safe to say those challenges are more extreme in Cashiers than in other areas of Western North Carolina. Some of the unincorporated community's nearest neighbors are Highlands, which is 10 miles away, and Sylva and Brevard, both about 28 miles of two-lane mountain road distant. With a hefty population of higher-income second homeowners and little flat land, housing prices are high with options limited, but living somewhere more affordable would require a long, steep daily commute — and that requires owning a reliable vehicle.
The chamber's board of directors zeroed in on the workforce development issue in January, during its annual strategic work session. Hiring is hard for everybody, especially now that the economy is growing again. More jobs are available, and workers have their pick of opportunities.
"As our visitation grows and we have new businesses, new restaurants, new accommodations, our labor needs are just going to continue to increase," Edwards said. "We don't expect them to level out. We don't expect them to decrease."
The first hurdle to jump: making sure people actually know where Cashiers is, and what's available there. That means advertising in surrounding communities, and it also entails more active forms of recruitment. Last month, the Chamber held what Edwards hopes will be the first of many job fairs, with representatives from nearly 30 area businesses gathering at the Albert Carlton-Cashiers Library to meet potential hires.
"I think it was generally agreed that the outreach was very successful," Edwards said, noting that she plans to "definitely" do it again. The Chamber is also preparing to launch an online jobs board, consolidating Cashiers-area job advertisements in one place. When the website is done, a link will be posted at www.cashiersareachamber.com.
The board is likely to have plenty of postings, once it's up. Calling around Cashiers, it's not hard to find business owners who need good help.
"There's always openings for servers, and kitchen help is always an issue," said Marina McDonald of Randevu Restaurant, saying that she can think of at least seven chef positions open in the area right now.
For Steven Clark, owner of Buck's Coffee Café, finding year-round help is the hard part. Ideally, he'd like to have four full-time, year-round employees and five to 11 part-time employees, depending on the season. Right now he's doing well with the part-timers but down to only two full-time people.
"The short answer is, I don't know. I would be guessing," he said when asked why those full-timers are so hard to come by. "What comes to mind is that construction is big again, and construction jobs pay more. So that could be part of it."
For McDonald, however, seasonality is actually a challenge to hiring. Her restaurant closes down three months out of the year, and that can be hard for employees who still have rent and utilities and other bills to pay during the off-season. In fact, it's not unusual to see employees leave for similar jobs elsewhere, such as Asheville, where the pay is lower but the hours are year-round.
"It's tough on them, and it's tough on us too because every March when we open up for another season, we have to start hiring again," she said.
This year, that process has gone smoothly, with plenty of good-quality help walking through the door. But that's not always the case. Oftentimes, for example, summer help comes in the form of college students looking for a fun time, so they're not always reliable when it comes to showing up at 7:30 a.m. to work breakfast.
The drug epidemic presents another challenge. It's amazing how many prospective employees leave without turning in an application, McDonald said, when they see that checkbox asking them to agree to a random drug test.
"They just get up from the desk," she said. "I never see them again."
That makes it all the more important to bend over backward for people who have proven themselves to be good, reliable employees. To that end, McDonald has employee-sharing agreements with some other area restaurants, working it out so that employees who want to work a dinner shift elsewhere after doing breakfast and lunch at the Randevu can get to their second job on time.
"Sometimes they have to leave a little early or they're not able to finish as much sidework as their other coworkers, but we try to make it as easy as possible for them so they can pick up extra shifts," McDonald said. "We're absolutely flexible."
Creative solutions wanted
Even for people who want to work in Cashiers and land a job with an employer they like, lack of housing can be a deal breaker. Affordable housing is in short supply across Western North Carolina, but it's even harder to find in Cashiers.
"The housing is a huge challenge here because if you don't have it on your property, think about what is around here for rent," Trudics said. "You're going to have a trailer or there is not a huge inventory of short-term rentals at an affordable rate."
Need for internet often goes hand in hand with need for housing, and high-speed internet is hard to come by on the plateau. Individual at-home internet connections are ideal, but the workforce development team is working to expand access with free public wireless in the village — Edwards thinks it will be in place by the end of the year.
The Chamber's workforce development team is also looking for some creative solutions to the housing problem, and they're making headway. One idea that's come up is to look into forging agreements with student housing developments in Cullowhee. Many of those renters are gone during Cashiers' peak tourist season, and their apartments are empty. Might there be an opportunity for seasonal workers to sublet those apartments?
Of course, housing tons of out-of-area workers in Cullowhee, 20 miles downhill from Cashiers, raises another issue — transportation. If those workers are commuting up a mountain every day, having a reliable car is imperative, but for short-term workers who often come from far away, that's not always a possibility. So, the Chamber team is throwing ideas against that wall as well. A private shuttle enterprise? A shuttle funded by a partnership of employers?
"If it was an easy problem to solve, it would have already been taken care of," Edwards said. "When you start getting beneath the surface, it's multifaceted. Every time we peel off one more layer, you find three more things that are related to it that you have to address, but you have to keep pushing forward."
Aside from those nuts-and-bolts logistical challenges, Cashiers has to wrangle some more ambiguous obstacles as well, said Jackson County Economic Development Director Rich Price. Price has been working with Cashiers' workforce development team and also sits on the Southwestern Workforce Development Board, which represents the seven western counties.
"Service jobs" — the waitressing and bartending and retail clerking positions that are a tourism economy's bread and butter — are often perceived as less desirable, lower-value jobs by the general public. That's something that has to change, Price said.
"It's not necessarily just about pay. It's not necessarily just about working environment or working shifts or whatever it might be," Price said, "but how do you start thinking about service jobs in terms of increasing their value for those who might choose that path to earn their living?"
There's no easy answer to that question, and Price believes the solution must ultimately come from the employers who struggle with it every day.
"If we don't get the employers really engaged to be thinking creatively and differently about how to solve these issues — the perception of low pay and 'service work' — we're going to continue to experience the same thing year after year without getting to some meaningful result," Price said.
Edwards concurred that a change of mindset is in order. She believes that the industry's opportunities for advancement and skill building — and Cashiers' particular twist on those opportunities — usually wind up underrepresented.
"It really can be a very fulfilling job as well as a long-term career opportunity," she said. "The interactions with the guests that are here is fairly unique and can be a wonderful experience on the workers' side."
Andrew Blaum, in his first season as High Hampton's food and beverage manager, would agree with that. He's been in food service for more than a decade, and at 29, he's looking at it as a career. After management and ownership positions at restaurants in the Outer Banks, Sylva and Waynesville, he found his way to Cashiers. It instantly felt like home.
"A lot of the offerings that Cashiers specifically has to offer I feel is very focused on legacy and tradition and people that have been coming here escaping the heat of the South for decades," Blaum said. "That was appealing to me because I've always had a great sense of rapport with my guests at any restaurant I've been at, so I wanted to create something long-term with people that have been coming here for decades and generations."
As to some of the supposed detriments to working in Cashiers, Blaum's OK with them. The seasonality, the distances, the smallness of the community — those aren't problems for him.
"A lot of other people are turned away by that, but to me it's part of the experience, having to travel to go visit friends," Blaum said. "It's really a beautiful drive to get from anywhere around here."
That kind of fit between employer, employee and community is what Edwards hopes to see spread across the plateau as the workforce development initiative moves forward. It won't be easy and it won't be quick, but it's an effort that has momentum.