Doing business in Haywood County
What's in the cards? Real estate industry growth comforting, concerning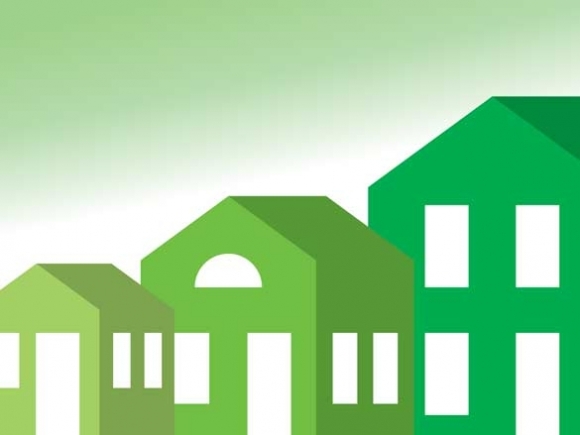 The climate and topography of Haywood County make it a place that people want to live.
These Appalachian assets provide the county with a hardy industry important not only because of the associated long-term economic activity the sale of a piece of property creates, but also for the wages it pays.
As the real estate, rental and leasing sector of the county's economy fully unsheathes itself from the Great Recession of 2008, escalating price growth pays dividends to homeowners and commissions to Realtors, but that same escalation is helping to fuel an affordable housing crisis, especially in the rental arena.
Back in the Black
Real estate is coming back; despite the recession shaving a decade's worth of growth from the market, rentals are seeing strong demand and the average home sits on the market for no longer than 180 days before it's sold.
"Business has been very good," said Ellen Sither, a broker associate at Beverly-Hanks in Waynesville. Sither is also the president of the Haywood Realtor Association, formerly known as the Haywood Board of Realtors.
The market is moving very quickly under $300,000 and almost as fast at price points up to $700,000 and is seeing more high-end sales overall.
"I've sold several homes in the last few months in the $300,000 to $500,000 price range," she said. "We sold two $1 million homes in the first quarter, but only one all of last year."
Like the tourist industry that draws so many new Haywood County residents to the area for the very first time, the biggest challenges are product quality and supply.
Last fall, there were around 1,100 listings for sale in the county; right now, there are about 600.
But it's still a great time to work in the industry, and Sither said she'd still recommend it as a profession.
"I would," Sither said, adding that she's mentored several new Realtors and thinks it's a great career move.
"It's very demanding, and you've got to be poised to move when your client wants to move," she said. "If you can blend your career and your family, it can be very rewarding."
Typically, 20 percent of the population makes 80 percent of the money in almost any industry like this one, and Sither opines that those in that top 20 can expect earnings of $100,000 a year or more.
"If your goal is $85,000 or $100,000, that's achievable. It's all about the time invested. Most Realtors work far more than 40 hours a week," she said. "I myself work sometimes 60 to 80."
In the rest of her cohort, workers can expect an average weekly wage of about $640 — smack dab in the middle of Haywood County's average wage range.
Sither entered the industry in 2011, right near the tail end of the Great Recession; she says the downturn weeded out a substantial portion of county Realtors, and the numbers back her up — the Haywood Realtor Association saw membership drop from around 400 members at that time to about 275 today.
But that's driven the average weekly wage up from $526 in 2015 and $381 during the depths of the recession in 2009, when the wide-open market began to contract before employment corrected itself.
Sither's forecast for the future suggests continuing growth.
"We're still very optimistic," she said.
At a March meeting of the National Association of Realtors in Washington, D.C., Sither learned that the NAR likewise saw no specific indicators for a coming recession and that buyers — and sellers — continue to be enthusiastic.
Renters, however, have less to be excited about.
"The market is actually the strongest we've seen it since 2010, which is when we started ownership of the company," said Michele Marasco Rogers, co-owner of Select Homes, a property management firm in Waynesville. "Our days-on-market average is about 10 days to get a house rented."
Rogers' company manages 292 properties exclusively in Haywood County, which has created a task force to address the affordability of rentals in a service-based economy.
"It is a landlord's market right now," she said. "I tell renters, or potential renters, 'Look this is not a sales pitch, but if you think you like it — grab it, because it will be gone. Period.' We have people who rent properties without even seeing them."
While Rogers and other property managers aren't to blame for the rising costs of rentals, they are nevertheless obliged to operate in an environment where a minimum-wage worker would have to work far more than 40 hours a week just to afford a modest one-bedroom in the county.
"Our job is to get fair market rental value," Rogers said. "We work for the owners to get fair market rent value, but at the same time, we have to be aware of the locations. We're not Asheville and we're not trying to compete with Asheville."
In Haywood County, Asheville is always the elephant in the room; as goes Buncombe County, so goes Haywood — that applies to the real estate market especially.
And in Buncombe, prices are up, buyers are buying, and sellers are generally happy with what they're getting for their properties.
"That sounds about right," said Joanna Baker, a Realtor with Keller Williams Professionals in downtown Asheville.
Baker does the majority of her work with buyers looking for primary homes within 20 minutes of Asheville and all the city has to offer, but when proximity isn't an issue, she can expand her reach to Haywood County.
"If someone is not concerned with those things, I don't hesitate to present them with different options," she said.
Rogers — and even a lay observer — can easily see the result of the run-off.
"What we are seeing is an overflow from Asheville," Rogers said. "Asheville is skyrocketing and people can't afford to live there, so they're moving to Haywood County and commuting. One of the reasons that trend has become obvious for us is the rise in Canton and Clyde. People call and ask for rentals in Canton because they're trying to get as close to Asheville as they can."
Like Sither, Rogers doesn't see any catastrophes on the horizon and projects steady growth that may soon plateau.
"I see the market continuing to rise over the next year or two and then leveling off," she said. "I don't think we're going to see a crash in the rental market like we did in the sales market in 2008 because rent's not gone up that much."
Still, a strong market brings with it wage and property tax base growth, and Haywood's major real estate challenge continues to be one of supply.
"My advice to owner-investors is we need three bedrooms," she said. "There is an abundance of two-bedroom rentals in Haywood County, but if we had three-bedroom homes that were priced in a reasonable manner, say the $900 to $1100 range, they would rent in 24 hours. If you look at our website, we have a two-bedroom for $675. It rented in two days."