Archived News
Jackson prepares for $12 million capital plan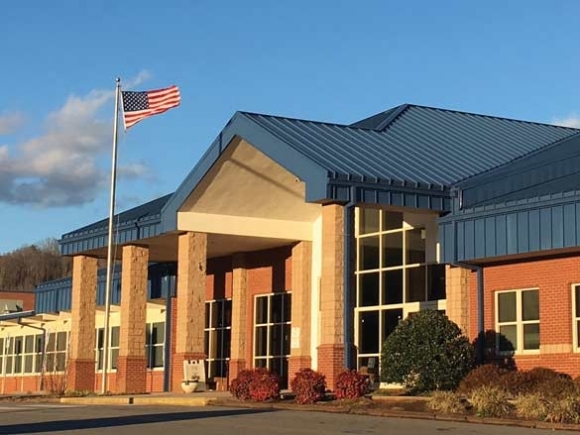 Jackson County's proposed $62.5 million budget for 2016-17 doesn't include a tax increase, but it sets the stage for a $12 million upgrade to county facilities over the next five years.
County Manager Don Adams, presenting his first budget since starting the job in August 2016, proposed allocating $1 million over the coming fiscal year to start design work on a new animal shelter, renovations to the Jackson County Justice Center and a new or renovated health department building. The bulk of the spending, though, would come over the following two years when construction starts, with $7.4 million planned for 2018-19 and $3.7 million for 2019-20. However, commissioners will have some big decisions to make before work can begin in earnest. Most notably, whether to rebuild or renovate the health department and where the new animal shelter should be located.
"One of the primary things that somehow we gotta get set on is location, because at the end of the day it's very difficult to do any serious design work before I know what the location is," Adams told commissioners during his May 15 budget presentation.
The proposed budget includes some notable line items for the coming fiscal year as well. Adams wants commissioners to set aside $85,000 for a homeless program, addressing an issue that's generated much discussion over the past few years. The group Jackson Neighbors in Need had started offering overnight shelter during cold weather when the recession resulted in an increased need for emergency housing, but over the years demand has grown too much for the volunteer-based group to fund and manage the program.
The Southwestern Child Development Commission has taken over management temporarily, but a long-term plan is necessary to sustainably meet the need. The plan is to hire a full-time, year-round caseworker to run the program and two part-time staff members, with funding also needed to pay for the motel rooms used to house people. Southwestern Child Development will go after grants to fund the plan, with the $85,000 intended to cover the remaining cost.
"What this $85,000 is doing is shoring it up so we're not in crisis again," Adams said.
The last few years, homeless shelter managers have found themselves out of money by mid-winter and wound up coming to the county commissioners to request an emergency allocation. Going forward, commissioners want to see a sustainable plan for providing homeless services so they can budget for the expenses. That's where the full-time case manager comes in.
"Although they're still only going to house people during the cold weather months, during the non-cold weather months they'll work on putting together service models," Adams said. "The goal is to have that presented and discussed with the board by next spring."
In terms of staffing for the county, however, the proposed budget includes only a few minor changes. That's because the priority will be to reinstate the career path program that was in place through 2008-09. The program provides incremental salary increases to employees based on years of experience but was suspended when budgets shrank during the recession, resulting in salary compression. Adams is recommending that it be reinstated over the course of the coming two years. The first year of implementation, included in the 2017-18 budget, will cost $970,800. Increased benefit costs will also take a toll on staffing costs, with hospitalization and dental premiums rising by $294,100, retiree insurance increasing by $98,700 and worker's compensation insurance going up $13,700.
The proposed education operating budget also includes few changes, despite the fact that Superintendent Mike Murray had asked for a 30.3 percent increase over the relatively level spending of the past six years. Murray had wanted the funds to pay for salary increases, more staffing in technology and academic intervention, new teachers and a new pay scale for administrators, among other line items.
But the proposed budget includes only a 2 percent increase over the previous year — enough to offset inflation and rising costs, but not enough to carry out any of Murray's initiatives. It does, however, include a 29 percent increase in capital outlay.
Associate Superintendent Kim Elliott addressed the operations issue during a public hearing on the proposed budget commissioners held June 5.
"It is imperative that with the spend-down of the JCPS fund balance, we each need to focus on teaching and learning in such a way that over the next two years, we minimize any impact to the classroom, while simultaneously minimizing the number of positions lost in Jackson County Public Schools," she told commissioners. "Positions will be needed to directly impact student achievement in Jackson County."
However, Adams said in an interview, enacting any major change to funding will require some serious planning and potentially a tax increase — it's not something that will happen in time for this budget year.
To further complicate matters, Murray is leaving the school system this summer for a job with Cherokee Central Schools. While Elliott will serve as interim superintendent for the next six months to a year, it seemed prudent to wait until a permanent superintendent is named to make any drastic funding and programming changes, Adams said.
"Once new leadership is established and so forth there will have to be future conversations amongst the school and county management and elected officials to address those other needs that were being requested," Adams said.
With his first budget cycle in Jackson County now under his belt, Adams — who before arriving in Jackson served as manager of Alleghany County for 19 years — feels he has a better idea of how Jackson's programs work and of the people who manage them. He's looking forward to jumping into the next budget year with the background to make the process flow even more smoothly.
"I'm a big believer in learning the system," Adams said.
Budget hearing
The Jackson County Commissioners will give the budget final approval during their next meeting, 6 p.m. Monday, June 19, in room A201 of the Jackson County Justice and Administration Building in Sylva. Leading up the vote, they will also hold a work session at 1 p.m. Tuesday, June 13, in room A227 of the Justice Center. Public comments of three minutes or less are accepted at the beginning of every meeting. Though comments are not accepted during work sessions, the meetings are open to the public.
Commissioner contact information is online at www.jacksonnc.org/county-commisioners.html or available by contacting Angie Winchester, clerk to the board, at 828.631.2213 or This email address is being protected from spambots. You need JavaScript enabled to view it..
The proposed budget is posted at www.jacksonnc.org/finance.html.