Archived News
Cavy-crazed crowd convenes, competes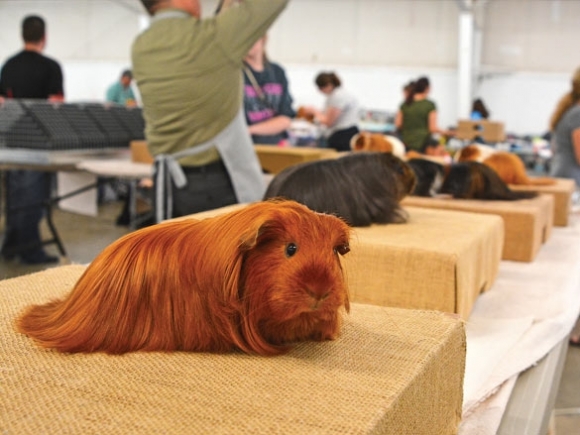 The stakes were as high as the hopes last weekend as competitors from across North America came together at the Haywood County Fairgrounds to see whose luxuriously-locked little rodent would be deemed best in breed by a discerning panel of judges.
"This doesn't happen every day, in every place," said Margo Purdy, secretary of the North Carolina Cavy Breeders Association.
They're not pigs and they don't come from Guinea, but based on their scientific name Cavia porcellus — which means "excretory canal" and "piggy" in Latin — "cavy" is the name fanciers have wisely given Guinea Pigs.
"Cavy" also rhymes with "gravy."
"This is one of the largest cavy shows in the country, so you have all your top competitors here, competing with their very best animals," said Jessica Pearson, who traveled all the way from Stillman Valley, Illinois, to attend her first North Carolina Cavy Breeders Association show.
Two competitive classes — an open division and a youth division — had entered a total of 624 cavies in the competition, which were brought to the area for the four-day event by 113 exhibitors, some of whom had come from as far as California, or even Canada. Entry fees ranged from $6 to $8 per animal.
Purdy explained that at smaller shows, not all 13 breeds of cavy that are officially recognized by the American Rabbit Breeders Association — under whose auspices the cavy is judged despite the fact that they're not related — will be represented.
But at the "Biscuits 'n' Cavy National Guinea Pig Show," they were.
"There're so many breeds and colors that you have quite a selection," she said. "It's a Guinea Pig underneath all that hair, but they look really different."
And oh — that hair!
Commercial breeds of cavy as sold at pet stores aren't generally showable, Purdy said, but reputable dealers offering lines of Peruvian Satin, American and Texel boars and sows can fetch as much as $50 for the most sought-after.
"When I got into this, I went to some of the top breeders that have been doing this a while, competitively, and continuously," said Pearson, who's been mentored in breedcraft for about a year.
A superior cavy can be detected by its opulent, robust coat, sometimes 6 inches in length and always painstakingly styled; indeed, most of the immaculately coiffed cavies at the competition sported such sumptuous, blow-dried strands of black, brown, white, or roan red hair that Vidal Sassoon himself might say, "Ooh la la!"
Cavies, however, aren't all show and no go.
"In layman's terms, we're looking for a nice, clean, solid-built, well conditioned little animal that meets the breed standards," said Jim Hupp, an ARBA judge from Kokomo, Indiana. "It's a lot of work. Breeders make sure they keep them clean, keep their nails trimmed, keep them fed properly and housed properly. It's very important."
Hupp said that becoming a judge for the ARBA is an intensive process that involves studying the breeds, working as an assistant to another judge eight times and taking two separate tests.
When not under ARBA scrutiny, competition cavies also make great pets due to their demeanor, their demands, their cost and the companionship they provide, Purdy said.
"Basically they're a prey animal," said Purdy of the noble beasts. "That's what makes them flighty or nervous, but also, they're not going to turn and stand their ground — it's hard to get them to bite, but if kids or people handle them roughly, that can happen."
In addition to possessing a golden retriever-esque tolerance for tiny hands, they don't take up much space, either.
"If you live in an apartment and want a great dane or a miniature horse or whatever, well you might not be able to have that," she said.
Maintaining a small caviary is also relatively inexpensive and can provide for hours of enjoyable company.
"They have a lot of interesting noises that they make," Purdy said of the occasional "Wheek! Wheek!" which South Americans — from whence the species originates — pronounce "Kwee! Kwee!"
"A very common activity is to sit down in the evening, watch TV, take them out, put them on your lap, and they'll snuggle down. It's like having a lap dog," she said. "It's very cute to watch them walk around."
As with most hobbies, cavy breeding and competition can become a grueling, road-weary lifestyle that is more of a burden than a blessing, financially.
But also as with most hobbies, it's not the competition that really matters — it's the camaraderie.
"I can say one thing," Hupp said. "People you meet in this hobby turn out to be excellent friends. I know it's a little like, 'A rodent hobby?!' But the friendships you make in this hobby, they're like any other hobby I guess — I'm in dogs, also — you just meet those certain special people, and they become very good friends. That's my positive."
Connecting pets and people's plates
Aside from commercial and competition breeds of Cavia porecellus, there exists a livestock breed given the name "cuy," likely due to indigenous Andeans' imitation of the squealy wheeks emitted by the adorable rodents.
"They're commonly eaten in South America, and I'm sure there are cultures and areas in other places where this would not be an unusual thing — to have them be consumed," said Secretary of the North Carolina Cavy Breeders Association Margo Purdy, who added that eating Guinea Pig "has not taken off yet" in the United States.
Cultural bias against eating rodents may play a role in American demand for the meat, which is economical and nutritious, as may the unpleasant notion of consuming what is considered by many to be a loving pet.
An adult cuy can weigh from 2 to 4 pounds, is low in fat, low in cholesterol, has more protein per serving than beef, chicken, lamb or pork, and in a conundrum that would befuddle Elmer Fudd himself, tastes like a cross between duck and rabbit.
Although they're hard to find fresh and dressed, it can be done in some larger American communities, to the tune of about $15 per pound.
Asian-Andean fusion BBQ cuy with wasabi aioli and mango chutney
Cuy
• 3 or 4 young cuy, skinned, dressed and cleaned
• 4 T cumin
• Salt
• Pepper
Mango chutney
• 2 C sugar
• 1 C white vinegar
• 4-5 mangoes, peeled and diced
• 1 C onion, chopped
• 1/2 C yellow raisins
• 1/4 C crystallized ginger, minced
• 1 clove garlic, minced
• 1 t whole mustard seeds
• 1/4 t chili pepper flakes
Wasabi aioli
• 1/2 cup mayonnaise
• 2 t wasabi powder
• 1 t rice vinegar
• 1 t soy sauce
• 1/4 t ground ginger
1) Dry and drain cleaned cuys by suspending upside down in a windy place for two hours. Rub cumin on the outside, salt and pepper the thoracic cavity, and refrigerate overnight.
2) While you're waiting on that, combine the sugar and vinegar in a quart pot. Boil. Add the mango, onion, raisins, crystallized ginger, garlic, mustard seed and chili pepper flakes. Return to boil, then simmer 45 minutes until mixture becomes slightly syrupy. Pour into small canning jars, seal tightly. Immerse jars in water in a tall pot, boil for 15 minutes. Remove and allow jars to set at room temperature.
3) Next, combine the mayonnaise, wasabi powder, rice vinegar, soy sauce and ground ginger. Cover and chill overnight.
4) Then, run a skewer through the cuy's mouth from head to tail. Place over a hot fire, rotating periodically until desired degree of doneness. Alternately, cuy may be quartered and cooked directly on grill.
5) Serve right off the fire, over plantains, corn and/or red peppers, garnished with aioli and chutney.