Archived News
More staff, higher pay boost Jackson schools budget request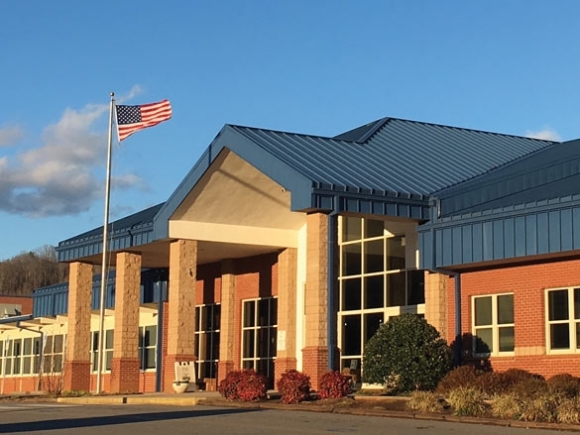 With an eye to improving student performance and employee retention, Jackson County Public Schools has upped its budget ask to the Jackson County Commissioners — by 25 percent over the allocation given the past seven years.
"Since I've been here in the last six years, nothing's really changed in what we've requested in our operating budget, mainly because of capital needs," Superintendent Mike Murray told commissioners during an April 11 work session. "This presentation is going to be a little different."
Murray inherited some significant facilities issues when he took the helm, spending the past six years working to fix failing roofs, replace old HVAC systems and address a host of other issues at play in aging buildings. Last year, commissioners approved $9 million in funding to address the school system's most pressing capital needs, and Jackson Schools is currently in the process of carrying out those projects.
Nonleaky roofs and proper heating and cooling are the most basic prerequisites for learning to occur, but there is ample need for more funding when it comes to actual classroom operations, Murray told commissioners. Many programs and initiatives have remained on the backburner while the school system has focused on getting capital needs addressed, but Jackson Schools will need additional positions and better compensation for staff if its students are to thrive.
"We're not willing to accept our current rankings," Murry said. "With both SCC (Southwestern Community College) and WCU (Western Carolina University) in our backyards, we have the smartest kids in the state. There is absolutely no reason we should be in that midpack range."
The requested $1.4 million budget increase would bring the school system's total operating budget to $8.2 million — a 21 percent increase over the $6.8 million it had been receiving. Murray's task is to convince commissioners that the new expenditures are necessary. The commissioners' task is to decide whether they are and — perhaps more importantly — where the money might come from amid a host of other budget requests from other entities and departments. Over the past month, school system leaders have been going back and forth with commissioners to clarify their requests, answer questions and make their case.
New teachers: $105,700
In order to keep class sizes for kindergarten through the third grade at 20 or lower, the school district will need to hire two new teachers. The cost is markedly lower than the $610,700 Jackson Schools originally anticipated needing to hire 11 new teachers — a state law had been passed mandating lower class sizes in grades K-3, but it did not include funding for the additional teachers. However, lawmakers later granted a one-year reprieve for compliance, and it's possible that funding could be attached to the mandate when it is implemented.
Technology program staff: $254,500-$305,900
Jackson Schools has been increasing its inventory of digital devices to promote student learning, decreasing the ratio from one device per 2.75 students in 2012 to 1 for every 1.58 students by 2016. However, Murray wants funding to hire three instructional technology facilitators and one technology technician.
"That initiative will not work unless we sustain it," he said. "I really want to push on this, because we need to hire additional people for this initiative to not only do well but to capitalize on the investment we've already made."
The three facilitators would join the one already employed by the school system to help teachers effectively integrate technology into their lessons and troubleshoot any issues that arise — creating, Murray said, an "engaging learning environment that empowers students to take responsibility for their own learning."
The technician would help with issues related to the technology itself. It's possible the school system would request the county to fund two of these positions rather than just one, as a change to a federal funding stream it had counted on makes that funding slightly less certain.
Academic intervention staff: $343,200
Murray believes that the school system's academic performance will improve if it secures these 6.5 school-based intervention positions.
The interventionists would pull kids out in small groups for intensive instruction. The goal is to close the gaps between low-performing students and their target grade level before the gaps widen to become an insurmountable barrier. The concept is part of the N.C. Multi-Tiered System of Support, a state-endorsed framework to which Jackson Schools hopes to convert.
Jackson Schools had previously had similar employees, called instructional coaches, but that program "crashed and burned," Murray said. The problem, he said, was that the coaches also worked on teacher evaluations and so were treated more like administrators than coworkers. This time, that won't be the case.
"We need classroom teachers to see this as support, not administration," Murray said. "We're geared up to make an impact with this, and we're really excited."
Funding lost to WCU lab school: $158,500
When the Catamount School opens on the Smoky Mountain High School campus this fall, the goal is that it will have 75 students enrolled. But, while the school will be located on Jackson Schools property, it will be run by WCU and the per-student funding that Jackson Schools would otherwise receive for the students enrolled there will go to WCU instead. This will create a loss in funding for Jackson Schools.
While the school system will no longer be responsible for educating the students who leave, its costs won't necessarily go down a proportional amount. Students will come from various classrooms throughout the county, so it's unlikely that transfers will be concentrated enough that the school system could simply let a teaching position go to make up the difference.
Salary increases: $393,400
Retention has been a struggle for Jackson Schools — for positions ranging from teachers to custodians — and low compensation could be to blame.
"We've had an electrician position open for four months. We cannot fill it. Nobody wants to work for what we will pay," Gwen Edwards, the district's finance officer, told commissioners.
In the 2015-16 school year, turnover was 16.4 percent — higher by several percentage points than any neighboring county. Murray wants to raise the local supplement to state teacher pay from 2 percent to 3.5 percent — except he doesn't want it to go only to teachers, as it has in the past. He wants a 3.5 percent supplement for all full-time employees.
"If you don't pay them enough, they'll not only not stay, they'll go next door," Murray said. "We invest in people, telling them what to do, moving them in the right direction, and they're going to move on to Haywood County. That can't happen."
New pay scale for administrators: $423,000
North Carolina ranks 50th nationwide for principal and assistant principal pay, with Jackson's principals actually getting paid on the teacher pay scale as it's higher than their own. This is setting the district up for a leadership void, with would-be administrators having little incentive to take on additional responsibility without additional compensation.
"Yes, it's $423,000," Murray said. "I'm going to tell you it's more than necessary if we're going to keep our administrators in place."
Encourage professional growth: $46,000
With the state no longer offering teachers a pay hike for completing a master's degree, Jackson Schools hopes to start offering a local incentive for pursuing higher education. In addition, the request calls for a $750 bonus for teachers who get licensed in hard-to-staff areas such as science, special education and math.
"We want to be unique in our region in striving for those qualified educators," said Associate Superintendent Kim Elliott. "This initiative will benefit all of our students and help us retain those master's-level teachers who are not being paid on the master's level."
Capital needs
While the school district is in the midst of carrying out a $9 million, county-funded capital campaign, Murray also increased his request for capital funding, asking for an additional $375,00 for preventive maintenance and roof maintenance, as well as $1.4 million to knock out a variety of smaller projects such as upgraded fire alarms and window replacements.
"With capital, we've been basically doing reactive type things," he said. "We would like to see us get in a more proactive stance."
In addition, he said, commissioners should start thinking about funding a couple larger projects — namely, a new softball field and track — in a coming budget year.
"These future things do not need to be 15 years from now," Murray said. "They need to be in the planning stages now."
The budget process
Commissioners haven't said much thus far about what they think of the requests or how likely they might be to secure funding. And that's likely because they'll have a lot to consider beyond the mere merits of the needs.
Southwestern Community College is planning a $20 million health sciences building, for which the county will provide the bulk of the funding. And commissioners are facing a full menu of other hefty capital needs as well — a new or renovated health department, a new animal shelter and expanded courtroom space, for starters. Then there are all the existing line items whose costs increase each year. Commissioners will have a lot of information to receive and process before they can decide how much of the school system's budget request they can fund for 2017-2018.