Archived News
Connecting pets and people: PAWS swoops in to shelter puppy mill rescues
Wednesday, April 26, 2017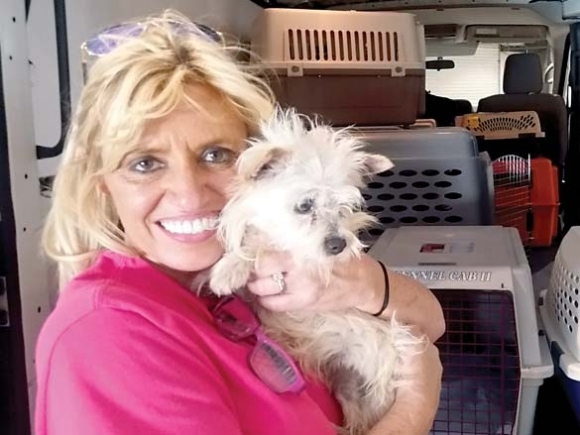 A large-scale rescue effort involving multiple animal welfare agencies resulted in the removal of more than 400 animals from a puppy mill in Clarkesville, Georgia, last week.
For the second time in the past year, the Humane Society of the United States reached out to Beth Cline, executive director of PAWS Animal Shelter in Bryson City, for assistance in the rescue effort being led by Habersham County Department of Animal Care in Georgia.
Cline didn't hesitate to take off to Georgia where she spent the next couple of days helping the national organization remove the animals from the property.
"PAWS was among the first responders on the morning of April 13, 2017, at the scene of a large-scale, multi-species animal neglect case in Clarkesville, Georgia," Cline said. "A total of 435 animals were found suffering in deplorable conditions, with many of them living in filth and inches of feces."
The animals included 283 dogs and puppies, along with cats, donkeys, pigs, chickens, ducks, doves, bunnies, a horse and an alpaca.
"We never expected to discover something of this magnitude in our own backyard," said Madi Hawkins, director of HCACC, in a press release. "I'm grateful to our dedicated and compassionate staff who have been on scene over 24 hours and will continue to be here until the last animal is rescued. This is a heartbreaking situation, and it's not an easy task to be present to witness this kind of cruelty."
Cline assisted with the task of helping to extract the 283 dogs from the appalling conditions, working with veterinarians on scene to identify any critical medical needs, and safely transporting the dogs to a temporary shelter several miles away. It took two full days to help rescue all the dogs.
"Not only were the conditions filthy and unacceptable by any humane standards, but the dogs were matted with feces and even sticks matted into their fur," Cline said. "There were dogs that you could not tell the animal's head from its tail, and fur so matted that legs couldn't even move. There were wire pens set up for as far as the eye could see, with no gate to enter each pen. Therefore, these dogs never had any kind of daily touching, petting, let alone much-needed bathing and brushing."
PAWS returned to Georgia on April 20 and brought dogs back to the Bryson City shelter. Cline said they will be adopted out as soon as they are spayed or neutered. The dogs brought to Bryson City are breeds that are rarely found at the shelter but are constantly being sought after. Cline doesn't think she'll have any problem finding great homes where they will finally get the love and care they deserve.
The HSUS and assisting agencies are safely transporting the dogs, cats, bunnies and birds to a temporary emergency animal shelter, where they will be thoroughly examined by teams of veterinarians and receive any necessary immediate medical care. Rescue Bank is providing the necessary food for the dogs. The horse and farm animals are being transported to Horse Inc.
PAWS also assisted HSUS last October with an international rescue effort. PAWS and the Cashiers-Highlands humane Society took in 15 of the more than 500 dogs that were rescued from a backyard dog meat farm in South Korea.
This time PAWS took in four small breed dogs from the Georgia rescue, including a Yorkie Maltese mix, Yorkshire terrier, schnauzer and a Pomeranian Maltese mix. Even though the PAWS facility in Bryson City is aging and always at full capacity, Cline never has the heart to turn an animal in need away.
"We felt we needed to do whatever we could to help in this case because this could have happened just as easily in our own county," she said. "Swain County has no county shelter, no animal control and we would need all the outside resources we could obtain to help with such a large number of animals. Plus it was the right thing to do."
For adoption information, call PAWS at 828.488.0418.
Resources
Here is a list of pet adoption and advocacy groups — and veterinarians — in the four western counties of Haywood, Jackson, Macon, Swain and the Cherokee reservation.
Haywood
• FUR (Feline Urgent Rescue) of WNC 844.888.CATS(2287) or www.furofwnc.org.
• Sarge's Animal Rescue Foundation 828.246.9050 or www.sargeanimals.org.
• Star Ranch 828.400.4940 or www.star-ranch-rescue.com.
• Haywood Spay/Neuter 828.452.1329 or www.haywoodspayneuter.org.
• Haywood County Friends of the Animal Shelter www.hcasfriends.org.
Haywood Vets
• Animal Hospital of Waynesville 91 Depot St., Waynesville. 828.456.9755 or www.animalhosp.com.
• Canton Animal Hospital 74 Radio Hill Rd., Canton. 828.648.7800.
• Country Lane Animal Hospital 9019 Carolina Blvd., Clyde. 828.627.9100 or www.clanimalhosp.com.
• Balsam Animal Hospital 628 South Main St., Waynesville. 828.452.1868 or www.balsamvet.com.
• Haywood Animal Emergency 3248 Asheville Rd., Waynesville. 828.452.1478 or www.haywoodanimaler.com.
• Junaluska Animal Hospital 3248 Asheville Rd., Waynesville. 828.452.1478 or www.junaluskaah.com.
• Maple Tree Veterinary Hospital 1855 Russ Ave., Waynesville. 828.452.5211 or www.mapletreevet.com.
Jackson
• ARF Rescues and fosters pets in a no-kill shelter, and facilitates their spay and neuter. 1-3 p.m. Saturdays at 50 Railroad Ave., Sylva. 877.273.5262 or www.a-r-f.org.
• Cashiers-Highlands Humane Society 200 Gable Dr., Sapphire. 828.743.5752 or www.chhumanesociety.org.
• Catman2 Cat Shelter 637 Bo Cove Rd., Cullowhee. 828.293.0892 or www.catman2.org.
• Jackson County Animal Shelter 463 Airport Rd., Sylva. 828.586.6138, 828.586.1911 after hours or animal.jacksonnc.org.
Jackson vets
• Cashiers Village Veterinary 855 U.S. 64, Cashiers. 828.743.5656 or www.facebook.com/cashiers-village-veterinary-clinic.
• Cherokee Animal Care Clinic 1100 U.S. 441, Whittier. 828.497.3704 or www.cherokeeanimalcare.com.
• Cope Creek Animal Clinic 8 Connor Rd., Sylva. 828.586.3534.
• Jackson County Veterinary 1362 E. Main St., Sylva. 828.586.8383 or www.facebook.com/jackson-county-veterinary-associates.
• Sylva Animal Hospital 1307 Asheville Hwy., Sylva. 828.586.8587.
• Western Carolina Animal Pain Clinic and Shearer Pet Health Hospital 1054 Haywood Rd., Sylva. 828.586.3300 or www.shearerpethealth.com.
Swain
• PAWS Bryson City57 Lemons Branch Rd., Bryson City. 828.488.0418 or This email address is being protected from spambots. You need JavaScript enabled to view it.. www.pawsbrysoncity.org.
• PAWS Thrift Store110 Bryson Walk, Bryson City. Open 10 a.m. to 4 p.m. Tuesday-Saturday. 828.333.4267 or This email address is being protected from spambots. You need JavaScript enabled to view it.
Swain vets
• Bryson City Veterinary 200 Bryson Walk, Bryson City. 828.488.6018
Macon
• Macon County Animal Shelter1377 Lakeside Dr., Franklin. 828.349.2106 or www.maconnc.org/animalservices
• Appalachian Animal Rescue Center851 Lake Emory Rd., Franklin 828.524.4588 or www.appalachiananimalrescuecenter.com.
Macon vets
• Franklin Veterinary Hospital2947 Georgia Rd., Franklin. 828.369.8080 or www.franklinvethospital.com.
• Animal House Veterinary Clinic991 E Main St., Franklin. 828.524.9990 or www.leapoffaithvet.com.
• Noah's Ark Companion Animal Hospital1239 Old Murphy Rd., Franklin. 828.524.6121 or www.noahsarkvet.us.
• Highlands Cashiers Animal Clinic2465 Cashiers Rd., Highlands828.526.5206 or www.highlands-cashiersanimalclinic.com.
• Lenzo Animal Hospital1869 Georgia Rd., Franklin. 828.369.2635 or www.lenzoanimalhospital.tripod.com.
• Animal Wellness Hospital of Highlands2271 Dillard Rd., Highlands. 828.526.8700 or www.awhhighlands.com.
• Susan Mast 828.963.2600.