Archived Arts & Entertainment
Take it all in: The art of Positive Mental Attitude (PMA)
Wednesday, April 19, 2017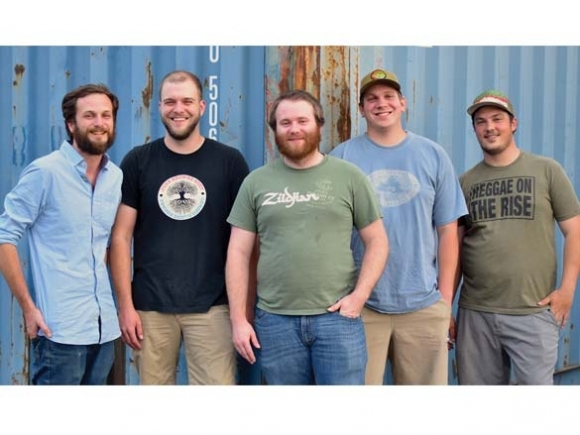 It's about finding your center.
Though they're hundreds of miles from the closest ocean, the members of Sylva-based Positive Mental Attitude (PMA) have concocted a formula of reggae soul unique to the mountains of Western North Carolina. It's more about an uplifting and relaxed state of mind rather than actual sandy toes and salt water.
That's what true reggae preaches — spreading the word of inclusiveness and one-ness amid a space of different backgrounds, intents and pursuits. It's about finding common ground within those around you. And, perhaps, letting the troubles of the day slowly fall from your current physical and emotional location, ultimately dissolving into the dirt beneath your feet.
For PMA, it's bringing together their friends, family and strangers alike into one moment, where, in that moment, you realize that most of your daily stress is made of the little things when you should be focusing on the big picture and your place within it.
Smoky Mountain News: Where does it all begin with PMA?
Phil Thomas (lead singer/guitar): Kyle Coleman (drums), Matt Yelen (bassist), and I met in middle school in Charlotte [in 2008]. The only real exposure I had to reggae music was listening to Bob Marley & The Wailers' "Exodus" album growing up. Despite this, I decided to give it a shot and we started performing. Kyle and Matt thought that "PMA" would be a great name for the group. We all were big fans of the band Bad Brains, who promoted the ideology of keeping a "positive mental attitude." PMA really means looking for the best things in life, even in the most unfortunate circumstances.
SMN: And how has the meaning of the name PMA shifted as the band has grown and evolved, as the audiences have grown and evolved?
Miller Watson (rhythm guitar): The beauty of having PMA as our band name, is that the name is constantly there as a reminder. Just like any group of friends, we have our ups and downs, but PMA has become more than a band name for us, rather a way of life. PMA has taught us that with the right mental attitude we can conquer a lot. Negativity is all around the world and PMA is not about blocking out the bad stuff and hard lessons we encounter, but rather about having the foundation we need to help us face these things head on.
SMN: On the surface, one might surmise your music as something with a playful beach vibe, especially with the reggae influences. But, what about that playful sound applies to what you're doing in Western North Carolina?
MW: Our music is full of inspiration from these mountains. Water, mountain landscapes, nature, trails. They all take part in the inspiration process for us. We are proud to call Sylva home and our sound could not be what it is without this town. It's really cool to see the similarities in bluegrass music and reggae and how they took shape from the development of African banjo. It's also nice to bring a touch of reggae to these mountains.
SMN: As PMA has pushed further out, into new markets and farther down the road, what are you seeing out there as a musician trying to make it?
PT: One thing I will say is that it hasn't been easy working towards becoming professional musicians. We've sacrificed a lot of time, energy, and effort to work towards our mission of lifting people up. While it has been difficult, it has all been worthwhile. Traveling together in a 1980s RV with your best friends, doing what you love — there's nothing better. As far as measuring success, if we have a great time playing a show, have a great crowd, and, overall, a great time, that's all that matters. [And] there have been so many people that have helped us along the way.
SMN: Y'all are based out of Sylva. What sets that town apart from other places? Why here, why this scene, and why right now?
Matt Yelen: With most of us graduating from Western Carolina University, we naturally fell in love with the area, particularly Sylva. It still has the small mountain town charm, but has an amazing local music and culture scene that we've come to know and love.
PT: There's nothing quite like Western North Carolina. When you're driving down Balsam Mountain on U.S. 74, there's just an instant feeling of belonging, like you know you are where you're supposed to be. The community here has embraced and supported us fully. Everyone really looks out for one another, and I don't think there's another place on Earth like it.
Editor's Note: PMA will perform at noon during Greening Up the Mountains in Sylva on Saturday, April 22. Their upcoming album, "Take It All In," will be released this summer. www.facebook.com/pmamusic.