Archived News
Panthertown purchase gets a boost
Wednesday, April 19, 2017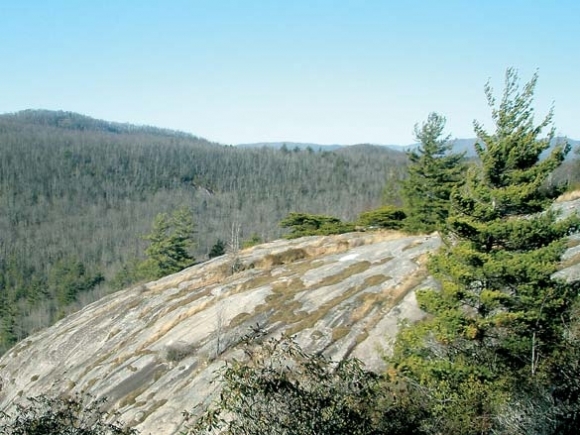 A key piece of land bordering Panthertown Valley Backcountry Area will be conserved following a pledge from the Jackson County Commissioners to cover any gap between fundraising dollars and land price that still exists by the April 21 closing date.
"I know this board has expressed an interest to try to see this project come to pass. It's a very important conservation project in Jackson County," Commission Chairman Brian McMahan said during the board's April 3 meeting.
Commissioner Mickey Luker agreed, making a motion to assist Mainspring Conservation Trust — which is working with Friends of Panthertown to acquire the property — with any remaining balance.
The land in question is a 15.9-acre parcel adjacent to the parking lot at Panthertown's Salt Rock entrance. Friends of Panthertown got interested as soon as it came on the market, wanting to avoid any future development so close to the backcountry area. In addition, the Salt Rock parking lot was regularly over capacity, with people parked dangerously all along the sides of the narrow dirt road leading to it. A parking lot expansion on the adjacent but rugged land already part of the Nantahala National Forest would be cost-prohibitive — the parcel for sale, meanwhile, would be perfect.
The original asking price was $350,000 — out of the realm of possibility for Friends of Panthertown — but the price was eventually slashed and the landowner agreed to sell for the appraised value of $191,0000 plus $4,000 in transaction costs.
So far, Mainspring and Friends of Panthertown have raised $165,000 toward the $195,000 goal, largely due to private contributions and a donor who pledged to match any money given. The Jackson County Tourism Development Authority gave $2,500.
The plan is for Mainspring to facilitate the purchase and hold the title, with the land later transferred to the U.S. Forest Service. A gravel parking lot would be built and the access road improved on part of the lot.
"We appreciate your support," Margaret Carton, president of Friends of Panthertown, told commissioners after they unanimously approved Luker's move to fill the fundraising gap. "We hope to have a parking lot done in time for the season."
Panthertown, part of the Nantahala National Forest, is a 10,000-acre backcountry recreation area near Cashiers. It draws more than 20,000 visitors per year to hike, bike or ride horseback through its 30 miles of trails, which explore a plethora of waterfalls, ridges and rock faces.
To donate toward the project, visit www.panthertown.org.