Archived News
Jackson considers giving toward land conservation effort
Wednesday, March 22, 2017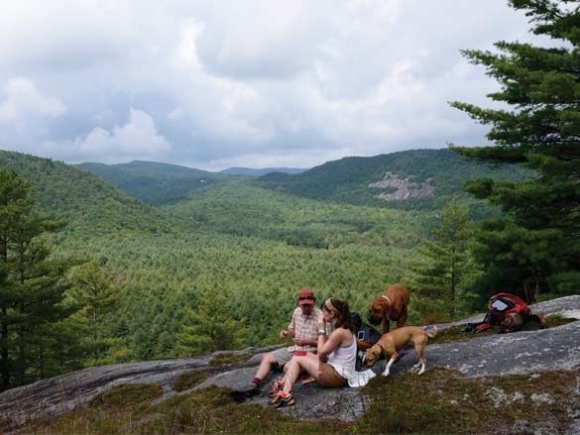 The fundraising deadline is drawing nearer for an effort to conserve 15.9 acres adjacent to Panthertown Valley, and the Jackson County Commissioners have indicated a willingness to chip in toward the more than $80,000 still needed.
"That's probably one of the most beautiful places in this county," said Commissioner Boyce Deitz during a March 14 work session. "It almost reminds you of being in the West, some of it, and it's probably one of the best-kept secrets from the citizens of this county."
Panthertown, part of the Nantahala National Forest, is a 10,000-acre backcountry recreation area near Cashiers. It draws more than 20,000 visitors per year to hike, bike or ride horseback through its 30 miles of trails, which explore a plethora of waterfalls, ridges and rockfaces.
Perhaps the most popular access point is the Salt Rock Entrance off of Breedlove Road. More often than not, need for parking exceeds the space available, an issue that Friends of Panthertown has been working for years to address.
"There are times when people are tucked all into the nooks and crannies along the rhododendron and all down along the road," said Friends of Panthertown President Margaret Carton.
The organization explored the possibility of installing a small gravel parking lot adjacent to the existing dirt lot but found it would cost more than $75,000 due to rocky terrain. The land on the other side of the existing lot would be perfect, but it was privately owned and not part of the national forest.
"When we heard that was going on the market, we all started coveting it," Carton said. "It would be a little part of a parking lot, it would protect the view. The worst thing we could imagine was a development going in and putting a big privacy fence there."
The property was originally on the market for $350,000 — way out of the nonprofit's price range — but the price has since gone down. Friends of Panthertown is teaming up with Mainspring Conservation Trust to acquire the land, and Mainspring negotiated a price of $191,000 — the land's appraised value — plus $4,000 in transaction fees.
Mainspring, whose role is to facilitate the purchase and hold title to the land, is scheduled to close on the sale April 21 with a fundraising deadline of March 31. So far, $103,000 has been raised with $86,000 left to go. A private donor has offered to match any donations collected, meaning that $46,000 more plus the match donations would be sufficient to meet the goal.
The Jackson County Commissioners will likely discuss the fundraising issue at their April 3 meeting, gauging how much money is still needed and determining whether to make a contribution from county coffers. The Jackson County Tourism Development Authority has already made a contribution, approving a $2,500 donation at its March 15 meeting that will be doubled through the matching donation.
"We look for ways as a county to provide opportunities for our citizens to recreate, and we're building a park in Savannah," said Commission Chairman Brian McMahan. "We looked at other opportunities, other different styles and avenues of recreation, and this is just another opportunity for us to be able to contribute and provide an opportunity for citizens to have access to a crown jewel here in our county."