Archived News
Proposal would give Qualla area 24-hour ambulance
Wednesday, March 22, 2017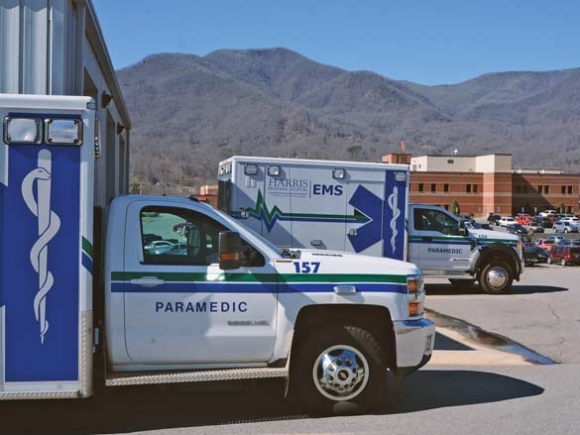 Harris Regional Hospital Emergency Medical Services is asking the Jackson County Commissioners to make changes to its service that would cost about $200,000 to implement.
Most of that cost would result from adding four full-time positions to EMS's Qualla substation, staffing the ambulance stationed there 24 hours per day rather than the 12 hours per day that it's currently staffed.
"That area is doing nothing but growing, which I'm sure each of you know better than we do," Matt Burrell, EMS operations manager, told commissioners during a March 14 work session. "And we want to provide a better service to the area we serve."
While the changes would cost about $200,000, Burrell said, it's unknown how much cost would be passed along to the county. It's possible that EMS could take in enough additional revenue to offset the cost, but it could also find itself in need of more funding.
The current 12-hour Qualla ambulance is a rather recent development, with commissioners approving the truck and the four full-time positions necessary to run it half the day during last year's budget talks. Qualla had had its own ambulance at some point in the past, but the truck had been re-assigned to Sylva, which has a higher call volume. Last year, Jackson commissioners decided to fund the positions for Qualla. That, along with various other equipment purchases and personnel increases at Harris Regional Hospital and the Cashiers-Glenville Rescue Squad, cost an additional $942,000 in the 2016-17 budget and prompted a property tax increase of 1 cent per $100.
The Qualla ambulance has been making a difference, Burrell said. Since adding it, call response times for emergency calls in the Qualla area have dropped from 14.93 minutes to 11.82 minutes. That's a marked and potentially life-saving improvement, but it still falls short of the organization's target response time of 10 minutes or less.
"I think the reason we're not meeting our 10-minute response time in that area is because the 12 hours we're not in there we're having our extended response time," Burrell told commissioners.
Between 10 p.m. and 10 a.m., when the Qualla ambulance is not staffed, emergency calls are typically handled by an on-call crew coming from Sylva, or else attended to by Cherokee Tribal EMS through a mutual aid agreement with Harris. Responses can take a while, as on-call crews have 15 minutes to get ready to leave from the station and from there must travel to wherever the call originated. Response times are commonly upward of 20 minutes. Harris does have a mutual aid agreement with Cherokee, but Burrell doesn't think that's a resource the hospital should rely on.
"We feel as an EMS service it's our responsibility to cover that area," he said. "It's not somebody else's responsibility to come in and help us with that."
Burrell believes that a 24-hour Qualla crew would have plenty to keep it busy. Since 2013, Harris EMS has seen an overall call volume increase of 24 percent. During 2016, Qualla saw 289 emergency calls and 558 total calls — and the Qualla ambulance was in place for only one quarter of that.
Adding the four full-time positions needed to bring the Qualla truck to 24 hours would cost about $210,000, Burrell said. However, his plan also calls for elimination of the on-call crew, whose members earn $3 for every hour they're on call plus regular pay when they respond to a call. Eliminating that crew would save about $20,000 for a net cost of about $190,000.
Getting rid of on-call will prove a popular decision among EMS employees, Burrell said. Generally speaking, people looking for a job in the EMS field don't want to pull on-call shifts.
Harris EMS has been having issues lately with turnover and retention, and much of that is due to how shifts are structured, Burrell said. The organization employs 24 full-time responders, and over the last two years nine people have left.
"Everyone said on their exit interview it was the schedule we worked," Burrell said. "We were trying to think of options. What can we do to fix this?"
Most area EMS services use a 24 hours on, 72 hours off schedule. For example, a paramedic working 24 hours starting Monday would then be off Tuesday, Wednesday and Thursday before returning for a 24-hour shift Friday. Afterward, the paramedic would be off once more Saturday, Sunday and Monday. However, Jackson EMS currently uses a more complicated schedule. During the most demanding weeks, paramedics work a 12-hour shift followed by a 12-hour break, then a 24-hour shift and finally another 12-hour shift before getting three days off.
"As the years have gone on, the workload has increased," Burrell said, making that schedule increasingly tiring for those working it.
"We've had numerous people leave for other EMS services surrounding us that all work the 24-72 schedule."
Burrell estimates it would cost $14,500 to switch existing employees to the 24-72 schedule, a difference largely due to there being more overtime built into the proposed schedule. However, he believes that in practice the change would save money. It costs the organization about $2,000 to train and equip each new employee, so the nine people who left over the past two years took about $18,000 of investment with them. Then there is the more difficult-to-calculate cost of lost productivity, as new employees take a while to learn the ropes and reach maximum effectiveness.
And, while the new budget would have more overtime hours built into it than the current budget does, Burrell believes that actual overtime hours would decrease. Jackson EMS sometimes sees more than 300 hours per two-week pay period in overtime hours due to the difficulty it's having recruiting new employees.
"We're having to use our full-time employees to fill extra shifts to fill voids that we have," EMS crew leader Kyle Dowling told commissioners. "We project if we have the schedule change we'll be able to recruit more, thus cutting down on the overtime we have on current staff."
Unlike surrounding counties, Jackson County does not own its EMS service but rather contracts with Harris to provide the service. Therefore, Harris must have commissioners approve any significant expenditure or change to the program.
Commissioners did not make any definitive statements as to how they might handle the requests but indicated sympathy for the challenges increased activity in the Qualla area is causing emergency responders. County Manager Don Adams asked that EMS submit some more detailed information regarding call volumes in the Qualla area for commissioners' consideration.
Commissioner Charles Elders commented that he's seen the increased activity in Qualla firsthand on his early morning drives to work over the years.
"At one time I didn't see a truck but a milkman that early, and it's a constant flow at 3 o'clock (a.m.) there now," he said. "I can see where you're coming from. The need is there."
Commissioners will likely discuss the issue further at a future work session.