Archived News
Russ Avenue: growing pains in Waynesville
Wednesday, March 15, 2017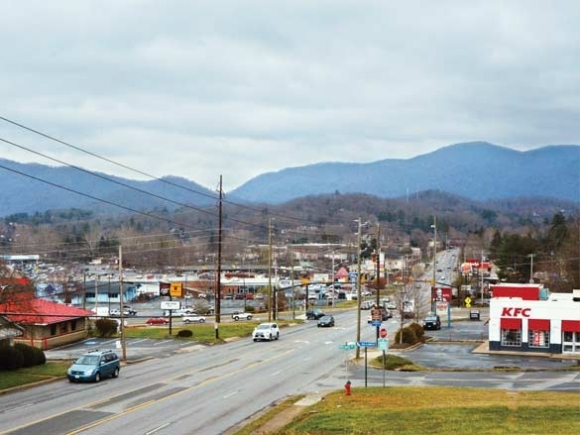 While most people agree that the $18 million Russ Avenue widening project in Waynesville is much-needed and long overdue, the long and winding road to groundbreaking has thus far been a rough one, even though construction won't get a green light until at least 2022.
Russ Avenue's growth has mirrored that of Waynesville, or vice-versa; the artery, which connects Waynesville's historic downtown with the Great Smoky Mountains Expressway serves as the town's major commercial thoroughfare and is accordingly clogged with a plethora of retail and fast-food establishments.
Over the short 1.1-mile stretch of asphalt, one can find waffles, fried chicken, curly fries, or even Ford trucks for sale. And traffic on Haywood County's most heavily-traveled road isn't getting any lighter and is projected to grow to unmanageable levels by 2040.
Looking in the rear view mirror
In late 2016, the North Carolina Department of Transportation unveiled plans to widen Russ Avenue, also known as U.S. 276, from the expressway interchange to North Main Street in Waynesville.
The plans for widening include better bicycle and pedestrian access and are also meant to improve safety in an area the DOT says has crash rates "relatively high in comparison to surrounding streets."
The project is divided into three sections: the first runs from the expressway south to Walnut Street and includes the bulk of Waynesville's dining establishments like Arby's, Chick-fil-A and Waffle House as well as other major businesses like Joe Taylor Ford, HomeTrust Bank, Ingles and CVS.
Roadwork planned in that section would create four lanes with a posted speed limit of 35 mph separated by a 17.5-foot median.
The next section proceeding south along the route from Walnut to Boundary Street would expand the thoroughfare's sidewalks and add a bike lane.
But the final section — along Walnut Street from Boundary Street to North Main Street — garnered the most negative attention right from the start.
While the project was still in the planning stages, the town had asked DOT specifically not to encroach on historic Walnut Street, which is home to some of Waynesville's oldest homes and serves as somewhat of a gateway to town for the tourists that drive Waynesville's economy.
Despite those requests, there was shock and anger among citizens and town officials when DOT's original plans showed a substantial expansion to Walnut Street's asphalt footprint that would decimate the historic character of the area. Several large trees were destined for the axe, and a century-old brick retaining wall would also become a casualty of the project even though the DOT's own study suggested traffic growth on Walnut wouldn't even come close to the growth experienced further up Russ Avenue.
Waynesville Mayor Gavin Brown took action almost immediately after he and town aldermen received complaints about the project; he called for a period of public comment at a Dec. 13 regular town board meeting, and then took the unusual step of calling a special meeting for Jan. 5 that drew a capacity crowd unanimously opposed to the plans.
During the meeting, DOT Division 14 Construction Engineer Brian Burch said to the crowd, "We hear you."
DOT Project Manager Wanda Austin confirmed as much March 3, saying a meeting between DOT and Charlotte-based engineering firm Calyx the day before had them "looking at some ideas to minimize the impact" on Walnut Street.
Austin said that so far, they'd agreed to remove a bike lane extending along Walnut Street from North Main Street to Branner Avenue, shaving at least 5 feet from the proposed 17-foot widening.
Brown, who called himself a "child of the '60s," stressed the importance of grassroots activism and alluded to the fact that the battle wasn't yet over.
Further on up the road
Back up on busy Russ Avenue, beneath the glow of traffic lights and illuminated plastic signs beckoning consumers, another fight may be brewing.
Although the expressway-to-Walnut segment of the project seemed to get lost in the furor over Walnut Street proper, some business owners are gearing up for a fight that could be just as contentious due to plans that may be just as disastrous.
John Burgin is the trustee of a parcel at 710 Russ Avenue upon which sits an Arby's restaurant. The parcel was left to Burgin's mother by his father to ensure her financial security during retirement and is assessed at more than $630,000 in value.
DOT plans call for a right-turn lane — in addition to an 18-foot median and bike lanes — from northbound Russ into the Ingles grocery store that would obliterate much of the Arby's parking lot fronting Russ and severely curtail its drive-thru service.
"It would about render that property useless," Burgin said.
Burgin said that although he hadn't talked to Arby's (which he neither owns nor operates), he was "confident" it would result in the closure of the curly-fries purveyor and said he couldn't imagine any other fast-food tenant taking over the space in the future.
"There are four entrances to Ingles right now," he said. "They [DOT] want to take a piece of my private property and make it easier to get in to the Ingles. What they're basically doing is taking away my mom's retirement income."
That same turning lane would also remove about a third of the parking for the Waffle House just north of Burgin's property, bringing the street much closer to the building.
Burgin and the Waffle House seem to be backed into a corner; there isn't much room to expand behind the two businesses, owing to a steep incline that serves as roadbed to one of Ingles' driveways.
Although Joe Taylor of Taylor Motor Company at 505 Russ Avenue has a bit less to lose than the Burgins do, he wasn't necessarily pleased with the plans as presented, either.
Taylor, like Burgin, thinks the median is far too wide; Burgin said town engineers have always held that wider streets encourage speeding.
Maggie Valley officials are on board with that idea as well; plans to tighten up Soco Road are specifically tailored to send the subconscious message of "slow down."
Taylor also wonders why bicycle lanes would be planned for such a busy road.
Despite having their concerns lost in the furor over Walnut Street, Burgin, Taylor, and other property owners up and down the busy commercial corridor who will be affected — including the KFC, CVS and McDonald's on the other side of Russ Avenue — will have yet another chance to effect change in DOT's plans.
An additional public meeting will be scheduled sometime this summer by DOT.
What's next:
• Select detailed study alternatives and hold second public meeting: Mid-2017
• Prepare state environmental document: Late 2017
• Right of way acquisition: 2020
• Construction: 2022