Archived Outdoors
The race is on: Police investigate Pinnacle trail spiking as Assault on Blackrock sees record registration
Wednesday, March 01, 2017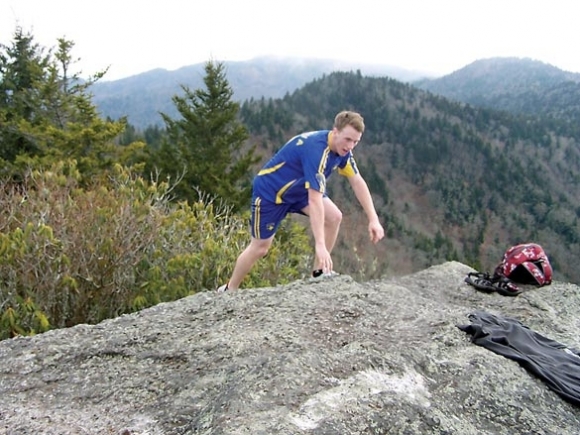 News spread fast last week after the Sylva Police Department removed more than 50 spikes from hiking trails at Pinnacle Park, but a drive by the trailhead two days later showed that the incident hadn't dampened local enthusiasm for the area. Even at 1 p.m. on a Thursday, the parking area held seven cars whose owners had come to enjoy a sunny afternoon on the trail.
Sylva resident Amy Schmidt, 33, was one of them. She and her German shepherd Greta come to Pinnacle Park regularly, about three times a week, and though she'd heard about the spikes she didn't think twice about coming back for their regular walk. But the story did give her pause.
"I've lived here most of my life and I live a 10-minute drive from here, so I won't stop coming but it is kind of creepy," Schmidt said. "I feel really comfortable being in the woods. I'm not really worried about animals or anything like that — it's more like, what is some person going to do?"
It seemed "really bizarre," she said, that someone would intentionally do that in such a well-used, well-loved place. Especially with the Assault on Blackrock race coming up.
Nobody is more aware of how the timing lines up with the race than Brian Barwatt, race organizer. This will be the seventh year for the grueling Assault on Blackrock, which encompasses a 7-mile loop from Pinnacle Park to Blackrock and back down again — 2,770 feet of elevation gain. All proceeds benefit the Clean Slate Coalition of Sylva, a nonprofit helping women facing serious life challenges build new lives.
The spiking occurred sometime before Saturday, Feb. 11, when a runner wound up in the hospital after impaling his foot on one. It was thought to be an isolated incident, said Sylva Detective Doug Farmer, until someone else stepped on one Saturday, Feb. 18, but did not wind up with a pierced foot. That same day, Barwatt and Police Chief Davis Woodard hit the trail, removing about 30 nails from the trail system. The following Monday, a larger group comprised of town maintenance employees, police officers and volunteers returned for a more thorough sweep of the trail, finding another 10 to 15 nails. The trail, which was closed Feb. 18, reopened on Tuesday, Feb. 21.
The spikes were mostly 16-penny nails with the heads cut off to form a spike, Farmer said.
"Somebody definitely had some forethought into this," he said.
They searched in groups of four, Barwatt said, with one person going in front with a leaf blower to expose any nails hidden under the debris and two more following to locate any overlooked nails. A fourth person brought up the rear, searching the area with a metal detector. The whole endeavor took a full day, six to eight hours, and Barwatt feels pretty good about the results.
"I feel pretty confident based on the method that we did, that they're all gone," he said.
No nails were found within 2 miles of the Pinnacle Park parking lot, Barwatt said. The spikes started at the junction of the West Fork Trail and the spur leading to the Pinnacle. They were laid all along the spur trail and then up the West Fork Trail to its convergence with the East Fork Trail and leading down to the eastern boundary of Pinnacle Park where it meets private land along Parris Branch Road.
"In my opinion it had to be someone local who knows that area, because not many people know how to access the park up there," Barwatt said.
As to why they did it, Barwatt said, he's at a loss.
"It's really boggling to try to understand what their intentions were because my first thought was, yeah, it's for hikers, but if there's nails going all the way out there (to Parris Branch Road) I don't think people hike out that way," Barwatt said.
Sometimes people illegally four-wheel up there, he said, but because the nails go all the way out to Pinnacle, that theory doesn't completely work either.
"I don't know what they were thinking," he said.
For its part, the Sylva Police Department is still investigating the incident and hasn't reached any conclusions as to who did it, or why. But it hopes to find out and is offering a $1,000 reward for information leading to an arrest.
"There will be other efforts to go through and check the trail and make sure it is safe for race day, but right now we're following every lead we can follow and checking every resource we can to come up with a suspect," Farmer said.
Exact charges won't be determined until a suspect is arrested and more is known about the crime itself. However, Farmer said, assault would be a likely charge because the crime involved foreign items used to inflict injury upon someone else. North Carolina also has a statute that prohibits injury to property such as trees and crops.
"They drove those nails directly into the root system of the trees," Farmer said. "To remove those we had to cut sections of the root system out."
When the spikes were first discovered, Barwatt couldn't help but wonder how the incident would impact the race. But as the story went national, registration only increased. By the end of February he had more than 50 people signed up, while usually the number is more like 40. He's expecting more than 100 people by race day, provided the weather is good.
"I'm at my highest registration ever," he said.
That's a good thing, both because of the cause he's raising money for and because of the pure experience of discovering Pinnacle Park. Barwatt moved to the area 12 years ago and started exploring the park in his quest to reach Blackrock, which he'd seen looming tantalizingly over Sylva. The trail became a regular feature of his training runs for mountaineering expeditions he conducts all over the world.
Then, he realized that there were actually two trails, not just one, that looped up to Blackrock.
"I went down the East Fork Trail and realized that went all the way back to Pinnacle Park and thought this would make a cool semi-loop trail," he said. "It fit everything I thought would make a good trail race."
The rest is history, and Barwatt hopes the spiking soon becomes an isolated incident buried somewhere in the past.
"We've never had anything like this happen here," Farmer said, adding that the spiking was "pretty malicious."
Similar instances have occurred in other places around the country, but not in the local area, at least not in recent memory.
Cathy Dowd, public information officer for the National Forests in North Carolina, said that she doesn't know of any such thing happening in the Pisgah or Nantahala national forests for at least the last 10 years, and probably longer.
There was one report last summer of nails being scattered on the Bennett Gap Trail near Brevard, she said, but the nails weren't installed upright in the ground like those at Pinnacle Park.
"If you were walking along and you hit it right, you could have hit your foot with it, but it wasn't nailed," she said.
Christine Hoyer, backcountry specialist for the Great Smoky Mountains National Park and a former Sylva resident, said she's never heard of any such thing happening in the park or anywhere else in the local area.
"I would categorize the Pinnacle Park situation of deliberately planting spikes on a trail as very unusual," she said. "I have never heard of a similar case of this occurring on a trail."
Barwatt hopes to see this unpleasant incident fade to the rearview quickly.
"It's kind of tough," he said. "I've just been trying to tell people that we have the problem taken care of."
Tell what you know
The Sylva Police Department is offering a $1,000 reward for information leading to the arrest of the person responsible for planting spikes in the trails at Pinnacle Park. Call 828.586.2916.
Run the race
The 7-mile Assault on Blackrock will start at 9 a.m. Saturday, March 18, climbing 2,770 feet in elevation from Pinnacle Park and raising money for the nonprofit Clean Slate Coalition. Registration is $25 at www.raceentry.com.