Archived Arts & Entertainment
The weight of desire: David Joy releases second book
Wednesday, March 01, 2017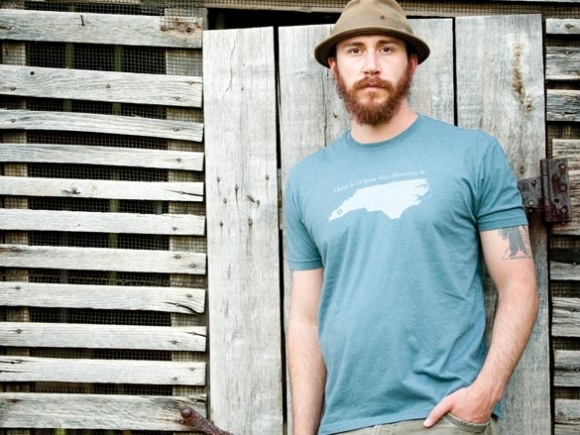 What would you do?
A pile of drugs. A stack of cash. More money than you've ever seen in your life, and more illegal fun and chaos than you ever thought possible. And yet, while standing at this crossroads there's a dead body on the floor, bullet hole through the head, blood spilling across the floor, ever closer to your shoes, and also your link to the situation.
In his sophomore novel, Jackson County author David Joy kicks the doors wide open with The Weight Of This World (out March 7 on Putnam Books), a rollicking, methamphetamine fueled drug-deal-gone-bad odyssey through the backwoods and back roads of Western North Carolina. It's that line between what is right under the eyes of God and what is rightfully your — perhaps — one and only chance for something more. It's a line as blurry as your eyes and thoughts while trapped in the confines of hard drugs and a social system where you were as forgotten or disregarded as quickly as you were born.
This second offering from Joy doesn't stray far from the darkness and peril of his highly acclaimed debut work, Where All Light Tends to Go. But, what sets Joy apart from others in his field, is the mere fact he knows the rugged landscape and gritty characters he writes about. He knows the infinite circulatory system of dirt roads and dark depths of those hiding in the coves and hollers most folks 'round these parts either avoid or simply are unaware of — under the radar and out of sight.
And yet, Joy himself is one that also flies around Jackson County unnoticed. In person, if you can track him down, he's friendly and engaging. But, you also get the sense, if we all just left him alone to simply write and fish in Southern Appalachia, never to be bothered by another unfamiliar soul or deadline obligation, then, maybe, he finally found his own Shangri-La.
But, for now, the spotlight grows brighter, hotter on Joy, a man on a mission, and a far cry from his early days as a writer for a small local paper, now touted as one of the bright flames of this next generation of southern noir novelists.
Smoky Mountain News: How has your life changed since the release of the first book? You're a very private, low-key person, to which I wonder how you deal with the attention and such?
David Joy: I don't know that my private life has changed all that much. I still keep a small group of close friends. I still lean toward folks that are a good bit older than me. I still spend a lot of time alone in the woods. And I'm still a whole hell of a lot better at fishing than I'll ever be at writing. What's changed, I guess, is that I've traveled a good bit now. Before all this, I'd never really left North Carolina. Until I went to New York to sign that first book contract, I'd never been on an airplane. That first book tour was 19 cities in 21 days, and the paperback tour was another 12. At this point I've been all over the country and to France, and that's something I never really anticipated. I still don't care for the travel all that much and I still have a lot of anxiety around people, but maybe I'm getting a little better at it.
SMN: How have the expectations changed, or have they remained the same? It's one thing to want and aspire to be a novelist, it's another to reach that milestone and look around…
DJ: I think the expectation has always been just to tell a good story. I don't know that I ever really expected a book to land at a "Big Five" publishing house (Putnam Books is an imprint of Penguin Random House). I guess I hoped one day something would, but I certainly didn't expect it. The only expectation has always been the story — to tell the best story I can and to do everything in my power to get the language right. That's still the goal. I don't see a day coming where I don't have that desire to create. The hope now, I guess, is that the stories continue to get bigger. That's really the sign of a writer that's worth anything — that his or her scope has expanded over the course of their career. I think with this second book I can say that it has. The hope is for that to continue. I've said time and time again, I'm looking forward to the book I write 20 years from now. I want to see what I write when I'm 50.
SMN: What has that experience, now as a full-time novelist, traveling and meeting folks receptive of your work, shown you about your dreams, your craft, and ultimately you as a person in general?
DJ: I think it validates what you're doing. When you walk down a street in Vincennes, France and someone runs up to you to tell you how much they love your work, that's a feeling that's hard to explain. I certainly never expected that kind of stage. I think everybody wants to be recognized for what they do, whether you're raising a family working 60 hours a week as a housekeeper or selling insurance for a living. Everyone wants their work to be appreciated. That desire doesn't change. So it's nice when you get that validation, when you see that people appreciate how hard you've worked. It makes all that time waking up from dreams and listening to imaginary voices a little less crazy, a little more worthwhile. Maybe.
SMN: The main characters in your books are dark and flawed, but also have this thread of redemption, and innocence lost, but they're always chasing after it. How much of yourself do you see in your characters? Or, if not, why do you tend to create these characters? The idea that conflict is what pulls readers in, or simply you're trying to connect with some deeper meaning in yourself and your own backyard of Southern Appalachia?
DJ: I think the most important job I have is to show the humanity of every character I write. When you're telling the kinds of stories I tell about the types of people I'm writing about, you carry a tremendous obligation to get to that humanity, and that's not an easy thing to do. We're talking about drug addicts and thieves, people capable of committing horrifying acts of violence. We live in a world where we're able to put a great deal of distance between "us" and "them" for the sake of comfortability. We live in a world where it's easy to demonize those people, to say to ourselves, "I'm nothing like them." The problem with that is it leaves little room for dialogue, and without conversation you can never address a problem. I was reading a review of this novel recently and a woman said, almost angrily, "He made me care about these people!" That's about the highest compliment I could ever hope to get. I made them care. The reality is, as much as I wish it weren't true, that's a very hard thing to do.
SMN: What is it about the mountains and people of Western North Carolina and Southern Appalachia that have made it so appealing to readers? What do you see and feel as someone who is rooted in this rugged landscape? And how does that filter into your words?
DJ: This is a difficult question in the sense that outside of this region I always feel obligated to try and tell people how impossible it is to get any sort of singular understanding of this place. People who aren't from Appalachia have this very narrow-minded idea. I had a woman ask me once whether people back home liked my books, to which she corrected herself by asking, "Or can they read?" My skin was crawling and I had to fight off the urge to go absolutely ape shit, but I managed to look at her calmly and say, "Yes, we can read," glancing down at my boots and adding, "We even have shoes." The reality is that you're talking about a region that stretches from the hill country of Mississippi to New York, an area covering 205,000 square miles across 420 counties in 13 states. All of us in Jackson County don't know a thing about the coalfields of Kentucky and West Virginia. We don't live with mountain top removal. The biggest issue facing our mountains is land development. What I'm getting at is that being a writer in this region carries a great burden of trying to show people how complex this place really is. The burden's even greater when you're writing the kinds of stories I write, stories that outsiders like to point to and say, "Yep, that's Appalachia." Personally, I never set out to write books about Appalachia. I set out to write the kinds of stories I like to read, and the hope has always been that the truths are broader than setting, that what's captured on the page speaks to the universal. As for why I set my stories here, it's because it's the only thing I know. When I see a landscape in my mind, it's filled with mountains and I know their names. When I hear a character speak, he'd say, "branch," before he ever thought to say, "creek."
SMN: What is the state of the novel in the 21st century, in an era of fast-priorities and instant gratification? Why it is important to have these works to sit with and ponder, now more than ever before?
DJ: The short story writer George Saunders had this idea that fiction serves as empathy's training wheels and that's an idea that has always stuck with me. Fiction allows you to enter the lives of people you otherwise might never take the time to know or have the chance to meet. That's the way you start to understand another person's life is to sit down, share a meal, and hear them out. Fiction sets the table for that. And more than anything, it forces you to keep your mouth shut long enough to listen. That's the cure for many a problem — sitting quiet and listening.
Want to go?
Author David Joy will present his latest book The Weight of This World at 6:30 p.m. Friday, March 3, in the Community Room of the Jackson County Public Library in Sylva.
Books will be available for sale at the event. Reserve a copy at www.citylightsnc.com. The event will be presented by the library and City Lights Bookstore.