Archived News
Jackson leaders debate whether utility hookup fees are too high
Wednesday, March 01, 2017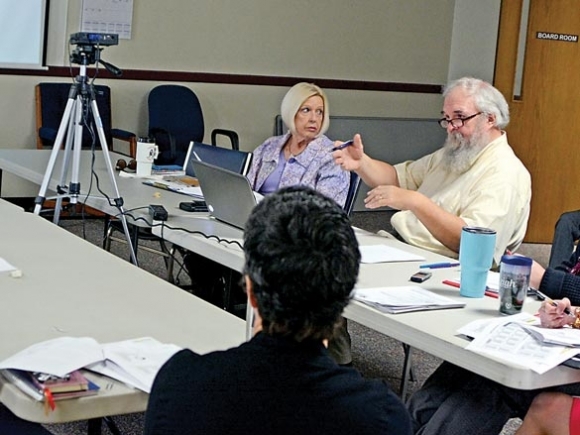 An unusual number of building vacancies has peppered downtown Sylva this winter, and as town leaders have scratched their heads to figure out why, the fee structure of the Tuckaseigee Water and Sewer Authority has come under fire as a possible culprit. And that's led to a larger discussion about whether that fee structure is inhibiting the area's overall economic development.
While TWSA also charges monthly usage-based fees to its customers, nearly 30 percent of its budget for capital improvements comes from impact fees — hefty fees levied when new users tie onto the system. Fees are calculated based on how much water could possibly flow through a building at any one time, and they can total in the tens of thousands of dollars. For example, a 54-bedroom residential development would incur $38,400 in water and sewer impact fees, while a 120-seat restaurant with retail space would incur $44,900 in impact fees.
Sylva's town board has been taking concern about the impact fees seriously and held a two-hour meeting last week with TWSA Director Dan Harbaugh to get a handle on why the fees are charged and whether there's a better way to go.
"It's a complicated issue, and that really makes it a difficult issue to tackle because to get a good grasp on what's really going on with it you need a whole lot of background information," said Sylva Commissioner David Nestler, who has been on the TWSA board for two-and-a-half years. "So even in a two-hour meeting it's difficult for other board members who aren't on the TWSA board to understand what's really going on with impact fees."
Not always apples to apples
Compared to other utilities in the region, TWSA's fees for first-time users are abnormally high. For a commercial property producing 160 gallons per minute each for sewer and water, TWSA would charge a combined impact fee of $78,600, according to a comparison chart Harbaugh compiled. For Waynesville, the number would be $44,267; for Franklin, $14,400; and for Bryson City — which is not included on the chart — just a $2,200 tap fee.
The real figures may actually be even farther apart, because TWSA's impact fees are calculated based on something called instantaneous peak flow. Basically, the number measures how much water and sewer could be required at any one time if all the taps were flowing and all the toilets were flushing simultaneously. Other entities use different metrics. Waynesville's is calculated based on gallons per day used as calculated by the N.C. Department of Environmental Quality. Franklin's is calculated based on meter size.
But comparing TWSA's fees with those of surrounding municipalities isn't an apples-to-apples comparison, either. TWSA is an authority, not a municipality. And that means it's not allowed to use tax dollars to fund its operations.
"Municipalities typically have more diverse revenue sources and interests," Harbaugh told Sylva's board.
Municipal service areas also tend to be more constrained than that of TWSA, with people living relatively close together so the cost of new connections is less than in rural areas, where there's more space between the various houses and businesses. Municipalities can pick and choose whether to let users tap on from outside city limits and can charge higher fees to those customers.
That's not how TWSA operates, and Harbaugh made it clear to the board that future infrastructure demands will make it critical that TWSA's revenues stay up as time marches on.
Over the next 20 years, he said, there will be $17 billion to $26 billion of water and sewer infrastructure needs statewide, but opportunities for grants are drying up. Future grant funds will meet only an estimated 7 percent of those infrastructure needs, Harbaugh said, and state grants are usually aimed at projects to sustain existing infrastructure, not at expansion projects.
"Either local governments like us are going to be borrowing money from community banks, or we'll have to take money from whatever reserves we've got," Harbaugh said, adding that the reserves are modest at best.
There's plenty of work to be done. Pipes as old as 100 years are still in service in Jackson County, creating issues due to the materials they're made of, their size or just sheer wear and tear. Add to that the need to expand services as the county grows, and it's clear why TWSA needs to guard its income stream carefully.
Issues with impact fees
But are impact fees the answer?
Nestler, one of the newest members of the town board after his election in 2015, has been the strongest voice in opposition to the impact fees.
Yes, TWSA faces unique challenges compared to the municipal systems it neighbors. But it competes with those areas for business, so being too out of line with their fees is risky.
"If it turns out that the other water and sewer authorities across the state are in line with us, it doesn't really mean much," said Nestler, who is on the TWSA board. "If we're competing for businesses and restaurants in our area, we have to be in line with the counties around us. And when we do that, it's shocking."
Nestler believes there's a better way to collect revenue than the system that's in place now.
Currently, businesses pay the same impact fee regardless of whether they fold in a year or blossom into a decades-old institution. If a business closes, it doesn't get any part of the impact fee back, even though it never wound up needing the future system improvements that the fee was designed to cover.
However, the next business that moves into that location can reap the benefits of an already-paid impact fee — sort of.
The next tenant can use the allocation purchased by the previous occupant without paying any additional impact fee, but only if the owner has kept on paying a monthly charge, called a system assurance fee, while the building was vacant. The building is allowed to sit empty for a while — up to a year — without any payment made, but if it goes to five years with no payment, the allocation is lost. When someone new moves in, they have to pay the impact fee all over again.
"I guess the root of the problem is the allocation can be taken from you — it's never anything you truly own," Nestler said in the meeting.
He also noted other problems with the location-based impact fee. What if, for instance, a start-up restaurant is so successful it decides to move to a bigger space? The allocation wouldn't follow the business during the move, and, depending on the allocation status of the new space, the owner could be hit with a massive impact fee yet again. Or what if the business simply decided to expand? It would have to pay an impact fee based on the potential water and sewer the additional space might require.
New TWSA customers can also lose their allocation if they miss out on the performance period aspect of the deal. After allocation is purchased for a new project, there's a deadline to finish the project without losing the allocation. That timeline has loosened some, Harbaugh said. In the past, there was a set amount of time to finish with no consideration for the complexity of the project. Now, project size and complexity are factored in, so the performance period can be as long as 400 days for larger commercial or institutional developments.
All these stipulations and complex formulas, Nestler said, make the policy just plain confusing. It could be challenging for a newcomer to Jackson County's business world to understand how the various charges are calculated and what to expect when working with TWSA.
"I'm just surprised that this policy is so complicated and not easily available to someone who's trying to navigate it," Nestler said during the meeting.
Reasons to stay
Most TWSA members can see the issues associated with impact fees, but while several members have said they're open to having the discussion, Nestler is the only one who's actively advocating to do away with impact fees.
But the money has to come from somewhere. Impact fees have been an important part of TWSA's business model since its early days in the 1990s, allowing usage-based fees for existing customers to remain substantially lower than they would be if impact fees vanished.
"I don't think it's fair to have all the rate-payers pay an increased bill," said Dillsboro Mayor Mike Fitzgerald, who chairs the TWSA board. "I wouldn't want everyone that's on the system to pay an increased fee so someone else could have a business venture that could or could not fail."
And what about the people who have just paid their $40,000 impact fee? How would they feel if they learned that, not only would nobody else have to pay such a fee in the future, but they'd now be paying a higher monthly rate as a result?
"People over the years, including myself, that has paid impact fees; what we're going to wind up doing is paying the impact fees for someone else that doesn't want to pay one," said Sylva Commissioner Harold Hensley, in his seventh year on the TWSA board.
Both Hensley and Fitzgerald see the challenge posed by requiring new businesses to pay such high upfront fees, especially when that business is a tenant in a building and not its owner. Who would want to sink in $40,000 for an asset that the landlord will get to keep when the lease ends?
But the two board members feel that TWSA has already solved that problem by its rollout of the allocation rental option in 2015. The policy gave users the option to pay a monthly allocation rental fee — say, $40 or $50, depending on the property — rather than forking over a huge sum up front.
"Instead of being prohibitive, I think it's very feasible to make a monthly rental payment," Fitzgerald said. "I think it works together real well right now."
The flip side of that is that the rental option means that the user will have to make those monthly payments in perpetuity. There's no rent-to-own option. Nestler compares the deal to paying a mortgage on a house rather than up-front cash, except that the mortgage never gets paid off. In his opinion, the rental option isn't a solution at all, but it is proof that conversion to a monthly usage fee that cuts out impact fees is feasible.
"If you're going to collect it that way, by the month, why don't you just change the system?" he said.
Pondering a transition
TWSA keeps two separate budgets — an operating fund and a capital fund. The operating fund, budgeted at $4.35 million for fiscal year 2016-17, draws from sources such as connection fees and user fees to cover TWSA's cost of operations.
The capital fund, budgeted at $1.14 million for fiscal year 2016-17, is where impact fees come in. The fund pays for the cost of maintaining and improving capital assets, and 27.8 percent of its revenue comes from impact fees. The rest comes from system improvement fees, a monthly charge that existing users pay based on their use.
Nestler feels that it makes a lot more sense for capital improvements to be funded through a monthly usage-based fee like the system improvement charge rather than through the impact fee, which is not based on actual use but rather on what he calls a "wild guess number" as to what the maximum possible flow could be. While Nestler acknowledges that changing the fee structure would cause some problems in transition, he feels it would ultimately result in a fairer system. He also thinks it would be more sustainable, as the new development that spurs impact fees isn't always easy to predict going into the future. And he's not deterred by the possibility that people who have already paid their impact fees might be upset by their elimination.
"If you paid the impact fee already, that was wrong," he said. "I think that was a bad policy on TWSA's part, but fixing it going forward shouldn't be what makes you mad. What should make you mad is that you had to pay it in the first place."
However, eliminating the impact fee would require a significant increase in the system improvement charge, if that's how TWSA decided to make up the difference. The charge would have to increase from $1.03 to $1.43 per 100 gallons, Harbaugh said — a 38.9 percent increase.
TWSA could also make up the difference by enacting new fees.
For example, it's within TWSA's authority to make connection to the system mandatory for people who have access to a water or sewer line. TWSA can also charge an availability fee to people who live within a certain distance of the water and sewer line but choose not to connect.
Those are not fees that TWSA currently charges. But, Harbaugh said, if the board were to get serious about doing away with impact fees, they should be considered. Because no matter what, TWSA must have enough money to provide the capacity that Jackson County needs to grow.
"We don't want to get into a situation where we're curtailing growth because we don't have a baseline capacity in the area," he said.
TWSA members speak out
TWSA was formed back in 1992, when issues plaguing the various water and sewer utilities in Jackson County caused the municipalities to band together, consolidating their various systems under the umbrella of TWSA. Today, TWSA operates 79 miles of water lines and 40 miles of sewer lines, with a combined capacity of 5.7 million gallons per day.
The authority is governed by an eight-member board with representation from Sylva, Jackson County, Webster, Dillsboro and Western Carolina University. The Smoky Mountain News asked each member for their take on TWSA's fee structure and whether impact fees should be revisited.
"The system works. It's been working. It's a good system, we tweaked it and I don't see any reason to raise folks' monthly rates so someone else doesn't have to pay an impact fee."
— Mike Fitzgerald, TWSA chairman and Dillsboro mayor
"If we lower the impact fee, my fear is that all our customers would pay for that lowered fee, and a lot of people are on fixed incomes and it would become a burden, for some of our elderly in particular, to keep shelling out dollars for a major increase. I really feel like it would have to be a major increase rate-wise to be able to afford that, and I'm open to suggestions otherwise."
— Brenda Oliver, TWSA vice chair, former Sylva mayor
"I've heard a lot of stories, a lot of anecdotal evidence that yes, they (impact fees) are (impeding economic development). I think a lot of that is just people's perception too. I've heard enough stories that I think there's probably some truth to it but I don't think that's all of it by any means."
— Ron Mau, Jackson County commissioner
"If you cut impact fees, you have to pass that along to somebody else. If we have a business here that's just paid $40,000 for an impact fee and we decide to cut them out, what are we going to do — reimburse people who paid their impact fees? I'm against cutting impact fees."
— Harold Hensley, Sylva commissioner
"I think it (the impact fee) came out of a time when there was unprecedented growth in the county and it was an easy source to take advantage of. I don't think that model works anymore. I think it's really hurting businesses and residences in the county."
— David Nestler, Sylva commissioner
"No one particularly likes the impact fees, but TWSA has shown flexibility in the past in helping provide rentals for impact fees. It's a constantly evolving process in how to serve better and more fairly. I'm just hesitant to consider any drastic changes, mainly because my loyalties lie in protecting regular paying customers of TWSA."
— Tracy Rhodes, Webster mayor
"TWSA has got to figure out how it can provide future capacity for the demands that are going to be required. What may end up being unfair to a few now would be extremely unfair for everybody if there's no (water/sewer) system in place to do that."
— Tom Sawyer, Jackson commissioners TWSA appointment
Mike Byers, vice chancellor for administration and finance at Western Carolina University, is also on the board but was not available for interview by press time.