Archived Arts & Entertainment
This must be the place: I'm a white man, and I know nothing
Tuesday, February 21, 2017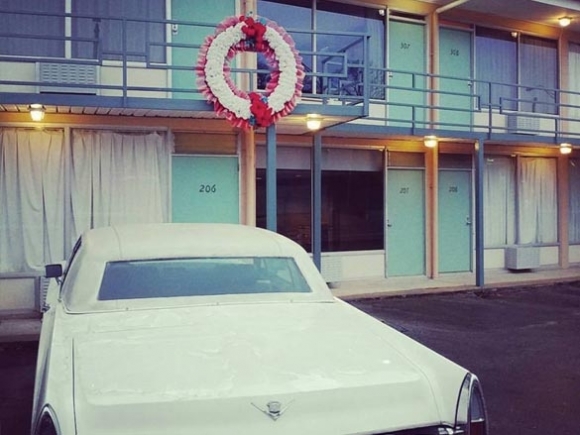 It wasn't the film that was shocking. It was the mere fact I had previously thought "I was aware," and yet actually have fallen so short in my pursuits.
Sitting in the Grail Moviehouse in downtown Asheville last Monday evening, I watched in awe the new documentary "I Am Not Your Negro," which takes an unfinished work of the late iconic African-American writer James Baldwin and puts it against the deaths of his friends Medger Evers, Malcolm X and Dr. Martin Luther King, Jr., all while mirroring it to where we as a country and a society stand today.
When the film ended, I was the first to jump up and walk out of the theater, simply to stop myself from crying, my body from shaking in witness to the horrors and injustices inflicted upon our fellow Americans since the birth of our nation.
The injustice of black Americans isn't something new. It's actually something we're aware of each and everyday of our lives. What the film did was provoke me into the thought: "If you're aware of it everyday, what are you doing to face the issue, and to make real and positive change in an effort to eliminate the struggle?"
Way up in the pasty white Irish and French Catholic communities on the Canadian border of my youth, the main "pop culture" exposure we had to African Americans was through hip-hop acts like Tupac, Wu-Tang Clan, Notorious B.I.G and Lauryn Hill (though we liked the beat and didn't pay attention to the lyrics), television programs like "Cops" or "Maury" and whatever our parents or older peers told us they saw and heard while working in the local prisons, which were filled with folks "shipped up the river" from New York City and other urban areas.
And when I was a teenager, I only really knew and was friends with one black person for most of my existence leading up to college. His name was David and, in essence, he was "more white" than most of us, with his well-kempt appearance, tucked in shirt and million-dollar smile. We became friends through track-and-field, dubbing ourselves "The Dynamic Duo," seeing as we always ended up being the two fastest guys on those memorable and victorious relay teams (and 800-meter dashes) together during our early high school years. I think of David, more so in recent years when I found out he had committed suicide after years of battling PTSD following his time in the U.S. military overseas during "The War On Terror."
In college — an upscale, private liberal arts school in New England — the majority of the black peers I knew were on the basketball team, these huge men standing out so vividly when placed against the countless upper middle-class white kids from the Long Island, Jersey and Boston suburbs. And as much as they were just as smart and curious as everyone else on that campus, the focus was always on their athletic ability, and on what they could do as specimens brought to the institution to someday bring a conference championship home.
And it wasn't until I haphazardly landed a job at an educational center in the heart of New Haven, Connecticut, where I was one of the only whites in the entire building, that I started to realize just how much I don't know about what it means to be black in America. During my eight months there, I found myself in such a realm of connection, of sheer compassion and friendship. So much so, that I walked away from the school with a deeper sense of self and of purpose when approaching the racial bullshit of the world-at-large.
Unless you can physically and emotionally walk in the skin of black man or black woman, you'll never truly know just what their eyes see, their ears hear, and what strength their hands have when holding down anger and sadness in the face of oppression and injustice.
In my travels throughout America, I've seen the best and worst of what this country has to offer. I've driven through Gary, Indiana, where I saw abandoned building after abandoned building, where the only property that seemed to show any life was, ironically, the nearby funeral home. I've walked into a liquor store on the wrong side of the tracks in Savannah, only to be told — nicely — by an elderly black man, "You better get what you need to get and get out of this neighborhood before it gets any later, son." I've stumbled drunk and unaware into a Popeyes chain restaurant in the depths of Harlem at midnight, only to order fried chicken through bulletproof glass as the black girl behind the counter gave me an inquisitive look as to why in the hell I was there in the first place.
And recently, I hit the road, on an extended road trip, that led me into Memphis. In search of what I had heard was the best barbecue in the South, I parked the truck and got out in the slight drizzle of a cloudy late afternoon. Emerging from the truck, I could smell the lip-smacking barbecue of Central BBQ, only to immediately see the Lorraine Motel on the other side of the parking lot. I stood out there in silence, in the rain, and looked up at Room 306, the balcony just outside the door where Dr. Martin Luther King Jr. was assassinated on April 4, 1968 (the building is now the National Civil Rights Museum).
I guess what remains, and what I'm trying to say, is that we as a people (all people) have a long road to go until we find peace and understanding between the races, though we all have the one, most important thing in common — we're all human. I hold out hope, for all of us, and I try each and everyday to seek justice and progress for a better tomorrow. Do you?
Life is beautiful, grasp for it, y'all.
Hot picks
1 Bluegrass legend Rhonda Vincent & The Rage will perform at 7:30 p.m. Friday, Feb. 24, in the John W. Bardo Fine and Performing Arts Center at Western Carolina University.
2 There will be a stand-up comedy showcase from 8 to 9:30 p.m. Saturday, Feb. 25, at Currahee Brewing in Franklin.
3 The Jackson County Public Library will be hosting an event "Will the Circle Be Unbroken" from 2 to 4 p.m. Saturday, Feb. 25, in the Community Room in Sylva.
4 DJ Justin Moe will host "Timeline: A Brief History of African American Music" from 5:15 to 7:15 p.m. Saturday, Feb. 25, at the Macon County Public Library in Franklin.
5 The annual "Pancake Day" will be taking place from 6:30 a.m. to 7:30 p.m. Tuesday, Feb. 28, at the First United Methodist Church in Waynesville.