Archived News
In front of the lens: Tax collector faces uncertain fate
Wednesday, February 15, 2017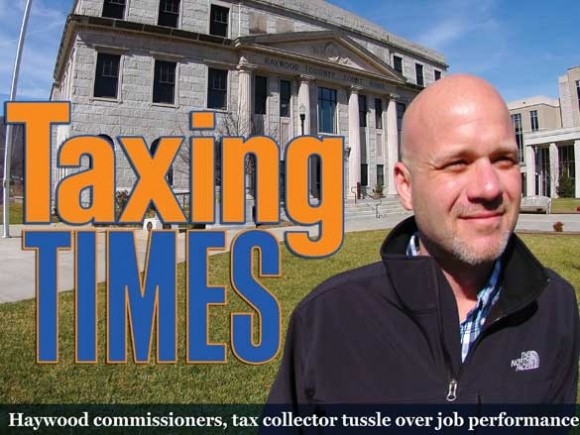 Commissioners are set to consider a resolution to make his position an appointed one, but would need the General Assembly to pass a resolution approving the measure. That may prove difficult. Historically, local bills need the support of the full local legislative delegation in order to pass muster in Raleigh. Rep. Michele Presnell, R-Burnsville, appears to be in Matthews' corner.
"Haywood County is receiving more property tax money from the elected tax collector, Mike Matthews — about 17 percent more than when the appointed tax collector was in that chair," Presnell said on Feb. 11. "I would think the county commissioners would be very pleased."
It's not clear where Presnell's numbers came from, but it does seem that at this point she is opposed to any legislative measure to make the tax collector an appointed position.
Haywood County's other General Assembly members — Sen. Jim Davis, R-Franklin, and Rep. Mike Clampitt, R-Bryson City — could not be reached for comment by press time.
The resolution that would allow commissioners to hire a tax collector was first discussed formally at a Feb. 6 meeting.
Haywood County Manager Ira Dove took to the podium to explain why Haywood County's tax collector should be an appointed position, rather than an elected one. He told commissioners that beginning in 1971, residents of N.C. counties began giving away their right to elect their county tax collectors, conceding that perhaps government — in this case, at least — is better equipped than voters to make such a decision.
"I would submit to you that this is analogous to the assessor's office, which is appointed, the manager's office, which is appointed, and to the attorney's office, which is appointed," Dove said. "Therefore, I am putting forward this resolution as requested earlier, for your consideration."
Haywood County's proposed resolution says that "the current method of selection of tax collector by election provides little opportunity for oversight of personnel and monitoring tax collection activities, as the tax collector is not subject to supervision by the County Manager and/or the Board of County Commissioners in the same manner as tax collectors in the remaining 99 counties of the State of North Carolina."
Given that the majority of the current board has either criticized or expressed concern over Matthews, the resolution's fate looked to be a foregone conclusion.
However, newly elected Republican Commissioner Brandon Rogers — who won his seat in November 2016 — asked Chairman Kirk Kirkpatrick for a public hearing on the matter.
Kirkpatrick felt that a public hearing wasn't appropriate, but acknowledged the concerns Rogers said he'd heard from a constituent, namely that because the meeting agenda was first posted on Friday, the public had less than three full days to become acquainted with the resolution and speak in support of or opposition to it.
"I think we owe it to them to hear them out," Rogers said.
Commissioner Mike Sorrells said he was ready to vote and has been consistent in his opinion that the entire issue has "brought a question on the integrity" of both the office and the county.
What Sorrells may have been referring to is Matthews' vehicular blooper reel — which includes citations for driving without a license and without insurance in May 2016, another citation for driving without a license that August and a subsequent October arrest for failing to appear in court to face those charges. At the time, Sorrells probably wasn't aware of Matthews' latest citation for driving without a license because it occurred 37 minutes before the meeting began and was served to him in his county office by Waynesville Police Officer Tyler J. Howell.
Commissioner Kevin Ensley said that in contrast to Rogers, he had received plenty of negative comments over the weekend, he was prepared to vote, he was eager to send the resolution to the General Assembly and that the public had weighed in previously.
"Unlike Brandon, I'd gotten comments this weekend about that public hearing, but I got a slew of comments," Ensley said. "The common question I'm asked is about the tax collector position. We've had public comment here, there's been letters to the newspaper. I don't mind having the public weigh in some more if we need to. I want to get this to the General Assembly and get it changed before the next election. That would be my comment. There's the transparency part of me that wants to have as transparent a process as possible and I understand what Brandon's saying about the transparency and I always fall on that side even though I'm prepared to vote for it today, but I will fall on that side if that's what everybody wants. I'll come down on that side I guess."
Commissioner Bill Upton said having an elected tax collector leads to a lack of oversight, and he described how a typical county might evaluate the position of tax collector — by establishing a set of measurable criteria, agreeing to that set of criteria and then measuring growth (or lack thereof).
"We've kind of battled this around for two years," said Upton, who was also originally prepared to vote on the measure on Feb. 6.
The resolution is now on the commissioner agenda for their Feb. 20 meeting.
How did we get here?
This saga almost sounds the plot of like a Hollywood movie: an employee's complaint lodged with a rural county government against an elected official already under scrutiny for job performance issues sparks an independent investigation that produces a secret report, which is then anonymously leaked to a small-town newspaper.
The findings of that leaked report and the circumstances surrounding its release prompt the target of the investigation to fire off a complaint of his own with his reputation, his job and the county's budget all on the line.
But this gritty drama is real life in Haywood County.
At some point in 2016, a Haywood County employee filed a workplace complaint against Matthews. Such personnel-related documents are generally not public record, so it's unknown who filed it or why, but the complaint caused the board of commissioners to contract with attorney Missy Spainhour of Asheville in November 2016 to investigate the allegations.
Matthews is cast in an odd role; as the state of North Carolina's only elected county tax collector he is technically a county employee, but is not subject to the same kind of oversight from commissioners as a department head might be.
Narrowly elected in November 2014, Matthews defeated longtime incumbent David Francis, a Democrat, in a contentious election made worse by questions about Matthews' qualifications and claims that some voters thought they were voting for a different Mike Matthews.
During the campaign it was also revealed that Matthews had faced financial trouble in the past, including a debt lawsuit, an unpaid tax bill and two wage garnishments from the very county he sought to serve.
Matthews himself said he was surprised he'd even won.
Let the conflicts begin
Even before taking office, Matthews went from the limelight to the spotlight.
His past financial troubles contributed to his difficulty in obtaining the requisite personal liability bond, which in turn prevented him from taking his oath of office on time.
Francis, meanwhile, stayed on as the county's tax administrator — a more comprehensive position with a higher salary than that of tax collector. Some Republicans accused the Democrat-majority board of trying to circumvent the results of the election by retaining Francis. Democrats on the commission countered by stressing the importance of the job, as the county derives well over half its revenue from tax collections.
Then-chairman of the board, Democrat Mark Swanger, told The Smoky Mountain News just prior to Matthews taking office that if Matthews wasn't successful, it could affect county budgeting.
Then-commissioner and current chairman Kirkpatrick said at the same time that if Francis didn't agree to stay, it would put the county in "serious jeopardy."
Matthews has maintained that the scrutiny was the result of political animosity resulting from his defeat of Francis and not related to his own financial history.
Thus, essentially serving under the man he defeated at the polls and facing criticism from the board he reports to, Matthews and county officials predictably began to clash behind the scenes.
And it wasn't just Swanger and Kirkpatrick.
Although the commission had a 4-1 Democratic majority at the time, even Ensley — the board's lone Republican — earned Matthews' ire. They come from vastly different wings of the party, and Matthews has called Ensley "the furthest thing from a Republican that I've ever met."
Ensley said their relationship got off to a rocky start.
"Around October of 2015, I went down to his office, because I'd heard from people who work at the courthouse that he hadn't been around much," said Ensley. "He wasn't there but he called me and said he was there 'all day every day.' We got into some kind of an argument, and it was just all downhill from there."
Spainhour was sought as an impartial, outside party because she would thereby eliminate any thought that the investigation of the initial complaint might be — or become — a politically motivated fishing expedition.
The report and its findings
The county hasn't released Spainhour's report. Despite repeated requests for a copy and despite the fact that excerpts were published in The Mountaineer, the county continues to insist it's confidential because it's a personnel record. Dove and County Attorney Leon "Chip" Killian maintain the document is confidential, but some commissioners think it should be made public.
According to reports in The Mountaineer, the original claim against Matthews that prompted the investigation was unfounded.
The Mountaineer's excerpts, however, revealed a number of witness statements containing allegations of Matthews' absenteeism inhibiting departmental functions, alcohol use during working hours, office naps and generally unprofessional workplace communication, among other things.
Matthews disputes all of it. He deemed the investigation itself "bullshit," called out Ensley for not communicating concerns and expounded on the reasons for his perceived persecution, which include political animosity and a difference in his collections philosophy. He also says he has $1,700 worth of legal bills that the county refuses to pay.
"They [county officials] have that mentality that 'I'm going to beat you over the head and take it from you' as opposed to giving you a call and saying, 'Hey, what can we work out?' That's what I've been trying to do," Matthews said in regard to his preference to avoid attachments, foreclosures or garnishments when possible.
Matthews doubled down by alleging that commissioners are angry because they've not been able to profit from foreclosures like they have in the past under Francis.
"The gripe that I have, and you could speculate on this however you want to, is that it's a revenue stream that they're not able to purchase, their friends aren't able to purchase, or however — they're losing income off of this somehow," he said.
In yet another twist, Matthews has gone from being complained about to being a complainant himself.
On Feb. 10, Matthews — who has seen the Spainhour report but won't release it on advice from his attorney Scott Jones — filed what he called a formal grievance against Dove, the board of commissioners and "anyone else who may have been responsible for leaking the investigation report to The Mountaineer."
The letter, addressed to County Human Resource Director Kathi McClure, alleges that "non-public records may have been mishandled" and "closed session laws may have been violated."
"Commissioners can make a decision to investigate a personnel matter behind closed doors," said Jonathan Jones, director of the N.C Open Government Coalition. "Even though the tax collector is elected and is not supervised by the commissioners, he is still an employee of the county and so it would be part of his personnel file, I think. Similar issues have come up when sheriffs have had troubles."
Commissioners Mike Sorrells and Kevin Ensley stopped short of calling for an investigation into how the newspaper obtained the report but said they were at odds with Killian and Dove on the status of the document.
"We haven't discussed it," Sorrells said of a potential investigation. "I think we all felt like it's a public document."
"In my opinion, that's a public document, because it concerns an elected official," said Ensley.
The final cut
Spainhour's investigation — something Matthews called "Mark Swanger's last middle finger to me" — apparently concluded without finding any serious, impeachable behavior. Not that he could be "impeached" — North Carolina generally has no procedures short of felony conviction that would allow voters to remove or recall a local elected official from office.
What it did find, however, was a series of credible allegations that aligned with some of the past criticisms of his behavior as tax collector.
Whilst weighing all of this — plus the public comments called for by Rogers — commissioners must on Feb. 20 again take up the matter of whether they think it's a good idea to join the other 99 counties of North Carolina in appointing a tax collector, or continuing to elect one.
As written, the county's resolution seeks to change the position to an appointed one and terminate the current tax collector upon enactment, meaning probably by May, if passed. Alternatively, the resolution seeks to change the position to an appointed one and terminate the current tax collector at the end of the current term in 2018.
With his reputation, his job and the county's budget all on the line, Matthews awaits the final cut of this ongoing drama still being played out before a live audience.