Archived News
New school opening in Sylva
Wednesday, February 15, 2017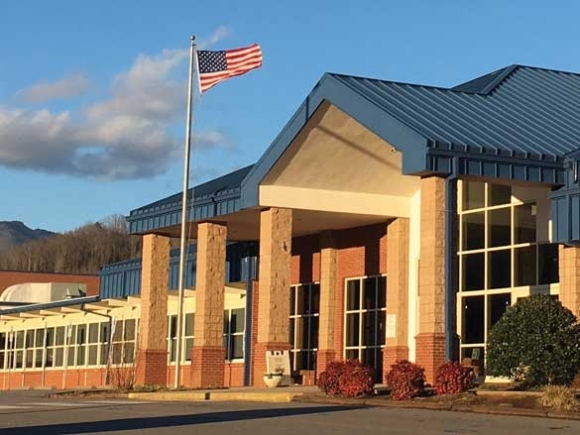 Plans are crystallizing for a new middle school in Jackson County, but it's a race against the clock for Western Carolina University and Jackson County Public Schools to meet the deadline for opening set by the General Assembly.
Dubbed the Catamount School, it will be located within Smoky Mountain High School and run by WCU. It's the result of a law the legislature passed in July requiring that eight of the University of North Carolina's 17 institutions start "laboratory schools," which will aim to develop innovative teaching methods to reach students in low-performing schools while also bolstering education programs for teachers and administrators.
WCU is one of the eight institutions selected to run a school, and it's in the first wave of schools to open, required to start in August of this year. The second wave of lab schools will open next year.
"It's hard to think of doing all the work that needs to be done between now and in the fall when it opens up," said Jackson Schools Superintendent Mike Murray.
Some of the big decisions have already been made. The school will serve grades six through eight, with 25 spots in each grade for a maximum enrollment of 75. It will be housed in the B wing of Smoky Mountain High School, which is currently used mostly for storage. It will run on the same calendar as Jackson County Schools, with the school system providing transportation and meals, and it will use the same learning standards as the public school system.
However, there's still a lot to be done. WCU must hire staff, including an administrator, teachers and any support staff needed. It's also got to market the school to parents so there will be students come August. A board of advisors must be formed. The physical space has to be upgraded to accommodate students. Myriad details related to staffing, budgets and plans for allowing students to participate in extracurricular activities must be discussed.
"The devil's in the details, and there's a lot of details in a short period of time to pull this off," Murray said.
Prioritizing partnership
To that end, Jackson Schools and WCU staff have been in conversation almost daily to make sure that, when August rolls around, the Catamount School will be ready to go. While the legislation itself doesn't mention public school districts having any role at all in how the lab school implementation unfolds — the school is solely WCU's responsibility — Murray's made an effort to be a partner from the beginning.
"I can't say enough about Jackson County Public Schools," said Dale Carpenter, dean of WCU's College of Education and Allied Professions. "They're not reluctant partners. They've been great partners. And because of that we know it's going to be successful."
The lab school concept is not a new one in North Carolina. The building that once housed the Cordelia Camp Laboratory School still stands on WCU's campus, but the current iteration of the laboratory school is almost the exact opposite of that school, known as Camp Lab. Camp Lab was a school on WCU's campus that was run by Jackson Schools. The Catamount School will be a school on Jackson Schools' campus run by WCU.
It would be easy to make a case for why Jackson Schools might root against the Catamount School's success. The law creating the lab schools states that funding will come from the per-pupil funding that the state gives to students who attend its public schools. So, if a student at Cullowhee Valley Elementary School decided to enroll in the Catamount School next year, the roughly $6,000 that Jackson Schools had been receiving to teach that child would go to WCU instead.
The school system would no longer be responsible for teaching the child, but costs don't always adjust in direct proportion to the student population. One student's transfer wouldn't cause a decrease in heating and cooling costs, for example, or in the number of support staff or teachers or buses needed. It's a calculation public schools across the state have done over and over as they've found themselves in increasing competition with charter schools, online schools and private schools.
However, Murray said he sees the lab school as being an overall benefit to the public school system — if the partnership between WCU and Jackson Schools is strong.
"It creates more opportunities for kids," he said. "The people within the high school shouldn't ever feel threatened by the early college, and the people who are in the trenches (in public schools) shouldn't be threatened by another choice. What they should be is excited that this is an opportunity."
Creating opportunities
The Catamount School will have a paid staff of classroom teachers, but it will also have hefty involvement from professors of education, as well as from students in the teaching and school administration programs. WCU faculty are "some of the best middle-level leaders in the country," Murray said, so having them directly involved in the schools will likely produce valuable insights into how to help kids learn better.
"As we look at our schedules for the fall semester, we're already making provisions for some of our faculty to be involved with the Catamount School and that be part of their job," Carpenter said.
With a campus full of expert staff and motivated students, Carpenter said, WCU is in a position to lavish expertise and personnel on the lab school, enabling a high degree of small-group and personalized teaching, in addition to innovative ideas.
To those who have been following the charter school issue, the idea of creating new schools as laboratories of innovative educational theory isn't new, and many charter school critics have alleged that charters haven't delivered on the promise of cycling educational innovation back to the public schools.
Murray, however, feels that WCU will deliver. The new school's co-location on the Smoky Mountain campus will be instrumental to that end.
"We'll have a quick pipeline out there to our own teachers," he said.
Neither Jackson Schools nor WCU had a choice in the lab schools mandate, Murray stressed. Neither organization was asked to give input before the law was passed and the mandate finalized. Some aspects of it — such as the funding mechanism and the timeline — are less than ideal. However, overall Murray believes that the concept is a good one that will benefit children in Jackson County.
He also envisions the lab school as being a boon to Jackson Schools — because of the trickle-down of innovative teaching methods, and also because of the benefits to individual students.
The new school, Carpenter said, will be open to any student in the sixth through eighth grade but will target students from schools designated as low-performing — Murray takes issue with this designation, saying that small student populations and poverty-related issues distort the numbers — and students who have tested in the low-performing category. When Catamount School students rejoin the public school system as ninth-graders, Murray said, in theory they'll return as stronger students whose presence will benefit the school system as a whole.
"Any gains we make, we'll all benefit when we transition those kids into our other programs," he said.
Fast facts
• School name: Catamount School
• Grades served: Six through eight, with 25 students per grade.
• Location: The B wing of Smoky Mountain High School
• Governance: Western Carolina University Board of Trustees, with an appointed advisory committee.
• Funding: Per-pupil state funding
• Opening date: August 2017
• Enrollment: Voluntary and open to Jackson County students. Application not yet available.