Archived News
2016: A Year.
Wednesday, December 28, 2016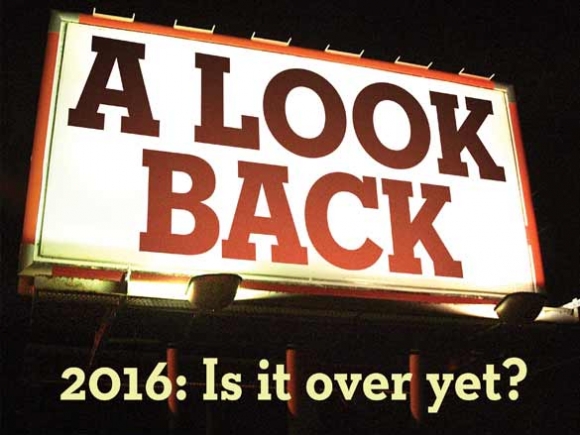 The tidal wave of negative political news in 2016 was staggering in its magnitude and emotionally overwhelming. Thankfully all that is behind us. But we can't say adios to the year's local news until our writers and editors sift through those events and mold them into our annual tongue-in-cheek spoof awards. With apologies in advance to those who can't take a joke, here's our tribute to the people and events that left an indelible mark on 2016.
The Field of Dreams Award
They knew it would be expensive. They knew it wouldn't be easy, but Macon County commissioners took the "if we build it, they will come" approach when they agreed to move forward with constructing the Parker Meadows Sports Complex in 2013. The county spent $550,000 on a 48-acre tract and then got a $5 million loan to pay for what was supposed to be only a $3 million ball field project.
It was a controversial project — two commissioners voted against it because of the huge price tag — but the end result was a world class complex with the ability to host ball tournaments to bring more people to Franklin. Parker Meadows celebrated its grand opening in 2015 and commissioners are already seeing that they made the right decision. They built it and they did come.
Sales tax revenue is up 6 percent over last year and the spikes can be attributed to when Parker Meadows was hosting tournaments. Overnight stays from tournaments will also increase the county's occupancy tax revenues, which go to promote the county as a tourism destination.
"Parker Meadows is a big contributor to that increase — half a million dollars a year or maybe more," Commission Chairman Kevin Corbin said. "Parker Meadows has essentially paid for itself and paying it off frees up $200,000 in the budget."
Commissioners voted unanimously in November to pay off the loan early.
The Meter Maid Award
Bob Scott has had an impressive career working in many fields. He was a military officer, a journalist, a captain with the Macon County Sheriff's Office, a Franklin town alderman and is currently serving his second term as Franklin's mayor.
But this past year, Scott has become the unauthorized meter maid of downtown Franklin. Downtown parking and speeding issues have really become a thorn in the mayor's side as he tries to maintain order on Main Street. He has placed "Slow down" warning signs along the street to keep people from going over 20 miles her hour and he's had the police department run radar at certain spots to catch speeders.
In addition to speeders, downtown merchants parking on Main Street is another pet peeve for Scott. Earlier this month, Scott sent a letter out to merchants asking them and their employees not to park on Main Street from 10 a.m. to 5 p.m. to accommodate more room for shoppers and tourists. While the request was for voluntary compliance, Scott might ask the board in the future to consider a two-hour parking limit on Main Street spots if the problems persist.
The Star Spangled Banner Award
Franklin officials thought the controversy over banners would end when the board of aldermen passed an ordinance last year allowing the advertisements to be hung over Main Street to promote upcoming events.
However, the banner issue resurfaced in March when a group of residents and business owners didn't get their way. They wanted to hang a banner up over town touting that Franklin had won the "Top Small Town" title from Blue Ridge Outdoors magazine last fall following an online voting contest.
Sounds simple enough, but the group of banner pushers wanted to see the banner hung over Main Street throughout the year when other events weren't being promoted. Well, that just didn't fit within the town's new ordinance, which states a banner can hang over Main Street for only a couple of weeks. Mayor Bob Scott feared allowing the Top Small town banner to hang for longer would set a bad precedent that wouldn't be fair to others.
The banner folks were miffed by the board's unwillingness to bend the rules so they took matters into their own hands. Determined to have their banner yet wave, the group traveled all over town and other scenic spots in Macon County and took pictures with the banner to post on social media.
The campaign to promote Franklin's award was successful thanks to these advocates. You could say the "Top Small Town" award was indeed the national anthem for Franklin this year.
The Holy Grail Award
"The Crusade for Broadband" could be the title of the next Indiana Jones movie starring local government officials from all the Western North Carolina counties searching for the mythical powers of high-speed internet.
It's something everyone in the mountains needs, yet it's the one thing no one can afford. Every county seems to be approaching the treasure hunt differently — collecting data, establishing ad hoc committees to explore different possibilities, encouraging private providers to install new infrastructure and developing a master plan to improve connectivity.
It's good to see all the county governments working toward improving broadband availability, but perhaps pooling all their info and resources together would put them that much closer to finding the Holy Grail.
The Olive Branch Award
The small business community in Maggie Valley has been splintered for many years with merchants taking opposing sides depending on whom they like and dislike — some are members of the Maggie Valley Chamber of Commerce while others choose to only be members of the Haywood County Hotel and Motel Association or the Maggie Valley Area Lodging Association.
Merchants may think their needs are being better met by one organization over another, but the end result has been a disjointed business community that is out of touch with what their counterparts are doing just across the road.
It's hard to mend hurt feelings or even remember why someone is holding an old grudge, but Maggie Valley Chamber should be commended for its attempt this year at trying to bury the hatchet and move forward with everyone on the same page.
In a bold and perhaps risky move, the Chamber board decided last month to change its membership structure and offer a "tier one" free membership in an effort to be more inclusive.
Chamber Executive Director Teresa Smith hopes the change will increase membership and cooperation within the Maggie Valley business community. So far the feedback has been positive.
"I think offering a free membership is the best thing because it will include the whole community — right now those who can't afford it don't feel like they're important," said Tina Snow, chamber member and owner of Momma T's Mountain Made.
The Chamber has taken the first step by offering the olive branch, but only time will tell whether local businesses will take the peace offering and let bygones be bygones.
The Negative Nancies Award
When a room full of residents and businesses sitting in town hall back in March first heard the details of Maggie Valley's proposed master plan to create a town center, the reaction was unanimous — nothing but smiling approving faces and enthusiasm.
But it only took a couple of weeks for dissension and doubt to start creeping through the valley as several business owners started poking holes in the plan.
The master plan included $7 million worth of potential projects that the town could start to implement a piece at a time or not at all, but opposing businesses wanted to throw it out completely because they didn't like one part of it. The project they opposed was widening U.S. 19 near the Market Square shopping center to make room for a grassy median and curbside parking spots on each side because several businesses would have to give up some of their parking lot space to make it happen.
A group of the master plan naysayers began to hold meetings and plotting to derail the project. Town staff and aldermen tried to tell the opposing group that the plan was not set in stone. Even if the town could get its hands on the necessary money, it couldn't take private property away from merchants without their permission — but these negative Nancies weren't buying it. They weren't going to be happy until the town threw out the idea completely.
And it worked. The town agreed to spend an additional $5,000 for the engineering team to come back and work out a compromised version of the master plan. Talk about making a mountain out of a median!
The Lemony Snicket Award
The series of unfortunate events that unfolded on Friday, Oct. 21, in Haywood County could have been pulled from one of Lemony Snicket's books — an escaped convict on the run from officers, a carjacking with a small child in the backseat, a high-speed chase and gunshots fired on a busy Main Street on a gorgeous autumn day. Unfortunately, this was not one of Snicket's dark and mysterious stories.
The unfortunate events began to unfold that morning as a Haywood County Detention Center officer was transporting two inmates to Buncombe County Jail. En route, the two inmates began a squabble in the backseat, which prompted the officer to pull over on the highway to deal with the situation. Things only went downhill from there. Both inmates attempted to escape the transport van — one was captured immediately but Robert Branning was able to make a getaway when an off-duty police officer pulled over to assist the detention officer. The off-duty officer got out of her vehicle to help capture Branning but unfortunately left a 6-year-old child and her gun in the car. After a tussle with the off-duty cop, Branning got in her car and took off with the precious cargo.
A high-speed pursuit followed as Branning led law enforcement from every agency all over the county. Officers thought they had him after he ran over stop sticks with the Jeep but he kept going with flat tires.
In a worst-case scenario, Branning made it to Main Street in downtown Waynesville. When the bumper-to-bumper traffic stopped him and the officers began to close in on him, Branning exited the Jeep and tried to escape on foot. Branning got out of the car brandishing the off-duty officer's handgun, which is when a sheriff's detective responded with gunfire.
Branning was taken to the hospital to be treated for multiple gunshots and is being charged with possession of a firearm by a felon, assault with a deadly weapon of a government official, fleeing arrest with a motor vehicle, assault with a deadly weapon, common law robbery, first-degree kidnapping, attempted first-degree murder, and assault with a firearm on a law enforcement officer. His next court date is Jan. 3.
The only silver lining in this story was that the 6-year-old child was found safe and sound and no innocent bystanders on Main Street were injured.
The Ruby Slipper Award
If only Shining Rock Classical Academy board members could have clicked their heels like Dorothy in "The Wizard of Oz," they could have saved themselves a lot of trouble in 2016.
Just like Dorothy, the new charter school had a hell of a time finding their way back home — well, actually just finding any permanent campus to call their own proved challenging. In 2015, SRCA spent thousands trying to secure a piece of property to build a school campus but nothing panned out.
Even after securing a long-term lease for property across from Lake Junaluska on Dellwood Road, a hang up with the modular units caused more delay. The company SRCA was leasing the modular units from went into bankruptcy, which meant SRCA wasn't getting the units it already paid $50,000 for. The board decided to contract with another company to purchase new modular buildings to the tune of $925,000.
The charter school students finally got to move from their cramped classrooms in a Lake Junaluska building to their modular classrooms in late September. It was a long and winding road to find a place to call home, but SRCA finally found it.
… and the Award for 'Best Film' goes to …
The Haywood County School Board!
When a ragtag but well-meaning band of small-town school board members are inadvertently caught on tape during a work session discussing the controversial shuttering of an elementary school, their seasoned leader (Chuck Francis, in the role he was born to play) immediately ceases recording the work sessions to prevent further misadventure. As the community subsequently rises in unison to decry the measure, Francis does some soul-searching and reverses his decision, in a dramatic turn of events sure to leave audiences with tears in their eyes and hope in their hearts. Laugh-out-loud funny at times and poignantly honest at others, "Stop! Don't shoot!" is the feel good movie of 2016. Starring Dr. Anne Garrett. Also featuring a cameo by Pat Smathers. Rated PG-13 for adult situations.
All kidding aside, the decision to stop taping work sessions and then the decision to begin taping them again both speak to the good intentions of the Haywood County School Board. The school board is the only elected entity in the region to tape and make public its work sessions, so for that it should also get an open government award.
Still, we couldn't help having a little fun with the back and forth decisions by a group of elected leaders who dealt with a lot in 2016.
The It's Just a Baby Ruth Award
After years of planning and debate, the Town of Canton's plans for a new — and much needed — municipal pool seemed to be flowing along nicely.
In August, Canton was chosen as one of only 31 grantees statewide to receive money from the North Carolina Parks and Recreation Trust Fund.
But when their USDA loan — the acquisition of which was supposed to be like shooting fish in a barrel — failed to materialize in November because of federal funding changes, town board members decided to move forward by seeking commercial financing with a shorter term, potentially saving the town thousands in interest over the life of the loan.
The board then asked for bids from contractors interested in performing the work, but didn't receive enough submissions to be able to make a decision.
Those bids now have to be re-advertised, pushing the public hearing on commercial financing back as well, and jeopardizing the pool's summer opening date.
Town officials, however, are undaunted and continue to move forward, come hell or high water. A public hearing for commercial financing is to be held Jan. 3, and Town Manager Seth Hendler-Voss said in November that he thinks there's still a "good chance" the pool will open by summer's end.
The "Feeling Groovy" Award
In 2016, the Town of Canton was best personified as the stereotypical depression-era ragamuffin with a heart of gold who seemingly can't catch a break – bending over to pick up a shiny new nickel and receiving only a slapstick kick in the pants.
Most recently, there was the pool financing situation – wherein Canton was awarded a highly-competitive grant only to lose out on a USDA loan that is typically easy to get.
But before that, there was the downtown streetscaping project.
Like with the pool, Canton had for years been in great need of downtown repaving, streetscaping and a general "freshening up" of the sometimes-dated built environment. Accordingly, many were happy when downtown improvements commenced.
But in June, it was learned that WNC Paving — who had started the repaving job early — would finish the job late, disrupting July Fourth events and possibly even endangering Canton's Labor Day Festival, which was about to embark on a dramatic expansion.
The reason? They were pulling up stakes to go to work on a project in neighboring Swain County upon the completion of which they'd return to Canton.
In the meantime, much of downtown would be left as a construction zone, complete with a roughly-milled, grooved road surface rather disagreeable to drivers and downright dangerous for bikers.
Luckily, the job was finished in time for Labor Day.
The 'Much Ado About Clucking' Award
Small communities often get excited when a well-known franchise comes to town, whether it's a big box electronics store, a trendy grocer or even a fastfood franchise — but excited enough to hang out in the parking lot for 24 hours and sleep outside in the elements overnight for chance to win a year's worth of fried chicken?
Yep. More than a hundred people showed up to the new Russ Avenue Chick-fil-A in Waynesville in the early morning hours of Dec. 7 hoping to score 52 free combo meals by remaining camped out next to the store without leaving the premises. While most persevered — buoyed by unseasonable warmth and the utter lack of precipitation that had dogged the region all summer — some did not.
Since opening on Dec. 8, lines have consistently stretched all the way around the restaurant, with some customers reporting wait times of more than 30 minutes, all of which begs the question: It's just a chicken sandwich, right?
The Divided We Fall Award
Early this summer, the Downtown Waynesville Association celebrated its 30th anniversary as a voluntary-taxation district where property owners pay an additional 20 cents per $100 of assessed valuation in property taxes which is then collected and spent by a nonprofit bent on improving and marketing the district.
But not everything's hunky dory in the district; a recent change in state law allowed for property owners to withdraw from such compacts if they could prove that they did not benefit from the services, facilities, and functions thereof.
In August, Sharon and James Earley — who own the parcel at 180 Legion Drive — sought to take advantage of this change before the Waynesville Board of Aldermen.
The plumbing supply store that rents its building on the property garners no benefit from the parades, festivals, dances and performances backed by the DWA, they said.
The property has no frontage on the retail-oriented Main Street where many of those events take place, they said.
The plumbing supply store was unlikely to benefit from increased tourism, they said.
The extra taxes weren't disclosed when they bought the property, they said.
In the end, nothing they said mattered. Aldermen Jon Feichter, Julia Boyd Freeman and LeRoy Roberson refused the Earley's request, in the process creating a firm precedent on how the town board might view future requests.
The Creepiest Destination Award
After years of declining popularity, neglect, mismanagement, mudslides and water issues, the Ghost Town in the Sky amusement park that has sat astride Buck Mountain in Maggie Valley since 1961 failed to reopen this past spring, much to the chagrin of fans and town officials.
Currently, the park faces an uncertain future; attempts to rebrand or rejigger the image and/or purpose of the park have fallen flat, as have attempts to auction or sell the property to a new developer.
Meanwhile, rides sit rusting as weeds slowly reclaim their rightful place on a once-rollicking Main Street, casting sinister, wind-swept aspersions on a place once filled with unadulterated childhood joy.
Making the park no less creepy is the fact that several people — including a North Carolina man who died of a cancer while holding out hope for one last visit — chose it as their final resting place. With the cooperation of park caretakers, more than a few dearly departed have had already had their ashes spread on the grounds.
The 'Hardest-Partying Church Choir' Award
Fans of the Lake Junaluska Singers were shocked when a June 30 press release from Lake Junaluska administration announced that Dr. Melodie Galloway had resigned her position as director of the acclaimed and beloved choral group without further explanation.
The release went on to announce the "suspension" (read: cancellation) of the remainder of the group's 2016 season, just days before a highly-anticipated series of local performances commemorating the Fourth of July.
Upon further investigation it was discovered that Galloway's resignation came just days after a singer who had been dismissed from the group filed a complaint with administrators, claiming he was treated poorly and that as a recovering alcoholic, he was made uncomfortable by the group's partying.
Alcohol is not allowed on the grounds of the Lake Junaluska Assembly, and many of the singers aren't even old enough to drink.
Further complicating the situation, police records from Vidalia, Georgia, show that another Lake Junaluska Singer was arrested for smoking marijuana while the group was on tour almost a year prior; other singers corroborated the incident, alleging that administrators at Lake Junaluska weren't even informed at the time it occurred.
The singer who was arrested, according to the police report, was carelessly smoking weed while walking down the street, apparently trying to give new meaning to the term "Lake J."
The 'Keep On (food) Trucking' Award
The short-lived Mad Anthony's tap room on Branner Avenue in Waynesville generated more than its fair share of controversy during its brief existence when the owners began operating an unlicensed food truck on the premises not long after it opened.
Problem is, all food trucks in Waynesville to that point had been unlicensed; while an established phenomenon in other, larger cities, food trucks were and to some extent still are rare in Western North Carolina, and most municipalities had no regulations on the books regarding their operation because none existed.
Unique to MA's is the fact that their truck — quite unlike other truly mobile vendors — was basically attached to the building housing the bar itself by an umbilical cord of utility connections, meaning it couldn't really be moved. Indeed, it wasn't even a truck — it was a trailer, with no powerplant of its own, which basically made it a building instead of a vehicle.
In the end, the Waynesville Town Board ruled against the trailer, but established a set of guidelines regarding food trucks with the hope of avoiding future entrepreneurial entanglements.
The 'Welcome Back Kotter' Award
Over the past few years, Kevin Ensley has probably gotten used to being a minority on the Haywood County Board of Commissioners; the lone Republican for what probably seems like forever, Ensley still worked across party lines while also holding firm to his values-oriented conservative principles.
This has resulted in some solid compromises on major capital projects (the new animal shelter) as well as philosophical issues (gun control).
Voters rewarded Ensley — who's been lambasted by some members of his party for playing a little too nicely with now-retired Commission Chairman and Democrat Mark Swanger — with his third consecutive term.
Despite placing second to newcomer Republican Brandon Rogers, Ensley's tally still placed him far above his "colorful" Democratic rivals Robin Greene Black and Steve Brown.
The 'Rookie of the Year' Award
Of the four candidates running for two open seats on the Haywood County Board of Commissioners, Brandon Rogers was by far the least known.
Democrats Steve Brown — a well-known local businessman and nonprof exec — and CPA/former candidate Robin Greene Black had almost as much name recognition as Republican incumbent Kevin Ensley. Rogers, who owns a tire shop with his father just outside Canton, was the political outsider.
And he beat them all.
Rogers surprisingly bested the generally popular Ensley to win more votes than the other three candidates; Ensley came in a close second to retain his seat, but Brown and Black came in a distant third and fourth, respectively.
Throughout the campaign it became apparent that Rogers was not just a ham-and-egger, however; he was exceedingly well versed in the county budget and brought forth a business-friendly perspective that hit a home run with voters on Election Day.
The Making Haywood Great Again Award
For starters, Donald Trump won 28 out of 29 Haywood County voting precincts; under normal circumstances, this would be considered a decisive victory. However, on Nov. 8 Trump's numbers outperformed historical trends for Republican presidential candidates in Haywood County by a significant margin, making his overall performance a game-changer.
An increase in voter turnout over 2012 — when Haywood Republicans weren't, apparently, all that impressed with Mitt Romney — helped downballot Republicans in 2016 as well; the only Democrat on a Haywood County ballot who won anything was Attorney General (now Governor-elect) Roy Cooper. Locally, Republicans replaced Democrats in the state house (Queen) as well as on the county board (Rogers).
Tail Wagging the Dog Award
It's often said that a community is measured not by how it treats the greatest of its inhabitants, but how instead by how it treats the least of them — the very young, the very old, the infirm, and those who cannot speak for themselves.
If that's the case, Haywood County's heart grew three sizes in September when commissioners approved a new state-of-the-art facility to replace the county's aging, cramped animal shelter on Hemlock Street.
Although some bristled at the prospect of spending up to $3.75 million on what was called the "Taj Mahal" of animal shelters — Commissioners Kirk Kirkpatrick and Mike Sorrells voted no — the price was consistent with shelters built in other parts of the country, and the effort was boosted when the Friends of the Haywood County Animal Shelter presented commissioners with a $175,000 check, which is but a fraction of the $1 million the group says it will raise to ease the county's financial burden.
Failure to Plan is Planning to Fail Award
Although data suggests that there is widespread support for a comprehensive county land use plan, there is currently no zoning in Haywood County.
But the county took an important step forward in addressing potential land use issues this past September when a high-impact development ordinance unanimously passed the board of commissioners.
The ordinance, which stipulates the vicinity in which certain developments like asphalt plants and chemical facilities may be located to so-called vulnerable populations like schools, jails and nursing homes also imposes setback, separation and screening guidelines for such facilities while simultaneously protecting watersheds.
The Too Big To Fail Award
Haywood County is coming to realize the fallacy of this theory first hand.
For six years, county officials have been trying to unload the behemoth "old hospital" building — a hulking, antiquated, four-story brick building with a cobbled floor plan and outdated everything. Throw in a little asbestos and lead to round out the picture.
Lo and behold, the very drawbacks that led the county to abandon the old hospital as a social services office has kept other buyers from biting.
Twice the county has courted developers to convert the old hospital into low-income apartments.
But twice, the project fell through.
The second time around, the county had even lowered its price for the building to free — willing to give it away to be rid of it. The low-income apartment scheme was even rebranded as "lofts."
The lofty plan was contingent on affordable housing tax credits, however. Developers couldn't make the numbers work otherwise.
But the limited pool of tax credits for affordable housing projects had an uncanny way of flowing to metro communities down east, landing Haywood's "too big to fail" building back on the market once more.
The Radio Shack Award
When Meadowbrook Elementary School joined the grand experiment of year-round school 20 years ago, it was a pioneer of the new education model sweeping the nation. Year-round school was the way of the future, the solution to the cursed summer slide, the path to keep kids engaged and their parents from going crazy during long summer breaks.
Almost every WNC school that has tried year-round has abandon it, with Meadowbrook in Canton one of the last hold outs until it too threw in the towel on year-round school this year. Hall Fletcher Elementary in Asheville abandoned its year-round experiment this year as well, after only two years of trying it.
What sounded good in theory failed in practice, largely because Meadowbrook was alone in the wilderness. Its year-round calendar didn't sync with the testing regimen, training schedules or curriculum benchmarks the rest of the school system followed.
Like the faltering Radio Shack empire — whose model of niche electronic stores in strip malls couldn't survive in a world ruled by big-box economies of scale — Meadowbrook rejoined the masses.
The Garrison Award
Western Carolina University professors didn't sit idly by when a $2 million gift from the Charles Koch Foundation threatened to undermine the tenets of academic freedom.
Faculty rallied to defend their hallowed halls from infiltration by the Koch propaganda machine — a vast national network of think tanks, policy shops and lobbying arms that promote libertarian politics.
WCU would become hostage to the invading Koch money, joining legions of campuses around the county occupied by Koch-funded research houses.
But WCU faculty wielded the pen like a sword and buttressed their garrison of academia with layers upon layers of bureaucratic oversight. The fearless professors outflanked the Koch mission with the fiercest weapon the ivory tower knows: a faculty committee.
Thanks to support from the university chancellor who gave the faculty rank-and-file a seat at the commander's table, the Koch-funded center at WCU will face more scrutiny and oversight, more vetting and verifying, more accounting and monitoring, than any of Koch's university centers in the country.
The Collateral Damage Award
The unforeseen Trump tidal wave that swept the November election not only left the political pundits reeling, but blindsided scads of unsuspecting Democratic candidates down the ballot who lost presumably safe seats due to Trump trickle-down.
Among those swamped by the Trump surge, N.C. Rep. Joe Sam Queen, D-Waynesville, lost by less than 300 votes to Republican Mike Clampitt of Bryson City. Queen had fended off Clampitt twice before — in 2012 and again in 2014 — by a comfortable 3 to 5 percent margin.
Queen chalked up his narrow loss this time to Trump fall-out, a besieged victim of collateral damage.
"No one was more surprised on election night than me," Queen said. "I didn't think I would get beat."
The Lucky Break Award
Like so many Hollywood success stories, Thom Morgan's path to stardom hinged on a single lucky break.
Morgan, a wealthy Waynesville businessman, wasn't exactly trolling for a spot in the limelight. But when a location scout came knocking to use his mansion as a set in the comedy crime caper "Masterminds," he decided to go along for the ride. An entourage of movie stars and production crews invaded his house for six weeks, converting his estate into a bustling on-location set teeming with grip boys, extras and stunt men.
As for Morgan's lucky break? The stars in the movie wanted to spend the summer filming in the cool hipster environs of Asheville, which made WNC ground zero in the hunt for set locations. A scout tasked with finding a mansion staked out a ritzy development in South Asheville and queried construction workers coming and going from the gated community whether any of the homes had pools — a requirement for the mansion scenes. One of the workers had done a job at Morgan's house before and pointed the scout his way.
Alfred Lord Tennyson award
The very young rarely know true heartbreak, but more than 200 children in Haywood County this year experienced the deep pang of loss and betrayal when their beloved school closed.
Central Elementary School was one of the county's smallest schools, known for its tight-knit community. Adjustment was hard for Central students who were jettisoned into the general populations of other schools, and many still struggle to navigate the new social landscape and alien culture of the bigger schools they were sent to when Central was shuttered.
Central parents, students and teachers pled with the Haywood County School Board not to sacrifice their school to solve the system's budget shortfall. School board members choked back tears of their own during a heart-wrenching public hearing where grieving students poured their souls out in hopes of saving their school, but the cold, hard reality of budget cuts prevailed.
Central was Waynesville's oldest elementary school, a pillar that defined the community's identity for generations. We all lost something when Central closed, and while it's little consolation, the classic words of Alfred Lord Tennyson seem fitting at times like these: "'Tis better to have loved and lost than never to have loved at all."
Wyatt Earp and Doc Holliday Award
Waynesville Mayor Gavin Brown laid down the law during a town meeting in January when a ruckus erupted among audience members following a heated discussion over a proposal to rename Pigeon Street after Martin Luther King.
Members of the black community proposed the name change as a way to honor the legacy and contribution of the Civil Rights leader. White residents who live on Pigeon Street countered that it would be an affront to their own heritage to change the historical street name.
Tensions grew as back-and-forth ensued among black and white audience members in attendance, and the town board decided to table the discussion pending further research.
But as audience members filed out of the room, words were exchanged between the two camps. One of the white men in attendance began shouting "It's my town too!" and one of the black men whirled around to confront him.
Brown quickly rose from his chair at the front of the room and shouted the men down.
"No sir, I won't have that in my meeting!" Brown bellowed, scrambling from behind the dais and making his way toward the men. "I won't have that! No sir!"
Public Works Director David Foster had Brown's back. He sprung into action, taking one of the men by the shoulders. The duo subdued the flare-up before an armed officer stationed in the far corner of the room could step in.
Despite the altercation, the black and white community members congregated in the lobby outside the meeting room, exchanging small talk and sharing memories of growing up in segregated Waynesville, and the two men ultimately mended fences before calling it a night.
Bundy Brothers Award
A righteous mob of gun lovers adamant about packing heat packed the halls of a Haywood County commissioners meeting to stand up for the sacrosanct trilogy of God, liberty and firearms.
More than 250 people, many of them called to action by their church pastors, railed against the county's ban on concealed weapons in county buildings.
Like the Bundy brothers who led the armed occupation of a National Wildlife Refuge in Oregon, the audience claimed it was their God-given right to carry guns when and where they pleased — and that limits on guns were tantamount to government tyranny and religious sacrilege.
"Fear the government who fears your guns," said Pastor Allen Davis of Woodland Baptist.
Speakers likewise feared they would become defenseless victims of evildoers if they couldn't bring their concealed weapons into county buildings, and that it was their moral duty to be armed at all times to protect their family and society from threats.
One woman incited the memory of LaVoy Finicum, a compatriot of the Bundy brothers who was shot during a standoff between police and the occupiers of the wildlife refuge.
The county's ban on concealed weapons in government buildings is standard throughout the state, however.
One speaker said he might even need to defend himself from wildlife, inciting the memory of a black bear loping down Waynesville's Main Street a few years ago.
Jamaican Bobsled Award
High school dropouts might have the odds stacked against them, but the Haywood Community Learning Center has discovered the right mix of grit and heart to help teens for whom the typical seven-hour school day just doesn't work.
Over the past decade more than 580 dropouts became graduates thanks to the Haywood Community Learning Center — following in the footsteps of the Jamaican bobsled team that was written off as a longshot when it made its Olympic debut. But the team proved to the world that underdogs have what it takes if someone believes in them.
When the dropout recovery program got caught up in the carnage of a $2.4 million budget shortfall facing the Haywood County School system, it became even more at-risk than its students. Realizing that its major grant support could be lost for want of matching funds, the school board and county joined forces to restore $61,000 needed to keep its good work going.
Captain Kirk Award
A Star Trek reference isn't the parting accolade Haywood County Commissioner Mark Swanger expected to cap off his political legacy, but no figure better captures Swanger's leadership style than the fabled Starship Enterprise captain.
Swanger didn't change course or give up when the going got tough. He didn't take the path of least resistance or shy away from difficult problems, but called it like he saw it.
Known as a hands-on manager, Swanger never abdicated his role as a leader. He owned his decisions, and stuck to his convictions, even in the face of opposition. He knew how to pick his battles, but was willing to weather a storm when the fight was a noble one.
Swanger rolled up his sleeves to work alongside county staff, cultivating relationships and partnerships where needed, another trait Cap. Kirk was known for among his loyal Enterprise crew.
Swanger was seen as a philosophical sage, whose tenor commanded a measured approach in the tightest of spots, of which there were plenty during his 12 years as county commissioner. Swanger used strategy and cunning to find novel solutions where others only saw the problems.
To Swanger, knowledge was power. He never blindly went with his gut. Instead, mental calculations were his North Star.
"Everything of any import that I've done, I've tried to make it evidence-based. Otherwise you are just flailing around," Swanger said during an interview for a capstone article on his political career. "If you do it in any other way good decisions occur only by accident."
The Atlas Award
Waynesville residents have historically shouldered a bigger share of the tax burden than their county neighbors just outside the town limits.
They pay for public parks — from ball fields to greenways — that are used by the entire county. They have to pay the full freight of trucking their own trash to the landfill, but get billed by the county for the cost of trucking county residents' trash to the landfill as well. Town taxpayers even ponied up twice to build the downtown parking deck — the town and county shared the cost, which means town taxpayers contributed once on their county tax bill and again on their town tax bill for the same parking deck.
So it was par for the course this year when Waynesville taxpayers were forced to shoulder the entire cost of adding eight new firefighters to the town's crew, even though hundreds of people outside the town limits are served by Waynesville's fire department and didn't have to pay a dime more for the additional firemen.
Waynesville residents saw a steep tax hike of nearly 5 cents — a 10 percent increase in their property tax bill — to pay for the additional firemen. Town leaders signaled that they will try to extract more from county residents covered by the town's fire service district next year, but it wouldn't level the playing field completely.
The Not From Around Here Award
There's a saying in mountains that newcomers cling to like the gospel: "I'm not from here, but got here as quick as I could."
Alas, it wasn't enough to keep Marcy Onieal from losing her post as Waynesville town manager this year. Onieal was competent, smart and a workaholic — perhaps a little too much so for a small mountain town like Waynesville. Despite Waynesville's progressive veneer and Onieal's marching orders to modernize town operations, she violated an unspoken cardinal rule: keep the natives happy.
Onieal's biggest offense was rubbing employees the wrong way who didn't like her business-like, no-nonsense demeanor. Too much change, too fast, with too many new expectations — imposed by an outsider and a woman to boot — led to Onieal's demise. She was narrowly voted out of her position by a 3-to-2 vote of the town board earlier this year.
The Frank Sinatra Award
The famous crooner's hit "My Way," could have easily been based on the Cherokee Tribal Council's reaction when Rick Lanier of the U.S. Motto Action Committee approached them in February with a pitch to display the national motto, "In God We Trust," on the councilhouse.
The "same inspiring slogan" is displayed in the halls of Congress, Lanier said, and its presence in Cherokee would "solemnize public occasions and express confidence in our society."
Councilmembers and audience members were quick to deliver Lanier a tongue-lashing that detailed the grievances the U.S. government has inflicted on Native American tribes over the centuries. They pressured Lanier to withdraw his resolution, which he did before swiftly leaving the councilhouse.
However, once Lanier left councilmembers decided that they actually liked the idea of displaying "In God We Trust" in their building — but it should be done in Cherokee syllabary and paid for with their own money.
"We want to make sure we're going to do it right," said Councilmember Alan "B" Ensley.
The Rock 'em Sock 'em Robot Award
It's been hard to number the rounds, but ever since the 2015 election, Cherokee's executive and legislative branches have been locked in a continuous series of tussles.
The year kicked off with disagreement over whether then-Tribal Casino Gaming Enterprise board member Angela Kephart — who was appointed by former Principal Chief Michell Hicks — should keep her job following alleged misconduct at a February concert at Harrah's Cherokee Casino.
But, for the most part dissension often simmered below the surface during the first half of the year, coming up indirectly during discussions of other issues. Over the summer, the tension came to a head when Tribal Council ordered an investigation into the hiring and firing practices of Principal Chief Patrick Lambert's administration. The vote came from a move on the floor made without a written resolution and included a mandate that Lambert cease hiring and firing until the investigation finished — something Lambert said Council did not have the right to order.
This kicked off a series of skirmishes, with Lambert desiring to veto the legislation and Council declaring that it could order investigations with or without ratification from the chief. In November, an expansion of the original investigation came to light, with some councilmembers stating that investigations into the education and emergency services departments had been approved during a closed-door meeting to which some councilmembers — specifically, those who would have opposed the expansion — were not invited. Lambert said that his son's educational records had been illegally obtained as part of the supposed investigation and called the whole thing a witch-hunt, threatening to examine his legal options.
With all councilmembers up for election in October 2017, by this time next year we may know who will emerge the final victor.
The Black Bart Award
When a sleeping A.T. hiker awoke to find his tent being attacked by a black bear this May, staff at the Great Smoky Mountains National Park wasted no time launching a search for the ursine responsible.
But perhaps the rogue bear took some lessons from the famous stagecoach robber, because he (or she) wound up getting off scot-free.
Three bears were apprehended as suspects in the attack, which occurred near the Spence Field Shelter along the A.T.'s path through the park and sent 49-year-old Bradley Veeder to the hospital with puncture wounds on his leg.
The first bear, a 400-pound male found near the scene of the crime, was deemed too large to collar or hold until DNA results linking the bear to the bite could be returned. The bear was euthanized, only to be posthumously exonerated by the DNA results. After that, two other, smaller, bears were captured and fitted with GPS collars until their DNA tests could come back. Those tests were negative, too.
Black Bart 1, Park Service 0.
The Out of Egypt Award
After centuries of absence, elk were restored to their Promised Land in the Smokies in 2001. However, surrounding kingdoms have resisted as the elk have pushed the boundaries of their new home, and those conflicts reached a new level in 2016.
Last winter, members of the Ross family decided they had had enough of elk scaring their cattle, destroying their fences and eating their crops — and in January and February, seven elk were shot dead on the Jonathan Creek-area dairy farm. The N.C. Wildlife Resources Commission ultimately concluded that the farmers were within their rights to shoot the elk, but significant public outcry lent urgency to what has been an ongoing discussion about how to manage the elk population going forward and how landowners should and should not be allowed to deal with issues they encounter.
Land conservation is likely to be a big part of the solution. The Conservation Fund has been working for years to purchase land in the Maggie Valley area for conveyance to the N.C. Wildlife Resources Commission, the idea being that the land could be managed to create ideal elk habitat, providing a safe haven for the animals where they wouldn't interfere with private holdings. The conservation project is expected to cover more than 2,000 acres when complete. And that's not the only elk-related management project in the works. A timber management plan the U.S. Forest Service is crafting for the 12 Mile Area of Haywood County includes elk habitat as one of its major goals.
So, in their quest to press beyond the boundaries of their original Promised Land, the elk are getting some help. But some borders may defy conquest. The Ross farm, for one — that land is now encircled by 2 miles of elk-proof fence.
The Mr. Congeniality Award
It's not uncommon for university chancellors to find themselves the targets of criticism rather than praise, but Western Carolina University Chancellor David Belcher emerged from 2016 the obvious choice for this award, last won by Haywood County Sheriff Greg Christopher.
It wasn't necessarily an easy year for Belcher. He found himself at the center of a firestorm when the university accepted a controversial $2 million gift from the Charles Koch Foundation, and in April he announced that he'd been diagnosed with a brain tumor.
But, while plenty of criticism still exists about the basic idea of accepting money from a politically active foundation like the Koch Foundation, the university's approach toward navigating the gift agreement has been met with praise even from the critics. And when Belcher announced he was facing cancer, the university community was quick to rally around him, with nearly 250 people showing up for an impromptu rally in the rain to show their support.
A May surgery proved effective, and while Belcher has yet to sport a Mr. Congeniality sash and crown, these days he can often be found on campus wearing a smile, a suit and a purple baseball cap.
The Ebenezer Scrooge Award
Like the Charles Dickens-created miser, the skies over Western North Carolina were stingy as could be about doling out anything in the way of precipitation this fall. The region sank into a steadily worsening drought as tens of thousands of acres of wildfires blazed through the mountains.
But perhaps the Ghost of Christmas Future made an appearance, because as the holiday drew nearer the skies finally began to open. Drought designations were downgraded, fires quenched and nearly dry waterways wet once more.
Not that Mother Nature has entirely learned her lesson. While December rainfall is much closer to normal than has been the case for months, it's still below average. And while the most severe drought designation has disappeared from the mountains, the western region and much of the piedmont are still experiencing significant drought. Cattle farmers whose pastures have been ruined by dry conditions will be recovering for at least the next year, even if normal rains resume.
Let's hope that Christmastime levels of generosity pervade the atmosphere in the months to come.
The Neverending Story Award
With almost three years elapsed since Southwestern Community College first began planning to address the estimated 60 tons of lead that have accumulated in its Jackson County firing range, the appropriateness of this award should be obvious.
It was April 2014 when the staggering accumulation of lead first came to light, and that summer the college began to work with the N.C. Department of Environmental Quality — then called the Department of Environment and Natural Resources — to test the soil and devise solutions for cleanup. While active shooting ranges are exempt from Environmental Protection Agency standards for lead, testing revealed an area just downhill from the range with concentrations as high as 73 times the amount considered safe.
By November 2015, SCC's consultants had defined the problem and sketched out a solution. Cleanup was expected to be over and done with by early 2016, possibly even winding down before the New Year.
But a staffing change at the DEQ led to recommendations for another round of testing, to check for additional contaminants. It was fall 2016 before the remediation planned in November 2015 was underway, and afterward follow-up testing showed that lead levels were still 10 times the amount considered safe. Now the DEQ is recommending monitoring wells, a sediment pond and ongoing testing at the site.
It could be quite a while before this story reaches its final chapter.
The Mr. Rogers Award
Cassius Cash might wear a National Park Service uniform rather than Fred Rogers' trademark cardigan and tie, but the Great Smoky Mountains National Park superintendent has spent the past year inviting one and all to become part of the neighborhood.
Hired in February 2015, Cash grew up a city boy in Memphis, Tennessee, and is the park's first African-American superintendent. Since coming to the Smokies, he's made it his business to expand park visitation beyond the typical demographics. Throughout the year, Cash led hikes with groups of youth — mostly from urban areas, and often non-white — whose lives have included very little exposure to the outdoors. Park staff made their way into the schools of some park-side communities to discuss the joys of hiking and deliver free hiking guides. The Smokies even celebrated Hispanic Heritage Month with a Spanish-language event aimed at showing Hispanic people what the park has to offer.
It's a beautiful year in the neighborhood.
The Party Crashers Award
When county leaders in Western North Carolina asked to talk to Congressman Mark Meadows about their thoughts regarding new wilderness areas in the region, Meadows responded by scheduling a pair of meetings to which county representatives, U.S. Forest Service leaders and members of a stakeholders forum advising on the topic were invited.
However, a group of about 30 wilderness advocates got wind of the gatherings and showed up to a meeting in Franklin, earning them this award.
The wilderness supporters were told that the meeting was by invitation only and asked to leave, a mandate that elicited strong criticism from those denied entry. Buzz Williams of the Chattooga Conservancy went so far as to call the meeting a "wilderness-bashing session" orchestrated by Meadows, who came "to hear from a hand-picked audience."
The process of wilderness recommendation is perhaps the most contentious component of the still-forming forest management plan for the Pisgah and Nantahala National Forests, and disagreement on the subject has resulted in multiple extensions of the planning timeline. The overwhelming majority of WNC counties passed resolutions opposing additional wilderness, while a robust coalition of groups believe additional wilderness to be a cornerstone of responsible forest management going forward.
Meadows responded to the criticism by saying that the meeting was merely a response to requests he'd had from county representatives, and he immediately set about scheduling a separate meeting — held about one month later — to which only wilderness supporters were invited.
Better Out Than In Award
You'd have to live under a rock not to feel the political tension straining the nation in 2016, and for students at Western Carolina University the pressure mounted until exploding into a colorful form of expression — sidewalk chalk.
The first chalky slathering came in March, when students from the Department of Intercultural Affairs decorated the fountain area with statements reflecting pride in their various cultures and skin colors. The chalking was in response to a Facebook debate over the appropriateness of a poster display Intercultural Affairs housed during African-American History Month.
The chalking launched a backlash of racist commentary on Yik Yak, an app that lets users post anonymous comments. In a letter to students, Chancellor David Belcher called the posts "racist, hurtful, offensive and frightening."
However, the episode wasn't long in the rearview mirror before a group of conservative students took to the sidewalks themselves, inscribing a slew of political messages such as "build that wall," "concealed carry saves" and "blue lives matter."
The dueling chalkings wound up bringing students on opposite sides of the spectrum face-to-face, learning how to discuss difficult issues in the real world rather than hiding behind a computer screen.
This bias toward getting it out in the open rather than sweeping it under the rug continued with discussion forums hosted by administration, the hiring of a diversity officer to help students navigate their differences and continued rallies and demonstrations by various student groups.
As that green sage, Shrek, once said, "better out than in."
The I Ain't Never Award
We could also call it the 'oh my stars award,' or maybe the 'lawd have mercy award.' Among others.
When April Ledford's husband Bill Ledford — a former vice chief — passed away, he left a will stipulating that she be allowed to keep his house in Cherokee through the end of her life. April, unlike Bill, is not a tribal member, but tribal law allows members to will land to close relatives to keep until their death. The will was upheld by Tribal Court and in May wound up before Tribal Council for what is usually a rubber-stamp approval.
But that's not what happened.
Bill's daughter Katina Price implored council not to let April keep the house, delivering a scathing review of April's character and motives. April, meanwhile, maintained that while Katina had been nothing but terrible to her, she loved Bill and only wanted to be allowed to keep living in their home, as Bill had wished.
The discussion went back and forth, with some councilmembers expressing disbelief that the body would take it upon itself to edit the wishes of a deceased man. However, others were certain that throwing out the portion of Bill's last wishes that would leave the house to April was the right thing to do.
At this point, it's unclear how the story will end. In August Tribal Council voted to withdraw the will completely, ostensibly so that an abridged form could be resubmitted later.
We ain't never.
The Third Time's The Charm Award
As the saying goes, if at first you don't succeed, try, try again. And for Republican Representative-elect Mike Clampitt, both of the do-overs listed in that adage proved necessary to land him a seat in Raleigh.
To the surprise of many, Clampitt came out the victor in this year's election race against incumbent Representative Joe Sam Queen, D-Waynesville. It was the third time in a row he'd run against the long-time politician, but the first time he won. Clampitt lost in 2012, 48.3 percent to 51.7 percent, and once more in 2014, this time by a slightly wider margin — 47.4 percent to 52.6 percent.
Undeterred, Clampitt filed to run again in 2016, and this time the effort paid off — he came away with a slim majority, 50.4 percent to 49.6 percent. He'll head to Raleigh in 2017 to take his seat among the Republican supermajority that emerged victorious in 2016.
The Never Say Die Award
When the first flames licked through WNC forests this fall, firefighters from all over the country responded to contain what would grow to be the 729-acre Dicks Creek Fire. But the blaze would prove to be only the first in a historic fire season fueled by extreme drought and low humidity.
The fight must have seemed futile at times, with the drought continually intensifying and new forest fires cropping up almost daily. But the firefighters hung in there, putting in 14-plus hour days of hard, physical labor on rugged, smoky terrain.
Despite every obstacle thrown their way, they never did say die.
By the time rain finally returned to the parched region, roughly 80,000 acres had burned in the mountains west of Asheville, costing nearly $40 million to fight. Despite the immensity of the burned areas, not a single home was lost in the seven western counties.
Here's hoping that Santa was extra good to our wildland firefighters this year.
The Star Power Award
Even people who had barely set foot in downtown Sylva before found reasons to go when Woody Harrelson and Francis McDormand came to town this spring. The stars were around for weeks during the May filming of a feature film written by Oscar-winning scriptwriter Martin McDonagh.
The celebrity selfies flew through cyberspace, necks craned every time a door on the Main Street filming area and whispers flitted about town as strangers compared notes on Woody sightings.
Eventually, the stars returned to Hollywood, the crew disappeared, and the Ebbing Police Station was restored to its former identity as Sassy Frass Consignment. But the impact of the movie, once released, is expected to leave a long-lasting mark on the town. Business owners and economic development directors are hoping to see Sylva's status as the place where "Three Billboards Outside Ebbing, Missouri" was filmed boost the town's stature for years to come.
The David v. Goliath Award
Swain County may be small in size and resources, but that didn't stop county government officials this year from taking on a giant — the federal government.
Back in March, Swain County commissioners filed a lawsuit against the U.S. Department of Interior in an effort to recoup millions of dollars the federal government has been promising to pay Swain County for years. They know it's a long shot, but with $38.2 million at stake, commissioners felt like this was their last chance to get what is owed to the people.
When North Shore Road was flooded in the 1940s to create Fontana Dam, the federal government promised the people of Swain County that the road would be rebuilt. That of course never happened. The North Shore Road once connected Bryson City to Tennessee, but the road the government started in order to replace it but never finished — is now known as the Road to Nowhere.
Commissioner David Monteith — perhaps not coincidently the namesake of the former king of the Israelites who defeated the giant warrior Goliath — fought hard years ago to get the federal government to rebuild the road. While he was adamant about getting a road, the rest of the board outvoted him. The majority voted to accept a $52 million cash settlement from the federal government that was supposed to be paid out over 20 years.
Swain County received its first installment of $12.8 million in 2010 but hasn't received another dime since. After endless trips to Washington, D.C., and lobbying from U.S. representatives, commissioners are tired of getting the run around and hearing excuse after excuse about why their money still hasn't been paid. The settlement agreement is up in 2020, which is what prompted commissioners to file the lawsuit.
Motions are still being filed from both sides, but Swain County is determined to see it's day in court to fight the bureaucratic beast.
The Rocking the Boat Award
When the Tennessee Valley Authority threatened to remove all houseboats from its reservoirs within the next 30 years, Laura and Erik Sneed of Cherokee weren't afraid to stand up and rock the boat so their family and 350 others on Fontana Lake could keep their floating homes.
The Sneeds, especially Laura, were at the forefront of a grassroots effort to get the TVA policy reversed. She formed a coalition of houseboat owners not just on Fontana but also on other TVA lakes to go before the TVA board with their testimonies. She also created a website and Facebook page for Fontana Families for Floating Houses and kept everyone informed on developments.
When their pleas with the TVA board fell on deaf ears, they didn't give up and they didn't get discouraged. They reached out to their U.S. representatives and started fundraising to pay for a legislative consultant in Washington, D.C., to help them lobby against the new TVA policy.
With the help of U.S. Rep. Mark Meadows, R-Cashiers, and U.S. Sen. Richard Burr, the houseboat owners finally got their way. Meadows and Burr both introduced similar amendments into a larger bill — the Water Resources Development Act of 2016 — to allow existing houseboats to stay on TVA lakes.
The Sneeds are quick to give credit to everyone else, but if it weren't for their ability to unify all stakeholders, their persistence and their ability to keep a positive message throughout the process, the TVA would have been the victor in this fight.
The Tell it like it is Award
It's difficult to get excited about sitting through a three-hour congressional hearing before the Subcommittee on Government Operations in Washington, D.C. It can easily start to feel like being in church as a child trying not to fall asleep as the pastor's sermon runs long, but this one in particular played out like a summertime revival.
U.S. Rep. Mark Meadows, R-Cashiers, who chairs the subcommittee, called the hearing in September to question the Tennessee Valley Authority about its new policy that would place a 30-year sunset on all houseboats while also establishing new standards and fees for houseboat owners.
Subcommittee members on the left and right presented TVA President and CEO Bill Johnson with some tough questions regarding the new stringent standards, but it was Rep. Meadows who took the TVA to task over what he called an overreaching and overreacting measure. Meadows didn't dilly dally around the issue — he told Johnson flat out that the TVA had more pressing matters to address than trying to rob people of their private investments. He pointed to the TVA's debt, unfunded pensions and even Johnson's $4.5 million annual salary.
It definitely seemed like Rep. Meadows had a much larger axe to grind with the TVA — and no one could blame him. After all, this was the quasi-governmental agency that created the houseboat proliferation problem by not enforcing its own regulations for the last 30 years and now wanted to put the entire burden on the property owners. That's not something that sits well with Meadows.
Houseboat owners watching online probably felt like they were in church as they surely shouted, "Preach it!" "Amen!" and "Hallelujah!" at the computer screen as Rep. Meadows held the coming to Jesus meeting with TVA officials.
The Reading the Tea Leaves Award
Anyone who has visited the Marianna Black Library in Bryson City will tell you it's in desperate need of more space and a major technology upgrade. It's been located in the 9,000-square foot building since 1970 and is definitely the least impressive library in the region considering Jackson County's renovated library is located in the historic courthouse on the hill in Sylva and Macon County got a new state-of-the-art library about 10 years ago.
The need is obvious, but the new library fundraising committee has had to read between the lines when it comes to how much Swain County commissioners are willing to contribute to the $7.2 million project. Members of the fundraising committee came before commissioners several times this year to give them an update on their efforts in hopes commissioners would verbalize their intentions to assist them but the board has been quiet.
Eventually the fundraising committee flat out told commissioners that further fundraising was going to be difficult without a timeline or financial commitment from the county. Even so, commissioners still wouldn't give them any indication of whether it would happen. It will be a shame if it doesn't move forward, especially since the land for the new building has already been donated. However, if the new library isn't in the works by 2020, the land will revert back to the original owners.
Auld Lang Syne Award
This will be the first New Year's Eve in decades that Haywood County residents who live outside of a town's limits will be able to purchase legal alcohol. This award goes to the Haywood County citizens who voted overwhelmingly to make on-premise and off-premise beer and wine sales legal during the same election that Donald Trump also got an overwhelming victory. Did the same people who voted for countywide alcohol sales also support Trump's presidential bid? Perhaps, but perhaps it was just a coincidence. Regardless, there's really just one thing to say to all those who can claim a stake in this award: Cheers!