Archived Outdoors
'No change in your pockets': Farmers grapple with effects of historic drought year
Wednesday, December 14, 2016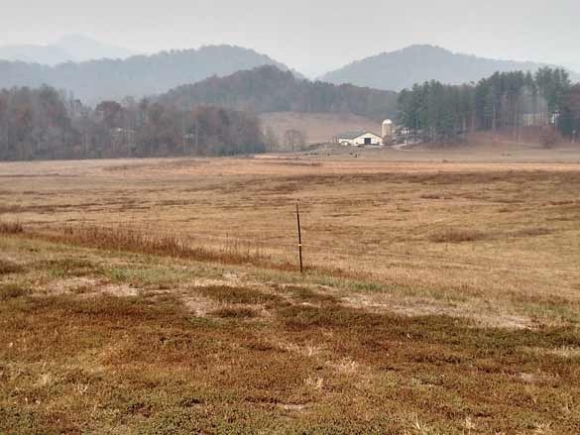 Dowdy Bradley is 68 years old, and for nearly all of those years he's been involved in some kind of farming, staying with the land through drought and flood, surplus and scarcity. The drought of 2016, however, has been the worst, hands-down — for him and for growers throughout the region.
"This has been some of the hottest, driest weather I've seen, " Bradley said. "I was worried about the water because it was already getting low. A couple pastures just dried up."
Bradley, whose operation is located in the Savannah area of Jackson County, grows a variety of crops, everything from tomatoes to corn to hay for his hogs and cattle. Despite the drought, he was able to get a decent yield from some of the lower-lying areas on the property, but on the hillsides dirt turned to dust, no moisture at all. And even in the lower portions where he had the ability to irrigate from nearby streams, the situation deteriorated as the summer wore on.
"At the last there wasn't enough water to irrigate with, and if you had wells you'd be scared it would go dry," Bradley said.
Yields for the year came out to about half of what they'd be in a normal year — about enough to break even, but not much beyond that.
"You don't have no change in your pockets," Bradley said.
The effects of the drought will linger on his farm long after rain returns water tables to normal levels, impacting his decisions about future equipment purchases, the size of his cattle herd and the quality of his pasture.
"I had planned on buying a couple bulls for breeding purposes the first of the year, but I'm not going to make that investment and I'm probably going to cut back on the cattle, because you didn't have the grass coming in next year that you had been having," Bradley said. "It's going to take about a year or so to get some pastures back fertilized and seeded and to get a standard back again."
Bradley isn't alone in that predicament. Drought had been threatening the region since growing season began, taking hold over the summer and strengthening that grip as autumn unfolded. Between Sept. 1 and Nov. 27, the National Weather Service station in Asheville reported only 1.1 inches of rain, down from the normal value of 9.95 inches. By the time rain finally began to fall in late November, year-to-date precipitation at the Asheville station had dipped more than 12 inches below normal and six WNC counties had been designated as experiencing exceptional drought — the highest drought designation possible from the U.S. Drought Monitor. It was the first time that designation had appeared in North Carolina since 2008.
"We was glad to see it," Bradley said of the several inches of rain that fell in the final days of November. "It was too late to do anything as far as grass or hay or anything like that. It's too late but we were glad to see it."
In a typical year, cattle farmers would just now be starting to feed their cattle hay as cold weather closed the season for pasture grazing, said Amanda Buchanan of the Natural Resources Conservation Service in Macon County. But this year, drought forced some producers to start feeding hay as early as July. Hay prices spiked, cattle prices fell and cattle farmers found themselves tending to herds that offered less profit while demanding a heightened investment.
For some farmers, especially those who are in the business as a side venture to their full-time job, the hardship of 2016 could make it difficult keep farming.
"It makes it hard for them to continue to justify having a herd without reducing it or completely getting out of the business right now and waiting for the price to come back up," Buchanan said.
Neither Buchanan nor Bradley could name any farmers in the area who had been completely put out of business by the drought, but that doesn't mean that nothing of the sort will come to pass. The worst of the drought might be over, but farmers will continue to feel the impact for quite some time. Hay prices are high, cattle prices are low and drought-bare pasturelands will require some investment before they can once more provide quality grazing.
"It's been grazed so short there's going to be a lot of invasive species come in or not (the species) they need, or the cover isn't the same so they're going to have to go back and replant everything," Buchanan said. "It's going to take time for the growth to occur. They're going to have to take cattle off of the pastures when they replant."
Livestock producers were hit hard by the drought, but not all farmers are reeling quite so badly.
"I hate drought for the region, but actually vegetable producers can benefit from the drier conditions if they have irrigation, and we did irrigate," said William Shelton, a vegetable farmer in Whittier. "When you have more dryness, it lessens the amount of disease on the foliage of the plants."
Shelton farms low-lying land along the Tuckasegee River, which also serves as his irrigation source. Unlike Bradley, whose irrigation system draws from smaller streams, Shelton didn't have to worry about his source drying up. Shelton uses a drip irrigation method that is quite efficient in its water use.
"Our yields actually go up a little bit during drought because we don't have as much disease pressure," Shelton said.
Raindrops splash spores of disease-causing fungi onto vegetable plants, with moist weather allowing those organisms to thrive. Dry conditions mean that less of the crop is lost to disease.
However, Shelton said he was as happy as anyone to see the rain finally fall. Watching the soil turn to dust and stream flows diminish to a trickle proved just how much this region depends on water to maintain its cycle of normalcy.
"When you see the streams that low, it's just a reminder of how important that water source is and how important the availability of water in agriculture is," Shelton said.