Archived News
Macon commissioners not there for money
Wednesday, December 14, 2016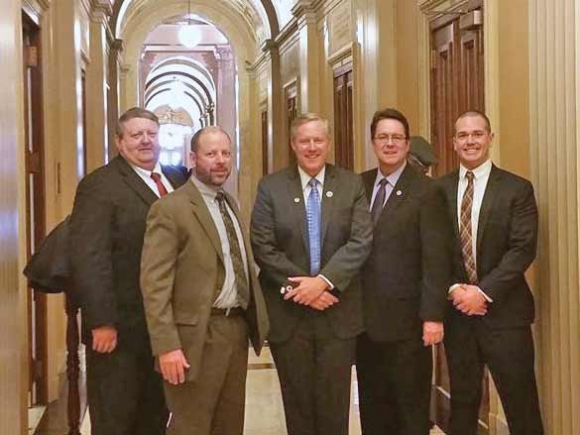 Macon County Commissioner Ronnie Beale was pouring concrete on a job site when he was contacted about this story.
And when he isn't doing work for his construction company, he can be found doing county business, serving on a community board or in Raleigh advocating for Macon County's needs.
He chuckled when asked if the benefits commissioners receive are fair based on the work they do.
"Well, I put in more time than most because I'm involved with state association and I'm the NACO (National Association of Commissioners) representative for the state so I stay very busy," he said.
A board member for the last 10 years, Beale is one of the most active Macon commissioners. In addition to several community boards he serves on, Beale also represents the county on the Department on Aging Advisory Board, inspections/building committee, and is the board liaison for the library and the school system.
Beale is also known well at the state level since he is the immediate past president of the North Carolina Association of County Commissioners and was appointed to the Governor's Task Force on Mental Health and Substance Abuse by outgoing Republican Gov. Pat McCrory.
Beale and other Macon County commissioners take their "part-time" job seriously.
"You need to know what's going on to be involved — that's why I'm involved in the state association because state issues impact the county," Beale said. "If you're looking at the salary to make your decision on whether to run for office, you'd better just stay at the house."
Outgoing Commission Chairman Kevin Corbin, who will be sworn in as a state representative in Raleigh Jan. 11, said his years as a commissioner have prepared him well for hard work with little pay.
"As chairman, I probably spent 20 to 30 hours a week on county business," he said. "Truthfully it's a full-time job with part-time pay, but no one runs for county commissioner for the pay check."
Mike Decker, Macon County's human resources director, said the board chairman gets an annual salary of $11,724.63 while board members get $10,062.70 a year — that's an annual cost of bout $52,000 a year. The board members last received a 2 percent pay increase June 29, 2015.
It's not a lot of money, especially considering most of the commissioners are giving up time and money at their full-time job to do the county's business. Commissioner Gary Shields is the only retired member on the board — Corbin owns Corbin Insurance in Franklin, Commissioner Jim Tate owns Tate Landscaping Services in Highlands, Commissioner Paul Higdon works for his family business Sewer Solutions Inc., and Beale owns Beale Construction.
Higdon said he thinks the benefits offered are fair considering the work that goes into the job. He said it's hard to accurately quantify the number of hours a week that goes into it because it's not a job you ever really leave.
"Everywhere you go you're going to hear about a barking dog or a dirty yard — even when I go to church my best friend will be telling me about what he thinks the commissioners should do," Higdon said.
While it can be demanding with bi-weekly board meetings that each can run three to fours hours, Higdon hasn't found it to be such the juggling act that others have. He said he spends at least several hours a week on county business.
"I don't let it be the center of my life like some commissioners do, but I do spend a lot of time studying and reading and researching issues," he said.
Corbin said he was fortunate to own his own business and have the flexibility to serve as commissioner while still earning a living. Even with balancing all the responsibilities and time commitment for little financial compensation, Corbin thinks the pay is where it should be for Macon County.
"I think it's fair — you know going in what it is and I think it gives you some compensation for your time but it's not enough to do it for a living," he said.
While some larger counties throughout the country choose to pay their commissioners a full-time salary for what amounts to a full-time job, Corbin said that mentality could lead to other problems. There should be a clear distinction between an employee and a commissioner so elected officials don't try to micro-manage the county.
"County commissioners shouldn't view themselves as full-time employees because then they can tend to get involved in the day-to-day operations instead of leaving that to the county manager," Corbin said. "Commissioners need to be able to look at tje county from 30,000 feet for long-range planning purposes."
Higdon agrees that commissioners have to be careful about not micro-managing the county departments.
"When I took the commissioner job I swore an oath that I wouldn't become a micro manager — our role is simple — levy taxes, collect taxes and fund services," he said.
In addition to their salary, each board member gets $400 per month for travel and receives individual health insurance at a cost to taxpayers of $562 per month. They are also eligible for $30,000 worth of life insurance coverage at a cost of $6.30 a month.
"Board members may elect to cover family members under the health insurance and would pay a portion of the additional premium, just like employees," Decker said. "Otherwise, benefits such as dental and vision are voluntary and 100 percent employee paid."
Unlike Haywood County, which offers lifetime health insurance coverage for commissioners who are elected to at least three terms, Macon County only offers health insurance coverage while in office.
Having health insurance was a major perk for Corbin, who is dealing with the transition into state insurance coverage now that his tenure as commissioner is over. He paid $300 a month for Beth (his wife) to be on the county plan.
"Our insurance ends Dec. 3, and as a legislator I will have insurance with the state and it will be $500 a month to add her on to it — but that coverage doesn't start until Feb. 1," he said.
While his salary as a state legislature will be less than $14,000 a year, he'll be making less than he was as a commissioner because of the increased cost of health care.
"But that's OK because I make a living in the insurance business and not the government," he said.