Archived News
Haywood County wipes the dust off the bottle
Wednesday, December 07, 2016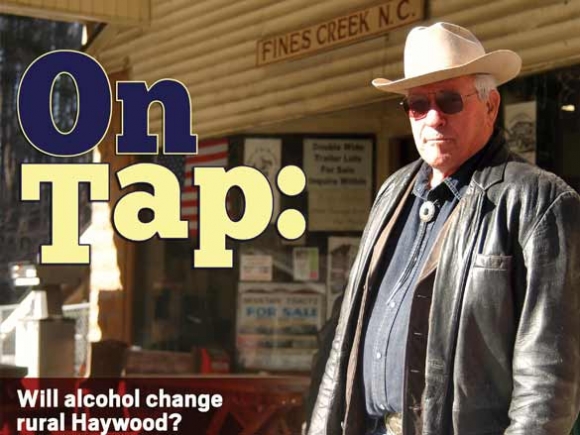 The State of North Carolina has long had a conflicted relationship with alcohol; although largely unregulated during colonial times, it became an irritant to the agrarian, conservative majority of 19th-century voters who, like much of the nation, watched the ultimate administration thereof descend from federal to state to, finally, local authorities in the early 20th century.
SEE ALSO:
• The alcohol permitting process
• A Spiritual Affair: The history of alcohol in Haywood County
Since then, cities and counties in North Carolina have come full circle, but continue to wrestle with a complex issue that includes social, economic, judicial and religious viewpoints overlaid by ever-present concerns about individualism, collectivism, traditionalism and progressivism.
At the intersection of all those -isms lies Haywood County, where residents recently voted overwhelmingly to permit sales of beer and wine in areas of the county that haven't legally sold alcohol for more than 110 years, if ever.
Pro or con, yea or nay, the voters who enabled this measure on a local level will be the first to assess its social and economic impact — how it changes the character of the isolated communities it will no doubt affect, and whether the expected economic boon is worth it.
Family Tradition
"This might be the first legal beer sold in Fines Creek," said James Ferguson.
Ferguson is the third-generation owner of the 99-year old Ferguson Supply and Fines Creek Café gas station/hardware store/lunch counter that sits nestled at a peculiar intersection on Betsy's Gap Road (N.C. 209) in Fines Creek.
At Ferguson Supply, one can find anything from keys to tees and feed to seed, along with various sundries, cold soda and a damn good country fried steak. And more than likely in the near future, cold beer.
"After prohibition was lifted in the '30s, then it was wet. But there was so much — I remember as a kid, there was joints all over the county — beer joints everywhere. And there was a killin' about every week or two. All you had back then was a sheriff and three deputies for the whole county. People just got fed up with it," Ferguson said, "and voted the county dry."
Ferguson, who's been active in Democratic politics and on community boards for more than five decades, doesn't ever remember alcohol being sold at the store.
"My father died in 1961. I was off down in Florida and doing this and that, and I wasn't but 22 at the time. My brother was 21. We took the store over," he said. "My brother run this store for 40 years. I was a silent partner in it. But we were partners in everything — if either one of us had a dime, the other one owned a nickel of it."
Cancer took Ferguson's brother at the age of 59 in 1999, but Ferguson ran the store with his brother's widow until becoming sole proprietor around 2002.
"I liked it a lot better when my brother was running it," he laughed.
Ferguson says he was 12 years old when Haywood County was voted dry around 1950. Prior to that, he recalls some interesting scenery on the mile-long walk from home to his grandfather's store.
"Many times and there'd be a drunk in a ditch wrapped around a fruit jar, " he said, again laughing. "And that was commonplace back then. Just a lot of white liquor."
People, Ferguson said, treated alcohol not as a social lubricant but rather a mind-erasing drug.
"People didn't just drink, they — they drank and got drunk," he said. "There wasn't much sociable to it — they'd just do it to get drunk."
Attitudes towards and education about alcohol have certainly evolved since that time, and with them, Ferguson's store; he says he's planning on selling alcohol for off-premises consumption, meaning you won't be drinking a beer with that country fried steak unless you get both to go.
"I really didn't want to get in to that," he said of on-premises sales. "I'll see what happens, but, I'm not sure the community would appreciate that."
Ferguson is mindful of the residents of Fines Creek — a settlement his family's anchored for more than a century — but says he'd heard little opposition to his plans.
"Least I ever seen — it passed by about 65 percent," he said referring to the five recent Haywood referenda. "Every vote they ever had, there's always been opposition — organized opposition. I never heard a word nowhere this time."
The referendum results supported what Ferguson said. Feguson is the Democratic Party's precinct chair in Fines Creek 1, and both beer and wine off- and on-premises sales were approved by voters in the preceinct, suggesting that residents aren't worried about returning to the days of lawless addiction Ferguson saw as a child.
"It's not going to make any change," he said. If anything, Ferguson said, it will help his business while making the roads cleaner and safer.
"We have a lot of second-home people," he said. "Lot of campers, lot of cabin people. These people are always coming in here, they go rushing back to the cooler and say, 'Where's the beer?' 'Sorry, this is a dry county.' And they look at you real blank-like and say, 'Well what the heck's a dry county?'"
He says their search for alcohol doesn't end there.
"Then these guys go all the way to Waynesville almost, and very seldom they won't crack one open before they get home. And then you got beer cans on the side of the road, because they don't want an empty can in the vehicle with them if they get stopped. They buy it at home, you literally stopped all that traffic from riding on the road."
Uneasy rider
Haywood County Sheriff Greg Christopher has a lot more than three deputies nowadays, all of which are needed to maintain law and order across the 555 square miles of the county.
According to the most recent data from UNC-Chapel Hill's Highway Safety Research Center, there were 953 reportable crashes in Haywood County in 2014; six of them were fatal, and half of those were alcohol-related. That same year, exactly 400 impaired driving cases were disposed in the county; 242 resulted in a DWI conviction on some level.
Christopher said he isn't sure if DWI stops will increase or, as Ferguson supposes, decrease as a result of the measure.
"That is a variable that is really just hard to be able to speculate," Christopher said. "Whether it's going to increase the DWI situation or decrease it, we don't know."
He also said he's unsure about what impact, if any, the growing number of establishments serving alcohol will have on the resources of the department.
"I don't think it will affect us — we hope it won't affect us," he said. "We're just going to have to wait and see what the numbers are as far as the number of calls we get in reference to people trying to buy alcohol in different locations underage, that sort of thing. We're just going to have to play this by ear and see what happens."
In heaven there is no beer
About 15 miles due south of Fines Creek in eastern Haywood County — as the crow flies — lies the idyllic Bethel community.
Like Fines Creek, it's a small, out-of-the-way place that hasn't changed much since it was founded in the 1780s.
Home to several churches and a few modest eateries like the 1950s-themed Jukebox Junction, Bethel's known as a conservative, religious community. Unlike Fines Creek, voters in Bethel's Pigeon precinct voted against selling off-premises beer and against off-and on-premises wine.
Unfortunately for them, they'll have to fall in line with the rest of the county, which leaves Dr. Roy Kilby, Pastor of Bethel Baptist Church on Pigeon Road, worried about changes to the area's social fabric.
"We see what it's done to Asheville – breweries, prostitution, homosexuality," he said. "Wrong does not breed right, wrong breeds wrong."
Kilby may be overstating the effect alcohol might have on his community; a manager at Jukebox Junction said that they'd chosen not to sell alcohol, and said they wanted it to remain a "family restaurant."
But Kilby has worked with abuse and addiction in Haywood County for almost 40 years and can cite "any number of cases" as to why the county's alcohol vote is a mistake.
"I talked with a family just this week — he just got off alcohol after being on it many years; he nearly wrecked his marriage," Kilby said. "And that's one of the good cases."
According to Kilby, the presence of alcohol in a community teaches young people "at an early age" that alcohol is permissible, when the Bible clearly states that it is not.
"The only thing alcohol is good for is as an antiseptic — not a drink. To clean surgical tools. The Bible speaks 'Wine is a mocker, and beer a brawler; whoever is led astray by them is a fool.'"
Kilby also refutes the argument that Jesus turned water into wine at a wedding in Galilee, noting that when grapes are pressed in a winepress, what comes out isn't wine — it's just regular old grape juice.
"God did not intend us to misuse that," he said.
When pressed, Kilby wouldn't even acknowledge the economic benefit to business owners now free to sell beer or wine as they see fit.
"There's nothing good that comes out of alcohol. They're not selling it for the good of the community, they are selling it to make money," he said. "To take advantage of people's weaknesses is immoral."
Take the money and run
This past spring, Haywood County Commissioners voted to place the alcohol referenda on the ballot. Then-Chairman Mark Swanger said that doing so would serve as "the ultimate public comment," meaning a vote was a way to let the citizens of the county decide the issue.
Commissioner Mike Sorrells abstained from that vote because he owns a Marathon gas station and convenience store on Jonathan Creek Road, but now that the measure's passed, he's already received his temporary permits to sell alcohol there.
"It kind of puts us on equal footing with other businesses throughout the area," Sorrells said. "It was an economic fairness issue, really, because you can go 4 miles up the road and get anything you want."
He thinks that the wider availability of alcohol may actually cut down on drunk driving.
"I think it could possibly do that," he said. "I've had a lot of people express that they don't have to drive now. They're able to stay closer to home, and they can pick it up right after work and go right home. So I think that could potentially help."
Although the character of the Jonathan Creek area isn't as remote as other areas in the county, Sorrells doesn't see it changing much in the future as the result of the expanded availability of alcohol.
"I don't, because it's pretty obvious that people are drinking beer down there," he said. "I pick up beer cans in my parking lot on Friday and Saturday nights, so it's obvious that it's going on whether I have (alcohol for sale) or I don't."