Archived News
'A date which will live in infamy': The 75th anniversary of the attack on Pearl Harbor
Wednesday, December 07, 2016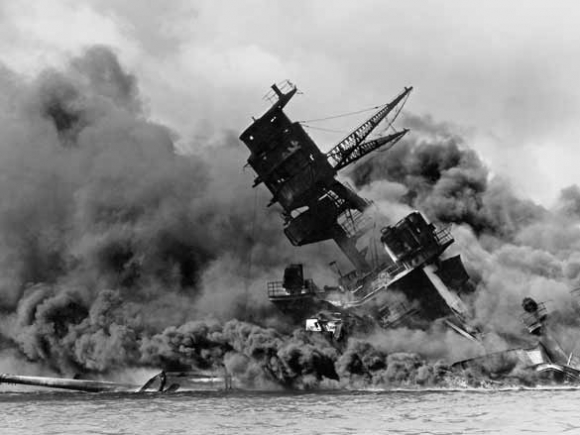 Dec. 7, 1941. It's a date that conjures numerous images and thoughts. The USS Arizona engulfed in smoke and flames. Fighter pilots zooming across the sky with the "rising sun" emblazoned on the sides of their aircraft. Machine guns blasting upwards, bombs being dropped down onto unsuspecting soldiers and civilians.
---
SEE ALSO:
• Locals react to Japanese attack
• Witness to history
• Swain band performs at Pearl Harbor Anniversary
When the Japanese bombed the U.S. base at Pearl Harbor on that dark day, our country not only found itself now pulled into World War II, it also signaled a turning point in our history that still reverberates into today — politically, economically, and socially.
With over 2,400 Americans killed at Pearl Harbor, it was the largest foreign attack on U.S. soil until the World Trade Center in 2001. What Pearl Harbor represents is where the line in the sands of time was drawn. It's where Appalachian farm boys grabbed their rifles and became national heroes, where housewives grabbed their tool belts and built war machines. It was the unification of a nation that had the weight and fate of the world on its shoulders as the likes of Hitler, Mussolini and Hirohito salivated at the idea of complete domination and destruction.
My late grandfather was there — front and center — at Pearl Harbor on Dec. 7, 1941. Enlisted in the United States Army, Frank Kavanaugh was a 21-year-old from rural Upstate New York, ready to see the world on his own, unbeknownst to the real dangers that lay on the horizon. He rarely spoke of his time at Pearl Harbor, and also of his experience during several key battles in the Pacific Theatre of World War II. But, he did however conduct an interview on Pearl Harbor in 1994 (Google: Home Town Cable Frank Kavanaugh).
And as the 75th anniversary of the attack on Pearl Harbor rolls around, we celebrate those brave men and woman of "The Greatest Generation," who answered the call of war in hopes of defeating the Axis powers in an effort to create a better tomorrow in the face of peril and utter doom.
— By Garret K. Woodward, staff writer