Archived News
Swain band performs at Pearl Harbor Anniversary
Wednesday, December 07, 2016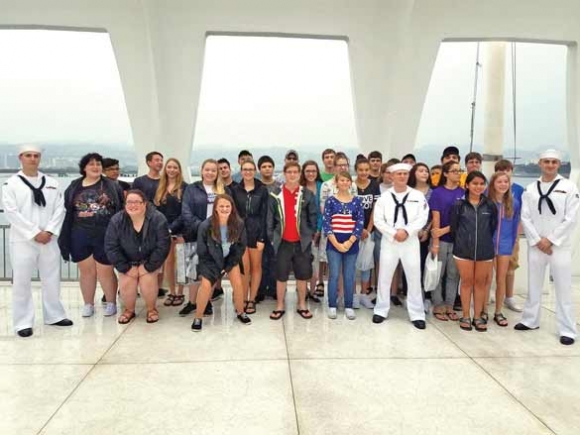 The Swain County High School marching band was noticeably absent from the annual Bryson City Christmas Parade last weekend, but they had a good reason.
By the time this week's newspaper hits the stands Dec. 7, the marching band will be at the U.S.S. Navy Battleship Missouri Memorial preparing to perform at the commemoration ceremony for the 75th anniversary of the attacks on Pearl Harbor.
"We are extremely honored to represent not only our school and community, but all of the United States in attending this very special ceremony to honor the lives of those who gave so much at Pearl Harbor," said Band Director Karen Lanning. "It is amazing that we will be there on the actual 75th anniversary, and something that none of us will ever forget."
The battleship where they will perform in a mass band along with other marching bands from across the country was the site of the Empire of Japan's surrender to Allied forces in 1945, which ended World War II. Lanning is excited that her students will get the opportunity to participate in this historic event while also paying tribute to the military personnel who lost their lives during the attacks.
"To be able to honor the brave men and women who gave the ultimate sacrifice is humbling and moving. This is a living history lesson for all of us who are fortunate enough to get the privilege of going on this trip," she said. "We could never thank the brave men and women of Pearl Harbor enough for their sacrifices, nor could we even begin to thank all of the people who helped us get here so we could experience this once in a lifetime opportunity."
The Swain County High School marching band received the invitation from the mayor of Honolulu Kirk Caldwell to perform in Hawaii after a successful performance in the National Independence Day Parade in Washington, D.C., in 2014. Swain County is representing all of North Carolina, as it is the only high school band chosen from the state.
The Swain High School Band Boosters Association played a key part in making sure all the band students could participate in this once-in-a-lifetime opportunity.
"Swain County Band students have an opportunity to represent our county while performing in a mass band at this commemoration ceremony with students from all over the United States and Japan to honor those who lost their lives during the Pearl Harbor attacks," said Amanda Buchanan with the booster club.
Watch the live feed of the band performance by visiting http://www.channel808.tv/2016/75thpearlharbor/.