Archived Outdoors
Low water levels cut the season short
Wednesday, November 09, 2016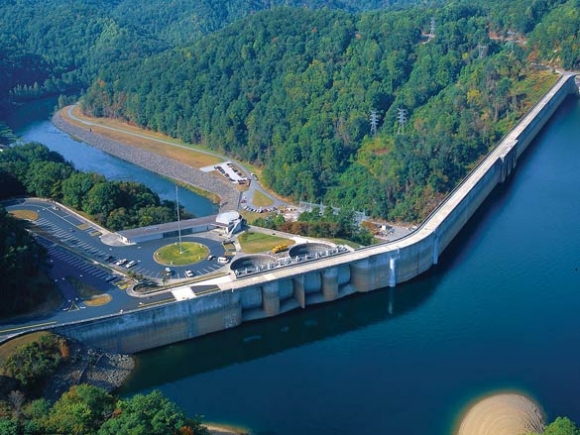 Fontana Lake looks more like a narrow river running through a canyon right now as drought conditions persist across the region.
And if Fontana Lake levels are low, it means all the tributaries that feed into it are also lower than some people have seen in years, including the Tuckasegee River and Nantahala River. In an area that relies so much on outdoor recreation, the drought has dried up their tourism season a little earlier than expected.
"The water hasn't been that low in … well it's lower than it's ever been — it's unbelievable," said Rod Lowman, owner of Tuckaseegee Outfitters.
His business, which does whitewater rafting, tubing and kayaking trips on the river, has suffered this year from the drought. But when your business relies on the cooperation of Mother Nature, Lowman knows some years are going to be better than others.
"It's impacted us pretty hard — a lot of people were mad and upset because they were hitting more rocks and getting stuck on their trips," Lowman said. "All you can do is tell them we're in a drought. There's nothing you can do about it — just have to accept it. A few years ago we had the floods– and now we have to go through a drought."
More than 350 houseboat owners on Fontana Lake are used to the lake being drawn down slowly after Labor Day by the Tennessee Valley Authority, but many have said they've never seen the lake levels this low before. Weeks before they expected it, houseboat owners returning to the lake found their docks already grounded as water levels are sitting at 1,656 feet.
"It's about two weeks earlier than last year. We have not had any significant rain in the past two months," said houseboat owner Steve Hyatt. "TVA stated to one dock owner if we didn't get some substantial rain soon, the lake could be pulled lower than the 1,652 last year."
Tony Sherrill, owner of Alarka Boat Marina on Fontana, has been in business for 39 years. This isn't the first time he's seen the devastating effects of drought on the lake and he's sure it's not the last. There have been years the water was so low during the summer, he closed up shop just after July 4. He said this year the season only ended about six weeks too soon due to the drought.
"I have a four-month average a year of being open — I know people ask why would you want to run a business with a four month average but I just love the business," Sherrill said. "This year's gone — we already lost the six weeks — but right now if it doesn't rain through the winter the lake won't come back next year. That's my worry right now."
Travis Brickey, a spokesman for the Tennessee Valley Authority, said the little to no rain has drastically impacted Fontana and other larger lakes in the Tennessee River watershed that are used by the TVA to generate electricity.
"Lakes levels are directly impacted by the amount of runoff, the portion of rainfall that makes it into streams and creeks and then into the lakes like Fontana," he said. "In October, the entire 42,000-square mile Tennessee River watershed received .09 inches of runoff the entire month — that's the lowest in 142 years of weather records."
Even in the middle of the summer when the water levels should be at full capacity, Fontana Lake levels were lower than normal. According to TVA data, Fontana Lake levels reach peak between June and July at 1,705 feet but this summer the water barely reached 1,700.
Brickey said the TVA usually begins lowering reservoirs in early September in preparation for winter and early spring rains because that's typically when there is more runoff.
"This year, because of the dry conditions, many of the tributary reservoirs reached their normal winter pool levels sooner than normal," he said.
If the drought continues — and weather experts seem to think it will — Brickey said water levels in the large tributary lakes like Fontana will continue to be lowered as the TVA has to release some water downstream for water quality, water supply and navigational purposes.
Houseboat owners and other outdoor recreational users on Fontana have often complained about the short season due to the TVA's control of the water levels from the dam. People on the water get about two solid months at full capacity before water levels begin dropping down in August.
Recreational users on Lake Glenville in Jackson County don't have the same problem. Taylor Hunter, owner of Lakeshore Pontoon Rentals in Glenville said the low lake levels are normal for this time of year. Though it's currently about 20 feet lower than it is in the summer, she said it wouldn't get much lower even with the drought conditions.
"It's sucked down this time of year regardless of rainfall to do repairs on the walls, so it's not surprising how far down it is," Hunter said. "The lake is fed by three natural waterfalls and they're still flowing even though it's less right now."