Archived Outdoors
Data-driven analysis drives modern weather forecasting
Wednesday, November 09, 2016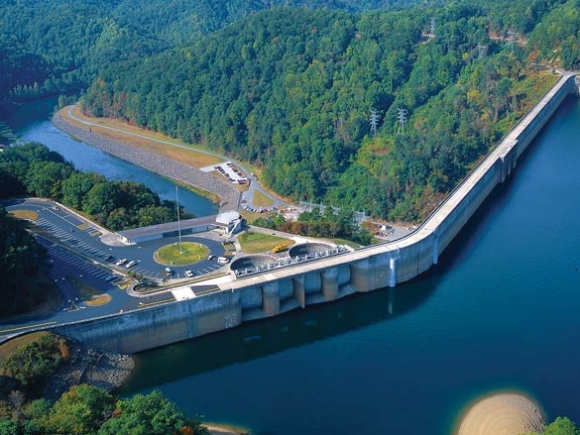 Some things change, and some things stay the same.
Thousands of years ago, humans developed visual and spoken languages to convey thoughts and meaning across space and across time. Among the first topics they shared with each other was one that has persisted even today — whether by smartphone app or over the weathered wooden top rail of the old back fence with a neighbor.
People have been talking about the weather almost as long as there have been people and weather, but as the scientific revolution ushered in a new era of organized study and of objective recordkeeping, scientists and thinkers like Anders Celsius and Thomas Jefferson began recording weather observations that have proven to be a durable, persistent record of climatological conditions across the country and world.
SEE ALSO:
• Data-driven analysis drives modern weather forecasting
• Low water levels cut the season short
• Wildlife rides out the drought
Today, the Grove Arcade in downtown Asheville is home to many high-end retail businesses — a trendy furniture store and a champagne bar that doubles as a used bookstore among them — but during the dog days of World War II the federal government acquired it not for its stunning art deco architecture, but because it was the perfect place to house millions upon millions of paper records containing weather observations.
One of the largest buildings in the South at the time and located conveniently (or, inconveniently for Axis bombers) distant from the east coast, the Grove soon housed more than 150 million records — so many, in fact, that the combined weight of them was viewed as a potential stressor to the building.
But the collection would continue to grow in that location, especially after the feds consolidated records from the U.S. Weather Bureau, the Air Force, and the Navy there in 1951 to form the National Weather Records Center.
The NWRC's name was changed in 1970 to the National Climatic Center, and then in 1982 to the National Climatic Data Center. In 1995, the NCDC moved to the Veach-Baley Federal Building, right around the corner.
It is there that data collected around the country and around the world comes, from buoys, balloons, ships, satellites and even tree rings. As of 2014, the NCDC had in its possession more than 17 petabytes of data — enough to fill a stack of DVDs piled almost 4 miles high.
All this data, 4.4 million DVDs worth, is available to the general public. In 2014, the NCDC distributed 6 petabytes of data via their website, which received over a billion hits that year.
In 2015, the NCDC merged with the National Geophysical Data Center and the National Oceanographic Data Center to become the National Centers for Environmental Information, headquartered at Veach-Baley.
Industries and businesses utilize this data provided by the NCEI for everything from agricultural planning to flood prevention, but researchers use the high-tech data to continue that same old conversation about the weather.
And right now, for Western North Carolina, that conversation isn't pleasant.
Every Thursday morning since 1999, the National Oceanic and Atmospheric Administration, the U.S. Department of Agriculture and the National Drought Mitigation Center (NDMC) at the University of Nebraska-Lincoln have jointly issued a weekly map of drought conditions.
Based on soil moisture, hydrologic info and climactic measurements, the U.S. Drought Monitor is a map that monitors the severity of droughts like the one Western North Carolina — and much of southern Appalachia — is currently experiencing.
"It's very reliable, because North Carolina is in a unique position," said Marla Sink, public information officer for the N.C. Department of Environmental Quality's Division of Water Resources. "We have a tech team that does a number of different things to assess the situation."
As of Thursday, Nov. 3, parts of northeast Alabama and northwest Georgia were given the most dire categorization of "D4," meaning they are experiencing "exceptional drought."
Much of northern Alabama and Georgia, along with northwestern South Carolina are categorized as "D3," or "extreme drought."
In North Carolina, all of Cherokee, Graham and Clay counties are experiencing extreme drought, as are most of Macon and Swain counties and parts of Jackson, Transylvania, Henderson, Polk, and Rutherford counties.
All of Haywood County is classified as "D2," or severe drought. A further 10 counties — mostly east of Haywood — were categorized as "D1."
According to Sink, the drought officially began May 3.
"We started a moderate drought May 3 in some areas," she said. "We look at drought conditions every week, and May 3 there were some major differences" in agricultural, hydrological, climactic and precipitation data.
Fire and Rain
This is neither the first nor the worst drought in Western North Carolina — and it won't be the last.
Data shows that since 1895, the years of 1925, 1930, 1988 and 2007 were particularly difficult, but from 1998 to 2002, much of N.C. experienced a continuous drought, resulting in record low groundwater and streamflow.
Over those four years, rainfall deficits of 60 to 70 inches were recorded in some areas. Hickory was particularly hard hit, logging a deficit of more than 66 inches — one of the largest deficits recorded in N.C. since recordkeeping began.
By late 2002, emergency, mandatory or voluntary water conservation measures were in effect in more than 200 municipalities across the state.
According to the NCDEQ, 37 water systems across N.C. are currently in drought-related mandatory conservation status, with an additional seven undergoing voluntary restriction out of a total 535 systems.
Such severity in dry conditions like the region's been experiencing since last spring contribute not only to widespread economic injury for farmers and ranchers, but also create ideal conditions for forest fires, like those now smoldering across the western part of the state; leaves and logs are dry and primed for kindling, and Mother Nature hasn't been particularly helpful in dousing the flames.
Sink said the NCDEQ has "no idea" how long the current drought might last, but based on the duration of the 1998-2002 drought — which also featured a few dry winters — this could be just the beginning. Current Waynesville weather forecasts over the next two weeks show just two days on which there is greater than a 50 percent chance for rain, and a map issued by the NOAA/NWS/NCEP/Climate Prediction Center Oct. 20 forecasts no relief in sight through January 2017.