Archived News
Agreement reached in Harris Hospital value dispute
Wednesday, November 02, 2016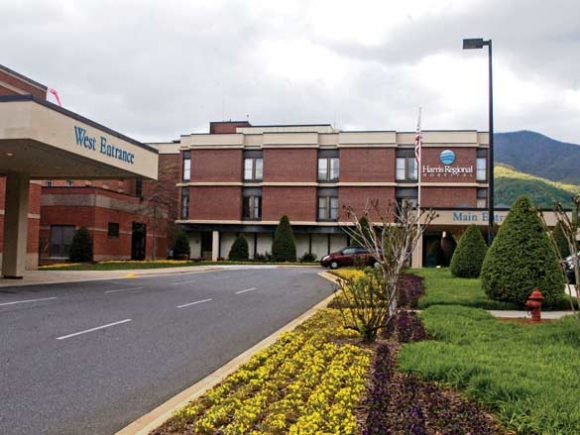 After months of back-and-forth, Harris Regional Hospital and Jackson County have reached an agreement on the hospital's tax value.
The county had originally pegged the value at $42.3 million, with the hospital countering it should actually be valued — and taxed — at $13 million. An inspection of the building revealing outdated systems and poorly configured spaces led the county's Board of Equalization Review to lower the value to $27.2 million, but that was still too high for the hospital.
Rather than appeal the case to the N.C. Property Tax Commission in Raleigh, though, the hospital reached an agreement with Jackson County to lower the value slightly to $23.7 million.
"Kind of like trading cars, we were back and forth, back and forth, until we got to a number that both parties could agree on," said Jackson County Tax Administrator Bobby McMahan. "I felt that accuracy-wise it ($27.2 million) was a little bit better but 24 was acceptable. We would have had to defend this at the state level and it would have been a very costly adventure had we pursued that."
Arguing the case in Raleigh would have required the county to hire an appraiser and attorneys who specialize in this type of case, and those bills would have been expensive. Add in travel time to Raleigh — no telling how many trips — and the cost of defending the $27.2 million value would have added up quickly.
"It was going to cost them too," McMahan said. "They were going to have to go through the same things we were. The appraisal, the attorneys. It would be costly for both sides."
The new value will dictate's the hospital's property tax bill until the next county valuation, set for 2021. The $23.7 million valuation will mean the hospital pays the county $63,500 less over five years and the town $73,500 less over five years than it would have if the $27.2 million value had held.
Though the building was first constructed in 1952, the property has only been generating taxes since 2015. Before that, Harris operated as a nonprofit, but Duke LifePoint purchased the hospital — as well as Swain Community Hospital and Haywood Regional Medical Center — in 2014, to run as a for-profit business. McMahan said the original $42.3 million value was definitely too high, but it's easy to overlook things when you're giving a property that large and complex its first evaluation with tax consequences.
"We appreciate the county working through this matter with us and are very pleased to have reached a resolution," Duke LifePoint said in a statement.
If the case had gone to the Property Tax Commission, it could have taken months or even — at the outside — years for it to be settled. This spring Duke LifePoint said it would not pay any taxes until the final value was determined, so local governments would have been missing out on tax revenues while the dispute played out.
"We're glad to know that we'll receive a tax payment for the hospital in this year's budget because we had built our budget under the assumption that an agreement might not be reached this year," said Paige Dowling, town manager for Sylva.
The hospital is a significant part of Sylva's property tax base, with the original $42.3 million value putting it at 8 percent of the town's total property value. When town leaders found out that they'd be unlikely to see tax revenues from the hospital this year, some of them were visibly upset, and the hole in the budget meant that the town had to short-change several line items. In particular, it cut its contributions to post-retirement benefits and separation allowance for police officers — decisions that could come back to bite later when employees retire and there's not enough money to cover the town's obligations to them.
With an agreement reached, Duke LifePoint will have to pay its taxes by Jan. 5, 2017. "It will be very important financially for the town to fund that at the recommended level," Dowling said.
Duke LifePoint has also disputed the value that Haywood County assigned Haywood Regional Medical Center. However, Haywood and Duke LifePoint were unable to reach an agreement, and Duke LifePoint has appealed the value to the N.C. Property Tax Commission. A hearing date has not been set.
Value of a hospital
The appraisal process for Harris Regional Hospital has gone through many iterations, from the county's original appraisal to Harris' appealed value to the Jackson County Board of Equalization and Review's adjusted value to, ultimately, the final agreed-upon value.
Total value Annual town taxes Annual county taxes
County original $42.3 million $179,600 $156,400
Harris appealed $13 million $55,300 $48,100
Adjusted $27.2 million $115,600 $100,600
Final $23.7 million $100,900 $87,900